About a year ago I took a look at Mark Teixeira's curveball problem. While anyone who watched Tex hit in 2010 didn't need an elaborate post telling them he struggled against the curve, it bore watching as he had posted above-average run values versus the curveball in his two seasons prior. 2010 was also a down year for Tex against the fastball, as he posted a five-year low (a mere 7.3 runs above average) against a pitch he punished to the tune of 38.8 runs above average a mere two years earlier.
Tex found himself back in Yankee fans' crosshairs again last week, after suggesting that he might try bunting from the left side of the plate this coming season in a misguided attempt to beat the shift. Brien Jackson at IIATMS noted that the shift isn't the real problem, William Juliano published a typically comprehensive look at Tex's offensive numbers from both sides of the plate hitting to different fields, and TYA's Michael Eder pondered whether Tex bunting would actually work.
Today I thought I'd take a slightly different tack and dive into how pitchers are attacking Mark Teixeira, left-handed hitter. The good news for Tex is that he improved his performance against the fastball this season (although wFF numbers are cumulative from both sides of the plate), fininishing the year at 12.3 runs above average. Still, this is a far cry from the heady days of wFF numbers in the high-20s. Unfortunately for Tex, his woes against the curveball continued in 2011, and he actually tied for the 9th-worst wCU/100 mark in the American League. So what's going on with Tex against the curve? The below chart shows various outcomes for Tex against the curveball when hitting from the left side of the plate (data c/o both TexasLeaguers.com and JoeLefkowitz.com):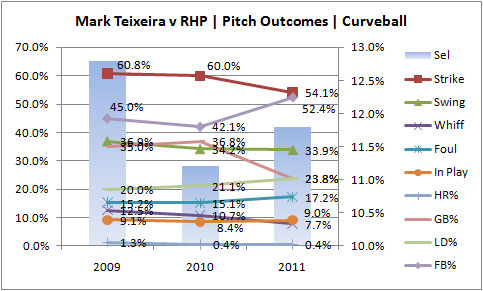 Following the curve's whopping success against left-handed Tex in 2010, righties slightly increased the number of hooks they threw the Yankee slugger last season, from 11.2% to 11.8%. Now obviously we're talking about a pretty small rise, but with Tex also seeing significantly fewer four-seamers than he did in 2009 (46.4% down to 38.1%), the minimal increase carries a bit more weight.
Right-handers threw the curve less frequently for strikes in 2011, but Tex still swung at them with essentially the same frequency as the previous year. He hit them in the air more frequently than he had previously as a Yankee (no surprise given his predilection for popping out to the infield), fouled them off slightly more frequently, hit fewer on the ground, and to his credit, actually whiffed less frequently than the previous two years. However, he also stopped hitting the curve for as much power, following a 1.3% HR% in 2009 with two straight seasons of 0.4%.
Given the curveball's continued effectiveness against Tex, I was curious to see whether its deployment increased depending on the count. The below chart shows curveball frequency when the pitcher is ahead (I'm considering 0-0 as the pitcher being ahead in this case, because anecdotally it seems like Tex never swings first pitch, even though B-Ref says he did at least 56 times last year):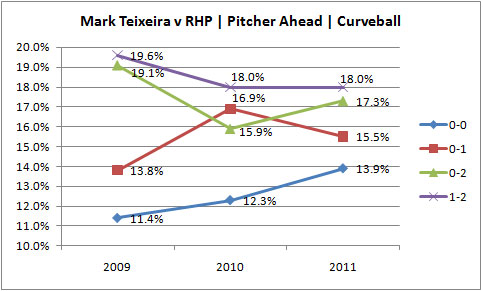 I was a bit surprised to see the curve being most frequently deployed on 0-2 and 1-2 in 2009, but perhaps the most telling component of this graph is that pitchers have significantly increased their likelihood of trying to get ahead of Tex at the start of his at-bats, dropping a curve in on the first pitch 13.9% of the time last season, a three-year high.
And what's been happening when Tex does make contact?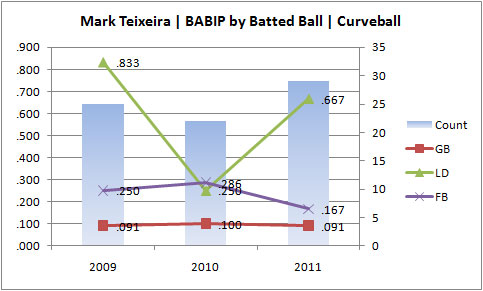 His LD BABIP spiked back up last season after a woeful .250 in 2010, but was still nearly 200 points below its 2009 high of .833. His FB BABIP on the curve unsurprisingly fell to a three-year low, and his GB BABIP basically remained constant.
Now, in fairness to Tex, part of the curveball issue is that he has to face some outstanding curveball-throwing pitchers. Out of the 233 curveballs he saw from righties in 2011, 79, or 34%, were thrown by Josh Beckett, Justin Verlander, James Shields, Felix Hernandez, Jeremy Hellickson and John Lackey (pitchers he had 10 at-bats or more against each). Outside of Lackey, those hurlers are among the best in in the league, and so Tex probably needs to be cut some slack.
However, he's shown that he's not completely useless against the curveball in the past, and it would bode well for the 2012 Yankees if he can recognize that right-handed pitchers are probably going to attack him earlier in the count with curveballs and ideally hold off from swinging at said curves unless he actually is able to revise his approach from the left side with Kevin Long.