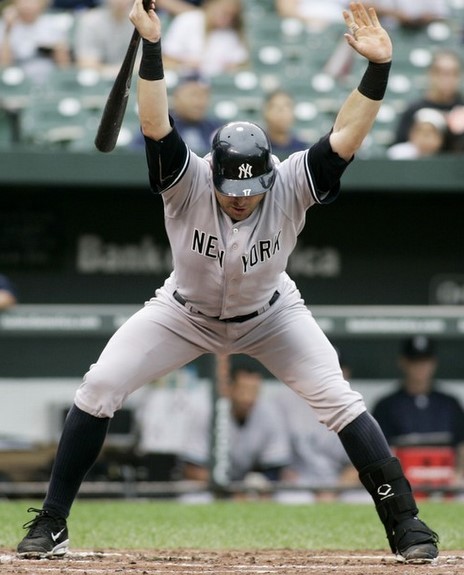 Pitching, pitching, and more pitching. That was the focus of the offseason, and it still is today given the continued A.J. Burnett trade talks. We haven't paid too much attention to the other end of the battery though, mostly because the Yankees have some upper level catching depth and an above average big league backstop ready to handle the bulk of the workload in Russell Martin. The Jesus Montero trade took away some of that depth, but Austin Romine is still around as if Frankie Cervelli, the forgotten backstop.
Cervelli, who turns 26 next month, isn't a terrible backup catcher even though we all seem to collectively loathe him. He's got 560 big league plate appearances to his credit (roughly a full season), and he's consistently put the ball in play with solid walk (7.9%) and strikeout (15.1%) rates. His .272 batting average and .316 BABIP are reasonable for a player with his batted ball profile, meaning few fly balls but lots of grounders and line drives. Of course the lack of fly balls means Frankie has next to no power (.082 ISO), but he did go on a rampage before getting hurt last September — three homers in five games across ten days, including at least one more ball knocked down by rain and wind in that ridiculous 11:30pm ET start against the Orioles. Offensively, a .272/.338/.354 line is pretty good compared to most backup catchers. With any luck, that power surge is something more than a fluke, but I wouldn't count on it.
Despite a strong reputation, Frankie hasn't been anything special on defense. He's thrown out just 23 of 116 attempted basestealers in his career (19.8%), though it's worth noting that runners are 26-for-29 against him when Burnett and his notoriously slow delivery is on the mound. Remove A.J. from the equation, and Cervelli's been a more palatable 20-for-87 (23.0%) when it comes to throwing out runners. There aren't any great (or even good) metrics for catcher defense, but I think we can all agree that Frankie isn't the best receiver back there just from watching him over the last three seasons. He's not the defensive-first backstop I'm sure Joe Girardi would like to have, but the total package is a viable big league backup catcher.
Cervelli has had some injury problems in the recent past, some fluky (Elliot Johnson breaking his wrist, a foul ball breaking his foot) and some not so fluky (four reported concussions in the last seven seasons). The last concussion came in September, when Nick Markakis bowled him over on a play at the plate. The Yankees take concussions very seriously (as they should), so the injury ended Frankie's season and forced Romine to the big leagues. With Montero in Seattle, the Yankees need Cervelli to stay on the field this season to make sure Romine gets the couple hundred Triple-A at-bats he needs developmentally. Health is a skill but only to a certain extent, so there's not much more anyone can do besides cross their fingers and hope he stays on the field.
Anecdotally, Martin seemed to play (or at least hit) better when getting regular rest last season, which is another factor to consider. A healthy and productive Cervelli allows the club to take it easy on their starting catcher during the hot summer months, theoretically keeping him fresher for a potential playoff drive. With all due respect to Gus Molina, Frankie is the guy you want filling in on Martin's off days so that Romine can keep doing his thing in Triple-A. The backup catcher won't sink the season no matter who it is, but having a healthy and reasonably productive Cervelli will have a positive impact on Romine, Martin, and the team's overall chances.