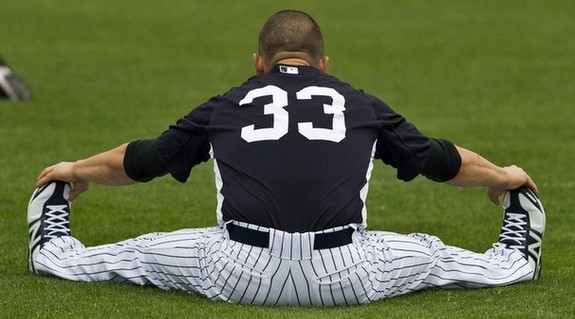 It's been more than three years since Brian Cashman pulled off one of his greatest heists, stealing Nick Swisher from the White Sox for a package of Wilson Betemit and nothing else in particular. Swisher had the worst season of his career with the ChiSox in 2008 (91 wRC+ and 1.3 fWAR), plus Ozzie Guillen didn't like him one bit. Cashman bought low and has been rewarded handsomely, getting three years of well above average production (126 wRC+ and 11.0 fWAR) for a well below market rate ($21.05M total).
The Yankees picked up Swisher's no-brainer $10.25M option for 2012 early in the offseason, ensuring that the marriage would last at least one more year. The 31-year-old outfielder will become a free agent for the first time after this season, and he started preparing for the open market by switching agents last February and showing up to camp with a noticeably stronger upper body this week ("This is the strongest I've ever been," he said). Swisher has no intention of talking to the club about contract extension during Spring Training or regular season, however.
"That's not my style, man. I don't force the issue," he said yesterday. "I just go and play the game and I'll cross that bridge when I come to it. That's kind of one of those things that I'm really going to keep in that back corner and not really worry about that until I have to."
Swisher has made no secret of how much he enjoys playing in New York, which is something I'm sure the Yankees will use as leverage if and when they discuss a new contract. The Michael Cuddyer deal (three years, $31.5M) gives us an idea of what it'll take to sign Swisher beyond 2012, a deal that would be a bit of a bargain given his production. The problem is that the Yankees seem intent on getting below the $189M luxury tax threshold by 2014, which will require them to shed approximately $40M in payroll over the next 24 months.
Right field is one obvious spot where the team could save money, replacing Swisher and his $10M+ salary with a low-cost player or two-man platoon. It's much easier said than done given the production they'd be losing, especially since the Yankees don't have an obvious replacement coming up through the farm system. Maybe Zoilo Almonte is that guy, but there are reasons to be skeptical. If Swisher is allowed to move on, the team will likely to get a little creative to replace him. The Yankees have won World Championships with guys like Chad Curtis and Ricky Ledee and Shane Spencer in a corner outfield spot, so it can be done.