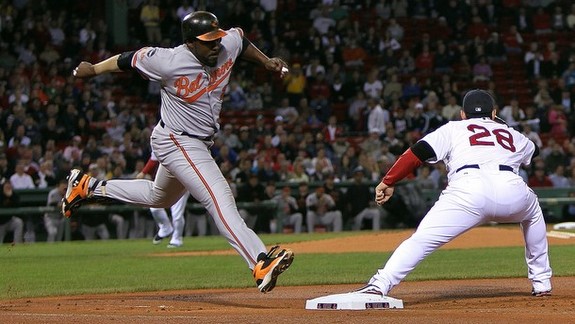 The Yankees' search for a part-time DH has essentially come down to three finalists: Raul Ibanez, who remains the front-runner; Johnny Damon, whose quest for 3,000 hits might be hindering his play, and Hideki Matsui, whose 2011 season looked like the end of the road. Chances are the Yankees will move on one of these players once they've shed A.J. Burnett and a portion of his salary. But none of that has happened yet. That leaves other suitors a chance to make a case. One has already spoken up.
According to ESPN's Buster Olney, Vladimir Guerrero "has made it known to the Yankees that he wants their DH spot." We've been over many possible DH candidates, but to date we haven't discussed Guerrero. He just didn't seem to fit, based on a surface judgment. Instead of simply accepting this, though, let's look a bit deeper into what Vlad can bring to the team. Might he be a better DH option than the current suitors?
The first strike against Vlad appears to be his handedness. All of the prominent suitors for the Yankees' DH role, including minor league signee Russ Branyan, hit from the left side of the plate. Given the current roster construction, a lefty does make sense for that part-time DH spot. Since Andruw Jones will take reps against left-handers, the Yanks could use someone who can handle right-handers.
Yet that obscures the issue a bit. First, some of Jones' at-bats will be at the expense of Brett Gardner. While Gardner can hold his own against lefties, he has absolutely no pop against them. Using Jones in left adds power to the lineup, while at the same time keeping Gardner's legs fresh. The DH spot, then, can remain open against LHP at times.
The other issue: not every lefty hits righties better than every righty. This comes at the top of the scale — Jose Bautista and Miguel Cabrera, both righties, have hit right-handed pitching better than anyone in the last two seasons — and the bottom. That is, just because someone hits left handed doesn't mean that he's necessarily good against them. We can see this when comparing the DH candidates.
In terms of overall numbers, Damon and Vlad have been the best hitters in the last two seasons, producing 109 and 108 wRC+ numbers. Ibanez trails them by a bit, producing average numbers. Matsui, on the strength of his 2010 season, actually ranks just behind Vlad and Damon, with a 107 wRC+.
When we turn to production against RHP, Matsui actually comes out ahead with a 110 wRC+. From there Ibanez, Vlad, and Damon are all close, with slightly above average numbers. That is, there's not a huge difference among them in terms of production against right-handed pitching. That is, Vlad can hang with them, even though he bats right-handed.
In terms of age, Vlad also holds the advantage. He's 37 this season. Ibanez is 40, and Damon and Matsui are both 38. There might not be much to this, since they're all past their primes and could fall off a cliff at any moment. There's also the issue of their current declines. Here's how much each one dropped off, in terms of wRC+, from 2010 to 2011.
Guerrero: -24
Damon: even
Ibanez: -19
Matsui: -30
Of course, the dips from Matsui and Guerrero are greater, because they had far better 2010 seasons than both Damon and Ibanez. At the same time, Damon is the only one to finish with above-average numbers in 2011. This makes the situation a bit murkier.
If one thing becomes clear when breaking down the situation, it's that Ibanez's status as front-runner makes little sense. He's the oldest in the group, saw a pretty steep decline from 2010 to 2011, and overall produced the worst numbers in the past two years. While Matsui's stark decline from 2010 to 2011 might disqualify him as a serious candidate, the same could, and probably should, be said of Ibanez. It's hard to see where the optimism comes from.
Guerrero, it appears, isn't at all the worst candidate for the Yankees' DH gig. He might hit right-handed, but hey, so did the guy who was originally supposed to fill the DH role in 2012. The only big red flag is that he realized a marked drop-off in 2011, though part of that involves his quality 2010 season. His case is definitely stronger than I had originally envisioned.
Chances are the Yankees won't seriously consider Guerrero for DH, and in a way that's a shame. Maybe he doesn't hit left-handed, but he looks like a better option than Ibanez right now. If the Yankees are having trouble working out something with Ibanez or Damon, perhaps Vlad does become a dark horse. It's hard to make a case that the other guys are much, if any, better.