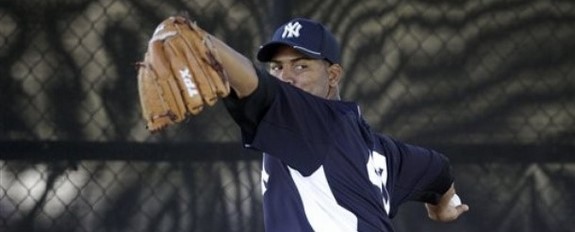 Less than a week into Spring Training, most of the focus has been on Mariano Rivera's retirement teaser, Michael Pineda's golden arm, and CC Sabathia's massive but slimmed down body. Position players have yet to officially report, and the battle for the fifth starter's job has yet to begin in earnest. Thanks to the Eric Chavez and Raul Ibanez signings, there aren't many other questions to be answered right now. And then there's Ivan Nova.
The team's number two starter heading into the postseason last year, Nova has gone through the first three days of camp with minimal fanfare. He's thrown two bullpen sessions and fielded some grounders, but otherwise his rotation-mates have garnered all of the attention. Given his personality, he probably doesn't mind at all.
"There's a quiet confidence to him right now, and it's good to see it," said pitching coach Larry Rothschild earlier this week. "I thought that last year early, we scored some runs for him and I think it helped him get some wins and then he got some confidence from that. Then you saw him pitch the way that he's capable of."
Those two bullpen sessions are important because as you remember, Nova finished last season injured. After climbing the minor league ladder with zero arm issues, a strained flexor in his elbow forced him from Game Five of the ALDS after just two innings. As Joba Chamberlain, Ben Sheets, and Stephen Strasburg can attest, strained flexors have a tendency to result in Tommy John surgery. Nova appears to have avoided the same fate.
"It's perfect, 100%" he said after a winter of rest. "I was worried a little bit, but they said 'you're going to be fine.'"
Sabathia is the unquestioned and ultra-reliable ace, but both Pineda and Hiroki Kuroda will have answer some questions about transitioning to the AL East. Phil Hughes and Freddy Garcia have their own thing going on, and Nova has stood by idly. His spot in the rotation is all but guaranteed following a strong second half thanks to an improved slider, and if you ask him, he doesn't care were he slots in.
"I just want to be in the rotation and I want to win games." said Nova. "I don't mind if I'm number one, two, three, four, five."
This all nothing new to Nova, who's flown under the radar his entire career. He never got the kind of prospect love that Hughes or Joba or Manny Banuelos or even David Phelps has received, was left unprotected in the Rule 5 Draft a few years ago, and didn't get his first crack at the big league rotation until Javy Vazquez and Dustin Moseley had exhausted all opportunities. I hesitate to call it a lack of respect, but Nova sure has had to earn everything he's gotten in baseball.
I don't know how the rotation will shake out come Opening Day, but the rotation order is only important at the end of the season, not the beginning. Along with Sabathia, Nova is going to be counted on for stability every fifth day as Pineda and Kuroda get their AL East feet wet and the fifth starter does fifth starter things. Looking ahead even further, the Yankees are going to need him to provide cheap, quality innings if they seriously intend to get under that $189M luxury tax threshold in 2014. Nova's flying under the radar at the moment, but make no mistake, he's a very important part of the rotation and the team.