One of the general rules of thumb in Spring Training is the higher the number, the less likely the player is to make the team. Chase Whitley (#96) and Graham Stoneburner (#95) should probably start looking for apartments in Trenton rather than start planning for life in the Bronx. Non-roster players with a legitimate chance to make the team like Bill Hall (#40) and Russell Branyan (#45) were issued numbers a little closer to respectability.
New faces Michael Pineda and Hiroki Kuroda were given some old, familiar numbers. Numbers with tiny little bit of history, either for the Yankees or in general. During the number-issuing process, Andruw Jones got caught in the crossfire. Let's review…
Michael Pineda – #35
For the first time since Mike Mussina in 2008, someone will wear #35 in pinstripes. Pineda wore #36 with the Mariners last season, but Freddy Garcia has seniority and got to keep his number. Moose was a great Yankee, but not great enough to have his number retired. Keeping #35 out of circulation for three years before handing it over to an extremely talented young hurler like Pineda is a fine tribute in my eyes.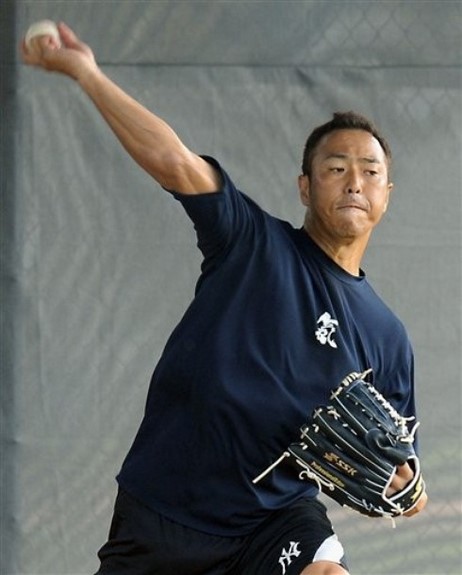 Hiroki Kuroda – #18
Believe it or not, there's actually a little something behind Japanese pitchers and the #18. It's the country's recognized "ace number" according to NPB Tracker's Patrick Newman (and his commenters), a tradition that started way back in the 1930s with Akira Noguchi of the Tokyo Senators. It was later popularized by Tsuneo Horiuchi of the Yomiuri Giants in the 1960s and 1970s. After Horiuchi retired, Masumi Kuwata was given the number and went on to have a lengthy career. The tradition spread and now most staff aces in Japan wear #18, though #11 has started to gain popularity as an "ace number" thanks to Kenshin Kawakami and more recently Yu Darvish. Daisuke Matsuzaka wears #18 with the Red Sox, and the recently signed Tsuyoshi Wada will wear it for the Orioles. So yeah, neato.
Andruw Jones – #22
I don't know if he got dinner or a watch or something else out of it, but Jones gave up #18 to Kuroda and will now don #22. If you're the superstitious type, I have bad news for you: the #22 has been worn by some sketchy fourth outfield types in recent years, including Greg Golson (2011), Colin Curtis (2010), Chad Huffman (2010), Randy Winn (2010), and Xavier Nady (2008-2009). Jones is substantially better than all of those fellas, plus I'm not usually one to worry about the bad vibes given off by certain numbers. I expect Andruw to do just fine in 2012, regardless of what number he's wearing on his back.
* * *
Raul Ibanez will be issued #27 when he reports according to Jack Curry, which can't be good news for Chris Dickerson. Last year's #27 is out of minor league options (can't be sent down without first clearing waivers) and on the outside of the roster bubble looking in at the moment. He's been given #41.
The numbers 6, 20, 21, 46, and 51 remain out of circulation, and four of the five are likely to get retired at some point. I have a real hard time thinking Paul O'Neill's number will be retired unless they're planning some kind of grand, late-90s dynasty number retirement night, where all those guys have their numbers put in Monument Park at the same time. O'Neill's been retired for eleven years now, it's time for something to happen with #21, one way or the other.