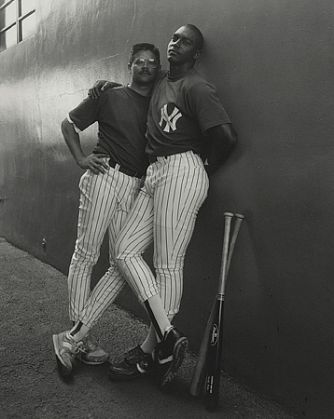 Among the many wonderful things about being a baseball fan are the bizarre attachments one tends to form — generally as a youngster — toward relatively obscure players who don't end up doing anything noteworthy. Yet because you were seven years old and had their baseball card, they're indelibly seared in your mind.
As a young Yankee fan whose earliest memories of the team begin around the 1988 season, I had to not only contend with scores of my Met-fan peers deriding me (it seems crazy now, but the Mets actually did at one time rule the baseball landscape in New York City), but also grow fond of an incredibly uninspiring and lackluster group of players. The franchise's nadir (the 1990 squad is among the worst in team history, with the third-most losses of any Yankee team; and the 1989 through 1992 seasons represents arguably the worst consecutive four-year stretch in franchise history) coincided with my burgeoning obsession with the team.
Now, not everyone who played for the Yankees during the dark years was terrible. Like most Yankee fans my age, Don Mattingly was my favorite player growing up, and we were also treated to…um…hmm…well, at least we had Donnie Baseball. Rickey Henderson actually posted several incredible years for the Yanks (from 1985-1988 he was actually better than D. Baseball, with a .405 wOBA, 154 wRC+ and 28.4 fWAR across nearly 2,500 plate appearances), though given his non-homegrown-ness I don't recall ever truly warming up to ol' Rickey. Willie Randolph showed impressive plate discipline before walks were even in vogue, but no pop at all; while Dave Winfield, though offensively robust, seemed aloof and unrelatable. Outside of these stalwarts, the talent level of the Yankee offensive corps around this time ranged from reasonable (Jack Clark, Andy Stankiewicz, Jesse Barfield) to wholly unacceptable (Alvaro Espinoza, Pat Kelly, Randy Velarde, Bob Geren).
At some point within that 1989-1992 four-year period my dad took me to a Yankees-Mets exhibition game at Yankee Stadium. Back in the day the Yankees and Mets played an annual set of exhibition games under several different banners (among them "Big Apple Series," "Mayor's Trophy Game" and "Mayor's Challenge"), and being that the Mets were the superior team at the time I remember thinking that these contests were a pretty big deal. Given how poor the Yankees' plight was at the time, something as silly as bragging rights based on the outcome of a couple of exhibition games actually held some meaning. I have tried in vain to locate the actual date and boxscore of the game I attended, but as this was pre-internet there doesn't seem to be anything definitive regarding the Yankees' old spring training schedules out there. (Note: The Yankees and Mets are actually playing each other this spring on April 3rd and 4th, marking the first time the teams will have met in spring training since 1996).
The one thing I can tell you is that I distinctly remember being beyond excited to get to see Hensley "Bam Bam" Meulens play in person. At the time I seem to recall Meulens — signed by the Yankees as an undrafted free agent in 1985 — was being hyped as the Yankees' next big homegrown power bat, in case you couldn't tell by the fact that his nickname was "Bam Bam." Based on Meulens' 1990 season, in which he obliterated AAA to the tune of a .285/.376/.510 line over 559 PAs and earned him a September call-up (not to mention the International League MVP) that saw him hit a slightly more modest-but-still-reasonable .241/.337/.434 (115 OPS+) in 95 PAs, I'm almost certain the Yankee-Met game I attended would have been held in the spring of 1991, on the heels of Meulens' breakout year. Otherwise I have no idea how I'd have even been aware of him.
Anyway, the only thing I remember from the game is that Meulens did in fact hit a home run (I think the Yankees won, but again, we're talking over 20 years ago), seemingly cementing his status — along with, of course, Kevin Maas, who also broke out in the latter half of 1990 — as the next big homegrown Yankee player.
Unfortunately for Meulens (and Yankee fans), his first full season in pinstripes was a disaster. After breaking camp with the team, Meulens stayed in the bigs the entire year, but his wretched .222/.276/.319 (65 OPS+) line across 313 PAs limited him to action in only 96 team games (in a move right out of the Joe Torre managing handbook, the right-handed Meulens' struggles against right-handed pitching — which apparently dominated the American League in 1991 — opened the door for more playing time for veteran Mel Hall). Meulens was demoted to Columbus for the 1992 season and, despite hitting .275/.352/.481 in 603 AAA plate appearances, stayed in the minors the entire year save two late September games in the Bronx. I suppose the team was pleased with Charlie Hayes' .257/.297/.409 line (97 OPS+) at the hot corner that season, although Meulens must have really fallen out of favor to have languished in AAA the entire year.
Meulens never recovered. In 1993 he again began the year at AAA, got called to the Bronx in late May, hit .170/.279/.340 over 61 PAs, and was demoted again two months later. Meulens finished the 1993 season at AAA Columbus, ultimately posting the weakest line of his min0r-league career. The Yankees released him in November of 1993, and he played in Japan from 1994-1996. Meulens headed back to the U.S. prior to the 1997 season, signing with the Braves, who released him during spring training, and then latching on with the Expos.
Meulens again spent most of the 1997 season at AAA, putting up a fine .274/.369/.501 line, and did the most he could with very limited playing time in another September call-up (.292/.379/.583 in 29 PAs), but was released at the end of the year. He spent most of the 1998 season with the Diamondbacks' AAA squad before being traded to the White Sox at the 1998 trade deadline. However, for reasons I can't sort out, he only played in two games for Chicago's AAA affiliate after the trade, so presumably he was injured for the majority of the remainder of the season.
Hensley Meulens never stepped to the plate in the Major Leagues again after May 14, 1998, thus closing the book on the MLB career of a man whose power was supposed to have been legend but who ultimately only swatted 15 big league home runs. Per Wikipedia, Meulens subsequently spent time with the Newark Bears of the independent Atlantic League in 1999; made one last stop in Asia, playing 14 games with the SK Wyverns of the Korea Baseball Organization and batting only .196; then headed to the Mexican League with the Saraperos de Saltillo in 2001; and finally retired, in 2002, after a mid-season injury while playing with the Pericos de Puebla. In the ensuing years Meulens has since carved out a successful career as a Minor and Major League coach, and currently serves as the hitting coach for the San Francisco Giants, with whom he won a ring in 2010.
Happily, Meulens seems to be at peace with his place as a hitter in a baseball history. Last July he was quoted in the aforelinked Wall Street Journal story:
Meulens, meanwhile, met a similar fate. A native of Curacao, he was nicknamed "Bam Bam" for the staggering power that produced—legend has it—500-foot home runs in varied minor-league towns. "That's no exaggeration," says Ralph Kraus, Meulens's teammate at Class A Prince William in 1987. "I'd never seen anyone hit balls as far as he did."

Yet for all his oomph, Meulens never adjusted to major-league pitching. In 288 at-bats in 1991, he hit six home runs while striking out 97 times. "It was my fault," says Meulens, who now works—somewhat ironically—as the San Francisco Giants' hitting coach. "I was a highly touted prospect who never figured it all out. That's on me." Like (Kevin) Maas, he was eventually released.
Not that you ever want to see anyone fail, but it's refreshing to see Meulens own up to his struggles, and I'm glad he's found his calling back in the big leagues.