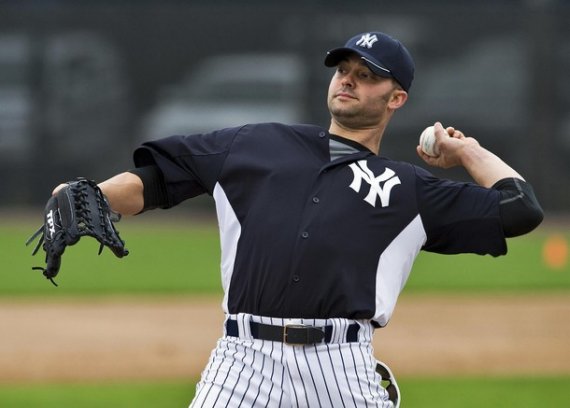 When we talk about the core of a team, we can mean many things. From 2007 through 2010 the Yankees had the Core Four of Derek Jeter, Mariano Rivera, Jorge Posada, and Andy Pettitte. As the remaining relics from the late-90s dynasty, they led the team in spirit. We can also refer to the core producers on the team. Last year Curtis Granderson and Robinson Cano were the core run producers. Still, there is one core area of a team that often gets overlooked.
With the grind of a 162-game season, teams need guys who take the field day after day. A few fragile players can fit into a team's blueprint, but as those injury risks increase so does the need for durability. Part of a team's core, then, centers on these guys who somehow remain healthy. After all, as friend of RAB Tommy Bennett likes to say, health is a skill.
While anyone can get injured at any time, these guys have proven their durability. That's a big plus for any team, especially one that expects to contend from wire-to-wire. We'll limit this to position players.
Mark Teixeira
Since debuting in 2003, Teixeira has played fewer than 145 games in just one season. That came in 2007, when he missed 27 games with a quadriceps strain. Prior to that he'd been on the DL just once. Since then he hasn't spent a single day on the DL, unless you count his hamstring injury in Game Four of the 2010 ALCS. (Apparently Baseball Prospectus lists that as a zero-day DL stint.) In the last four seasons Teixeira has played in at least 156 games. He has become one of the game's iron men.
Should Teixeira fall victim to injury, the Yankees do have some backup plans. Eric Chavez has been taking reps at first base this spring, as he did last year. There's also Nick Swisher, who has played there occasionally as a Yankee. That would seemingly open up a hole in the outfield, but if Andruw Jones proves he's viable in a regular role the Yankees could opt to use Swisher at first if a long-term need arises.
Nick Swisher
Swisher is the type of player that, as the cliche goes, bends but does not break. His injury history, per Baseball Prospectus, is actually quite long. Yet it consists mostly of day-to-day items that have kept him out one, two, maybe three days at a time. Just once in his career has he spent time on the disabled list, and that came all the way back in 2005 when he separated his shoulder running into an outfield fence. That caused him to miss 19 games. He wouldn't miss 19 games combined in the next four years, and has missed only 30 games since returning from the DL.
In each of his three years with the Yankees Swisher has played in exactly 150 games. He has racked up at least 607 PA in those years, and has come to the plate 635 times in each of the last two. He's lost 20 games to various injuries, including his knee and biceps, but he's never been out of position for any significant stretch. With a greater focus on conditioning — Swisher was noticeably thinner in 2010 and 2011 than he was in 2009 — he could remain one of the Yankees' most dependable players.
Robinson Cano
Remember back in 2006 when Cano missed 35 games — 43 days — with a hamstring injury he suffered running the bases? That felt like a long time for him to be out. The injury didn't seem that severe, and the Yankees did downplay it to a degree. But he came back with a fury, hitting .365/.380/.635 to finish the season and contending with Joe Mauer and Derek Jeter for the batting title. Since then Cano has missed two games — two games! — due to injury. This includes the time in 2010 when Josh Beckett hit him right in the friggin' knee with a pitch; he was back as the DH the very next game.
In the last five years Cano has averaged 159.8 games played per season. He's dipped below 160 just twice: in 2008, because he got benched in September, and last year, when he got a couple of days off in the season's final weeks. Considering his on-field production at a premium position, Cano's durability has been a great boon to the Yankees.
Curtis Granderson
It might seem odd to count Granderson among the more durable Yankee players. He did, after all, suffer a groin injury early in his pinstriped tenure, and that sticks in our craws. But that was just Granderson's second career trip to the DL. He opened the 2008 season on the DL with a broken finger, suffered as the result of a spring training hit by pitch. He also missed time last spring training with an oblique injury, but that cost him just 10 days. And, as we saw, it had little bearing on his regular season performance.
What's odd about Granderson's injury rap sheet is that it contains zero day-to-day injuries. It's just the fractured finger, the groin injury suffered while running the bases, and the oblique injury. That's uncommon, especially for someone who plays a physically demanding position.
Derek Jeter
If Jeter's injury history is long, it's only because he's been in the league for 16 years. He's had his minor dings and dents over the years, many times after being struck in the hand with a pitched baseball. But last year was the first time since 2003 that he hit the disabled list. Between those DL stints he missed just 42 games, which covers seven full seasons and parts of two others. In those seven years he never dipped below 150 games and has averaged just under 155 per season.
The Yankees, then, have a great advantage, in that five of the nine hitters in their lineup have proven their durability. What of the other four? As it turns out, with one exception, they've been durable in the past as well.
Brett Gardner
Gardner did miss time in 2009 after fracturing his thumb while sliding into second. He also underwent wrist surgery after the 2010 season. He's had a few other nagging injuries here and there, but nothing serious. He might not seem durable, due to his size, but he's managed to stay on the field for most of his time with the Yankees.
Russell Martin
Time was, Martin played almost every day. That's usually a commendable trait, but since Martin squats behind the plate for nine innings that workload can take its toll. The injury problem started in 2010, when he hurt his hip while crossing home plate. Before that the worst he'd suffered was an abdominal strain in spring training — though it came the same year as his hip injury. He also underwent knee surgery that off-season, and then missed time last year with a sore lower back.
Still, Martin has remained on the field for an incredible portion of his career, especially for a catcher. Even last year he managed to miss the DL, sitting out just seven games with the back injury. He started 118 games behind the plate, which is good for a catcher. It wouldn't be a surprise to see him around 125 this year.
Raul Ibanez
Since 2004 Ibanez has been on the DL just twice. The first came in 2004, and the other came in 2009. The pair of injuries caused him to miss 52 games total. Other than that, he has a few day-to-day stints. They have added up to 20 games since 2004. That's a pretty impressive track record. The biggest knock on Ibanez's health right now is that he missed four games in 2011 with a groin injury, which is the same one he suffered in 2009. He also underwent surgery to correct a sports hernia after the 2009 season. But for the most part he's stayed on the field.
That just leaves just two regulars. Andruw Jones has been mostly healthy since 2009, but he's also played limited roles. It's tough to say how he'd hold up given more playing time. Then again, prior to 2008 he had never hit the DL. There's also Alex Rodriguez, who has been on the DL every year since 2008. It's tough to expect him to remain healthy at this point in his career, but he is working with the same trainer that has kept Grant Hill on the basketball court for the last few seasons.
One of the Yankees' biggest advantages on offense comes in the form of durability. Injuries can hamper a team's production. It's not just that they're missing the one player's production. The entire lineup changes, and suffers, when one of its main cogs goes on the DL. The Yankees, with the exception of Rodriguez, have been thankful to avoid that in the last few years. Again, injury can happen to anyone, but if the Yankees maintain their injury record, the offense will be all the more powerful.