With Spring Training fully underway, it's time to begin our season preview. We're going to change things up a bit this year, focusing on various aspects of the team rather than individual players. You'll see most players in multiple posts, but the concepts will all be different.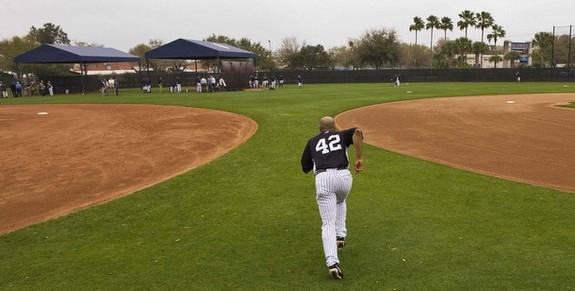 The Yankees are known for their free-spending ways, and while that may be scaled back in the near future, the team still has plenty of roster and financial decisions to make. Eight players on the club's projected 25-man Opening Day roster are scheduled to become free agents after the season, assuming the no-brainer 2013 options for Robinson Cano and Curtis Granderson are exercised. No less than four of those eight impending free agents can be considered critical pieces of the roster.
Things have a way of changing over the course of a 162-game season (plus playoffs), but the Yankees are going to have some tough choices to make in about eight months. In some cases, the may not have a choice at all.
Freddy Garcia
The Yankees quickly re-signed Garcia to a one-year, $4M contract early this offseason, but now he's an extra piece. It's easy to say they jumped the gun and should have waited to re-sign him, but they got him on such ridiculously favorable terms compared to what similar pitchers — Bruce Chen (2/9), Chris Capuano (2/10), and Aaron Harang (2/12) — received this winter that the Yankees will have no trouble trading him later this summer if they decided to go that route. Pitching depth is never a bad thing, and even if the fifth starter competition is rigged, I'm sure we'll see Sweaty Freddy make some starts this year. Right now, it seems all but certain that Garcia will move on to another team as a free agent next offseason.
Andruw Jones, Raul Ibanez & Eric Chavez
Three spare parts on cheap one-year contracts, Ibanez ($1.1M) will be the left-handed half of the DH platoon while Chavez ($900k) backs up both corner infield spots. Jones ($2M) will get playing time against southpaws, either in the field or at DH. None of the three players are all that crucial to the team's short- or long-term success, with Andruw representing the most indispensable part. That said, he's on the short end of a platoon. Injuries have a way of forcing guys like these into larger roles than expected. Jones will be the priority re-sign after the season if all goes well, but the other two will have to wait like they did this winter.
Hiroki Kuroda
The 37-year-old Kuroda was non-committal about his future when he arrived at camp a few weeks ago, instead saying he's ready "to give 100% and contribute to the Yankees as much as possible." Hal Steinbrenner agreed to expand the budget to sign the veteran right-hander for $10M, a signing of tremendous importance that hasn't gotten the attention it deserves because of the Michael Pineda trade.
With youngsters Pineda, Ivan Nova, and Phil Hughes in the rotation, Kuroda and CC Sabathia will be counted on to provide stability and innings every five days. He's being reunited with former Dodgers battery-mate Russell Martin, which will hopefully get his ground ball rate back into the 50% range after a one-year hiatus. There's no secret regarding Kuroda's status with the team; he's a one-year stopgap brought in to solidify the rotation while the younger pitchers take their lumps. If he performs well and is willing to return in 2013, I'm sure the Yankees would welcome him. If not, then no big deal. Both parties will move on.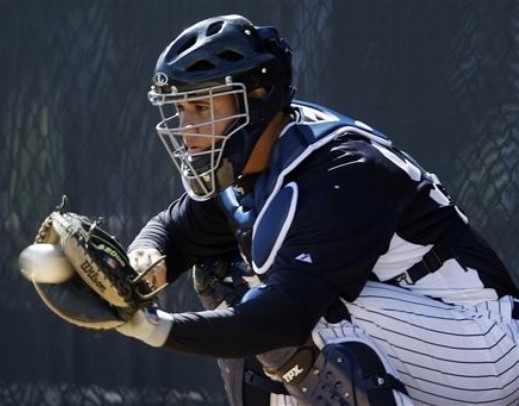 Russell Martin
The Yankees have already touched base with Martin's camp about a three-year contract extension, but talks are now on hold until after the season. Yadier Molina's hilariously huge contract (five years, $75M with an option and a no-trade clause) is a total game-changer, raising the salary bar for above average catchers in their prime years substantially. Martin will benefit, the Yankees will not if they choose to re-sign him.
While Austin Romine and Frankie Cervelli represent viable and payroll friendly alternatives, there is definite value in having a guy like Martin around for the next few seasons. He can ease the transition of the youngsters and provide some certainty at a position where so many teams have none at all. By no means is Martin a star, but he fits the Yankees well and there are several reasons for the team to re-sign him after the season. Molina's contract will make that extraordinarily difficult, as the Rangers and Diamondbacks learned when impending free agents Mike Napoli and Miguel Montero abruptly ended extension talks this week.
Nick Swisher
Unlike Martin, the Yankees have not approached their right fielder about any kind of contract extension. Also unlike Martin, the Yankees don't have an obvious, in-house replacement for Swisher. Things could change during the course of the summer, but as of today there's no player in the system who you could point to as a viable corner outfielder for 2013.
Swisher has made it obvious that he loves playing for the Yankees, but he also said he won't force the issue and is willing to test the free agent waters next winter. Concerns about a down walk year because of his playoff failures (and thus his "inability to handle pressure") are misguided because Swisher was playing for a contract last season too. If he performed poorly, he was faced with the same fate as today: heading out onto the open market coming off a bad season on the wrong side of 30. The Yankees seem more content to play this one by ear, mostly because finding a replacement corner outfielder won't be as difficult as say, finding a replacement catcher. That said, Swisher is a pretty important piece of the offense and losing his production would hurt.
Mariano Rivera
Based on his comments from a few weeks ago, the Yankees may not have a choice when it comes to retaining Rivera after the season. The greatest relief pitcher in the history of the universe hinted at retirement his first day at Spring Training, saying he's made a decision about his future and won't change his mind even if he saves a zillion games or if they offer him a zillion dollars. That seems like a weird thing to say if he was planning on giving it another go in 2013.
Mo is the only player in this post the Yankees would absolutely, no doubt about it retain after the season if given the chance. Other roster decisions would be based on him and around his new contract, which is something that applies to very few players in today's game. The Yankees have plenty of potential replacements should Rivera hang 'em up after 2012, but a pitching staff is a unique thing. They could carry Rivera and his potential replacements at the same time, unlike say Martin, Romine, and Cervelli. This is pretty much out of the Yankees' hands. If Mo is willing to come back next year, they'll bring him back. If not, well then we'll see him in Cooperstown in six years.