The Yankees used 46 different players en route to winning the AL East last season, including 28 different pitchers. The Red Sox learned the hard way that opening the year with five solid starters isn't enough to secure a playoff spot — the numbers six, seven, and eight starters are pretty important as well. Whether it's injury, ineffectiveness, or just the need to change things up on occasion, every club will need to dip into its system and call up players at some point during the season. In many case, it's the difference between playing for a title and going home early.
Thanks to a strong farm system and the fact that players are now willing to assume lesser roles in New York, the Yankees have been able to build a very nice stockpile of secondary players should a need arise at some point, which it will.
Catcher
Russell Martin and Frankie Cervelli are one of the better starter-backup catching tandems in the game, but Jesus Montero is no longer around threatening to steal playing time. The third string backstop this year is Austin Romine, who probably needs a full season's worth of Triple-A plate appearances more than anything. Gus Molina was up briefly last year, but he's unlikely to get the call in 2012 unless things go really wrong.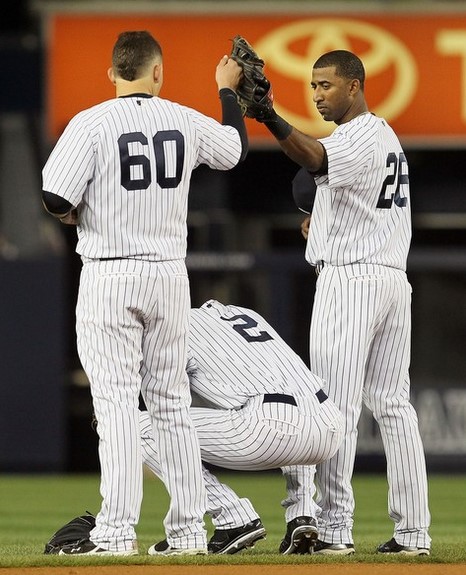 Infield
With injuries becoming a bigger concern as Derek Jeter and Alex Rodriguez march into their late-30s, Eduardo Nunez and Eric Chavez become a bit more important than your typical reserve infielders. Chavez is injury prone himself, so really it's Nunez that is most important. He came to the plate 338 times last season and could be poised for even more this work this year as Jeter and A-Rod get more days off and time at DH in an effort to remain on the field.
With Corban Joseph and David Adams still in need of minor league seasoning, Ramiro Pena and Brandon Laird are the primary 40-man roster depth pieces on the infield. Pena can't hit a lick but is a very strong glove man while Laird is more of a hacker with a solid but unspectacular glove. I'm assuming that Russell Branyan and Bill Hall will exercise their opt-out clauses before the season if they don't make the club, but minor league contract signee Jayson Nix will still be around and could become a factor. The Yankees are fine in terms of short-term replacements, but a significant injury to any of the four regular infielders would likely result in a trade for adequate help.
Outfield
The starting outfield trio has been relatively durable over the last few years, but the Yankees do have Andruw Jones just in case. He has to be in any conversation about the game's best fourth outfielders. Raul Ibanez and Nunez and the emergency fifth and sixth outfielders only. Justin Maxwell is out of minor league options and having a fantastic spring (.435/.519/.652 in 23 at-bats), and I think he'll be traded before the season just because there's no room for him barring injury. It's either lose him on waivers or trade him for a minimal return.
Chris Dickerson has already been removed from the 40-man roster, but he should be the first in line should help be needed. He can't hit lefties but he does hold his own against righties while offering defense and speed. Dewayne Wise is a defensive specialist and penciled into a regular outfield spot in Triple-A. We saw Colin Curtis in 2010 but he's further down the depth chart. Cole Garner as well. Forty-man roster guys Zoilo Almonte and Melky Mesa are slated for Double-A and won't be factors this year. Jones is a great backup plan, though most of the true outfield depth players are defense-first types and won't be able to replace much offense.
Starting Pitchers
It's hard not to get excited about all the quality arms the Yankees have at their disposal this season. Assuming Phil Hughes wins the rigged fifth starter competition, Freddy Garcia is ticketed for long relief come Opening Day. Andy Pettitte will return about a month into the season to give the team seven legitimate big league starters for five spots.
The Triple-A rotation is going to be full of prospects, with David Phelps, Adam Warren, and D.J. Mitchell likely to get the call ahead of Dellin Betances and Manny Banuelos. Phelps and Mitchell are on the 40-man roster, but I can't imagine the Yankees would hesitate to call up Warren if needed. All three of those guys have been impressive in camp and would probably be contending for rotation spots with other teams. There will be no Shawn Chacon-style trades or Sidney Ponson signings or Aaron Small desperation moves this year, the Yankees have starting pitching coming out of their ears. The smart money is on them needing most of it as well.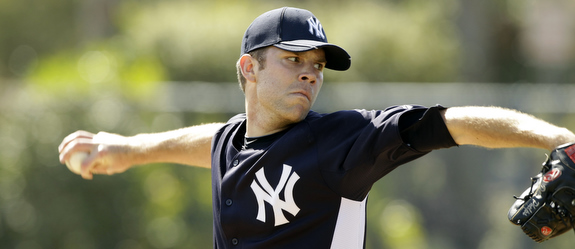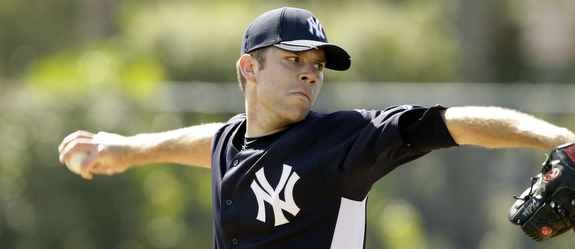 Bullpen
Assuming the final bullpen spot goes to a second lefty like Clay Rapada or Cesar Cabral, the Yankees will have right-hander George Kontos a phone call away this summer. He's the early favorite to the ride the Bronx-Empire State shuttle this year. Phelps, Warren, and particularly Mitchell are all candidates for bullpen duty just like Hector Noesi last season. Left-hander Mike O'Connor and righties Adam Miller and Matt Daley have been around the block and will be stashed in Triple-A on minor league pacts. I didn't think we'd see Buddy Carlyle or Amaury Sanit or Lance Pendleton last year, but there they were. If someone is on the Triple-A pitching staff, they have a chance to be called up.
* * *
It's important to remember that depth players can help the club in more ways than one. They could directly contribute on the field, but they could also serve as trade bait. The Phelps, Warren, and Mitchell triumvirate is prime trade fodder, especially after the Pettitte signing. We're going to see those guys in the show in some capacity this year, but don't be surprised if one is dealt at some point. Laird could be moved as well, though he doesn't have a ton of value. They can't keep everyone, you know.