The farm system will be a little less exciting this season because of the departure of Jesus Montero, but that was going to be the case anyway. Had he not been traded to the Mariners, he would have been in the big leagues as the regular DH. It's been six years since the Yankees had a Montero-less minor league system, so a new era begins in 2012. A new era with a ton of familiar names.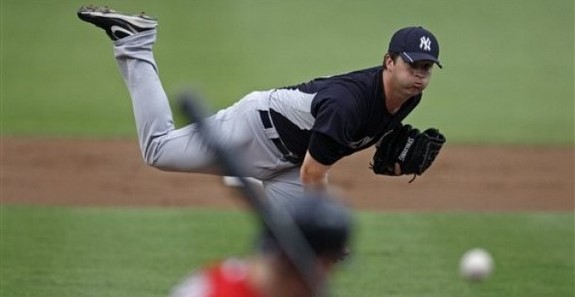 Triple-A Empire State
The Yankees top farm system will be noteworthy for two very different reasons this season. The goods news is that they'll boast a five-prospect rotation that will arguably be the best in minor league baseball. Triple-A vets David Phelps, Adam Warren, and D.J. Mitchell will join newcomers Dellin Betances and Manny Banuelos, at least until they're called up to help the big league team. Catcher Austin Romine and infielders Corban Joseph and Brandon Laird figure to be the only prospects on the position player side, however. I wrote up this preview of the team's roster back in January, so I'll just refer you to that rather than regurgitate it all here.
The bad news is that the team doesn't have a permanent home this year, prompting the name change from Scranton/Wilkes-Barre to Empire State. The Triple-A squad will play their home games in six different cities as PNC Field undergoes extensive renovations this year, which is brutal. They'll travel from Lehigh Valley to Syracuse (200 miles), Syracuse to Buffalo (149 mi.), Buffalo back to Syracuse (149 mi.), Syracuse to Rochester (87 mi.), Rochester to Batavia (34 mi.), Batavia to Pawtucket (410 mi.), and then Pawtucket to Lehigh Valley (305 mi.) in April alone. That's over 1,300 miles and 20 total hours (assuming no traffic!) of travel time. Is it the best thing for the team's prospects? No, of course not. But it's unavoidable.
Double-A Trenton
Pretty much every farm system has a talent gap somewhere, and last year that gap was in High-A Tampa. It's moving up to Double-A this season. Right-hander Brett Marshall will be, by far, the best prospect on the team, fronting a rotation that should also include Double-A repeaters Shaeffer Hall, Craig Heyer, and Graham Stoneburner. Josh Romanski figures to fill a rotation spot as well after making a few relief appearances for Trenton last summer. The bullpen is slate to include a few interesting arms, specifically Chase Whitley and Dan Burawa. The latter is currently recovering from a torn oblique, so his season debut will be delayed a bit.
A two-Almonte outfield — Zoilo and Abe — will headline the offense, which will also feature repeater Melky Mesa. Fringe prospects Rob Lyerly, Jose Pirela, and (non-prospect) Luke Murton should round out the infield while organizational soldiers Jose Gil and Mitch Abeita handle catching duties. David Adams will attempt to come back from his ankle injury to play second base. It's not the most interesting group of players, but Marshall gives you a reason to check the box score every five days.
High-A Tampa
Unlike last year, the Tampa squad will actually be interesting this summer, primarily because of the bullpen and not the rotation. Strikeout machine Mark Montgomery will headline a relief corps that will include fellow power arms Phil Wetherell, Zach Arneson, Caleb Cotham, Branden Pinder, and Tommy Kahnle. There's a chance one of those guys (likely Arneson) will be held back in Low-A just to make sure there's enough innings to go around. All of those relievers are candidates for midseason promotions to the Trenton bullpen.
Southpaw Nik Turley had his breakout season interrupted by a broken hand last season, which hopefully taught him not to reach for line drives with the bare hand. Mikey O'Brien and the physically massive Zach Nuding will join him in the rotation, and the disappointing but still prospect shiny Jose Ramirez figures to get another crack at the level. Right-hander Jairo Heredia put together a dozen dominant starts for Tampa before getting hurt last year, and he's likely to fill the final rotation spot.
The position player crop could either be really exciting or just interested depending on one guy: Gary Sanchez. He mashed in 343 Low-A plate appearances last season and could get the bump to Tampa, but a return to Charleston for a few months is possible if not likely. If he's not with the High-A squad, the offensive draw will be backstop J.R. Murphy, outfielder Ramon Flores, and first baseman/DH Kyle Roller. Slade Heathcott's return is tentatively scheduled for June, so until then Eduardo Sosa will have to hold down the center field position.
Low-A Charleston
With all due respect to the Triple-A rotation, this is where the prospect fun will be in 2012. If Sanchez returns for a few weeks/months, the River Dog faithful will enjoy a lineup that includes the three best position player prospects in the organization: center fielder Mason Williams, third baseman Dante Bichette Jr., and Sanchez. Former first round pick Cito Culver will man shortstop with former second rounder Angelo Gumbs again serving as his double player partner. Tyler Austin is a third baseman by trade but will shift to right field in deference to Bichette. Sleeper Ben Gamel figures to get the nod in left. Counting Sanchez, that's six of the organization's nine best position player prospects in one lineup.
The pitching won't carry quite as much star power as the lineup, but it's certainly not lacking intrigue. Newcomer Jose Campos comes over from the Mariners to headline a starting staff that will also include the full season debuts of Bryan Mitchell and Evan DeLuca. Sleeper extraordinaire Matt Tracy is likely to be in the rotation as well, as he continues his conversion from two-way player to full-time pitcher. The bullpen won't be as interesting as the High-A staff, but Arneson, Vidal Nuno, Ben Paullus, and Brett Gerritse are all somewhat attention-worthy.
Short Season Staten Island
Bichette may be moving up to a full season league in his first full pro season, but not every 2011 draftee will be so lucky. Mashers Matt Duran (3B), Bubba Jones (1B), and Greg Bird (C) will join burners Claudio Custodio (2B/SS) and Jose Rosario (2B/SS) in Shaolin later this season, though the best prospect on the team will be center fielder Ravel Santana. The 19-year-old five-tooler is on target to return to the field in June following the devastating ankle injury that ended his season a year ago. Eight-rounder Jake Cave figures to flank Santana in one of the corner outfield spots while Isaias Tejeda dons the tools of ignorance.
The SI pitching staff should be built around a trio of 2010 draftees: righties Taylor Morton and Gabe Encinas plus lefty Evan Rutckyj. Mariel Checo will likely get the call in the bullpen while the rest of the roster will come predominately from the upcoming draft class.
Rookie Gulf Coast League Yankees
The majority of the GCL Yanks roster will come from the 2012 draft, though arms like Jordan Cote, Reynaldo Polanco, Joey Maher, Chaz Hebert, and Hayden Sharp all figure to spend the summer on the back fields in Tampa. Big money international signees like outfielder Wilmer Romero ($656,500), infielder Chris Tamarez ($650,000), and right-hander Cris Cabrera could make their U.S. debut after cutting their teeth in the Dominican Summer League last year.
To me, the single most interesting prospect to watch this year isn't even officially in the organization yet. That would be right-hander Rafael DePaula, who finally got his work visa last week and just needs to pass a physical before he can get his $500k bonus and start showing off that power arm in the low minors. I expect the 21-year-old to be held back in Extended Spring Training at first, but he could be bumped up to Low-A Charleston as early as May. If they play it a little more conservatively, he could wind up with SI or the GCL. Either way, he'll be one of the top minor league storylines this season in addition to the Triple-A rotation and the entire Low-A squad.