Only 10% of the population is left-handed, and I don't think any industry rewards southpaw-ness more than baseball. Lefty hitters are typically at the platoon advantage 65-75% of the time while lefty pitchers will get chance after chance to contribute something, anything at the big league level. It's good work if you can get it.
Given the short right field porch at both the old and new Yankee Stadium, the team's history has been dominated by power left-handed bats like Babe Ruth, Lou Gehrig, Reggie Jackson, and Don Mattingly. Left-handed pitchers are also at a premium to help prevent the other team from capitalizing on the right field dimensions, which is why the club's all-time best pitchers are southpaws like Whitey Ford, Lefty Gomez, Ron Guidry, and Andy Pettitte. The current incarnation of the Yankees is no different, with a group of left-handed guys who do their very best work against same-sided players.
Robinson Cano
The best hitter on the Yankees also happens to be one of the very best left-handed hitters against left-handed pitching in all of baseball. Since the start of the 2009 season, only Joey Votto (.402 wOBA) and Chase Utley (.390 wOBA) have outhit Cano (.371 wOBA) against same-side pitchers (min. 500 PA). His 31 homers against southpaws over the last three years are the third most in baseball among all hitters, regardless of hand. Only Albert Pujols (40) and Mark Teixeira (34) have more.
Cano's ability to hang in against left-handed pitching stems from his freakish contact skills, which allows him to get the fat part of the bat on both fastballs in and breaking balls away. He uses the entire field and is basically un-matchup-able. That's why he's one of the game's most dangerous hitters.
Curtis Granderson
Once upon a time, Granderson was completely useless against left-handed pitchers. From 2006 through mid-August 2010, Curtis hit just .208/.264/.326 with a 24.5% strikeout rate in 767 plate appearances against lefties. That all changed 20 months ago, when hitting coach Kevin Long revamped the center fielder's setup and stroke. Since then, Granderson has hit .275/.354/.575 in 275 plate appearances against lefties, which is almost identical to his .255/.366/.545 line against right-handers.
No hitter — right-handed or left-handed — hit more homers off lefty pitchers in 2011 than Granderson, who had 16. Teixeira had 15 and no one else had more than a dozen. Jay Bruce had the next highest total by a left-handed hitter at 11, so none of those fellas was particularly close to Curtis. Granderson's transformation from platoon player to MVP candidate has been just remarkable, and there are going to be a lot of opposing managers tricked into using inferior LOOGYs in the late innings when Grandy and Cano are hitting back-to-back in the 2-3 spots this season. It will be glorious.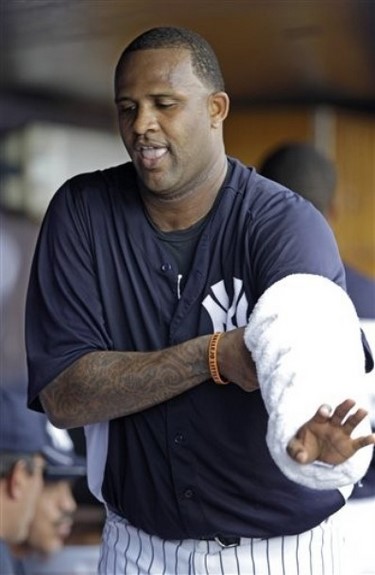 CC Sabathia
One of the two or three best left-handed pitchers on the planet, Sabathia has been tormenting same-side hitters with his fastball-slider combination for a decade now. He's held lefty batters to a .221/.272/.322 batting line with a 30.3% strikeout rate in 692 plate appearances during his three years in New York, which looks a whole lot like the old version of Granderson. Only eleven of the 55 homers he's given up since the start of 2009 have come off the bat of lefties.
Because of his dominance of left-handed hitters, opposing managers often stack their lineups with right-handers whenever Sabathia starts. Only 22.3% of the hitters he's faced in pinstripes have been lefties, well below the ~50% league average*. Thankfully Sabathia is very effective against right-handed batters as well — .249/.308/.371 over the last three years — thanks to his knockout changeup. CC's best work comes against his fellow southpaws though, and he's one of the best in the business.
* The RH-LH split for pitchers is approximately 75-25, but it's just about 50-50 for hitters when accounting for switch-hitters.
Andy Pettitte
Pettitte's surprise return last week will give the Yankees a second left-handed starter assuming he comes through his preparation fine and wants to see this comeback thing through. He's held lefty batters to a .246/.286/.352 batting line with a 25.5% strikeout rate during the New Stadium era, which obviously includes no data for 2011. Andy is a bit more saavy than Sabathia, relying on three different 80-something mile-an-hour fastballs — four-seamer, sinker, and cutter — and a curveball to neutralize same-side hitters. Whether or not he retains that effectiveness after a year-long hiatus remains to be seen.
Boone Logan
The Yankees only true lefty specialist at the moment, Boone's performance against lefties last season wasn't exactly special. They tagged him for a .260/.328/.462 batting line in 2011, far worse than his career performance coming into the year (.248/.322/.355). The good news is that his underlying performance was very strong, featuring a 28.8% strikeout rate, a 5.9% walk rate, and a 40.6% ground ball rate. That will typically lead to excellent results, so Logan really doesn't have to chance much going forward. Keep missing bats and limiting walks, and the results should fall in line.
There are a number of second lefty reliever candidates in camp, highlighted by Clay Rapada at the moment. He's stood out the most from a group that includes fellow non-roster invitee Mike O'Connor and Rule 5 Draft pick Cesar Cabral. With one bullpen spot up for grabs, Rapada is the favorite right now should the Yankees decide to take a second southpaw given their April schedule. Even if they take another righty, the Yankees will have plenty of left-on-left firepower in 2012.