Like a number of other teams, the Yankees ignored defense for quite some time in the mid-aughts. Maybe ignored is the wrong word, but it definitely wasn't a priority. The 2005 Yankees were arguably the worst defensive team in baseball history, but they still managed to win 95 games thanks to a dominant offense and some good timing (pythag. 90 wins). That formula doesn't cut it these days.
By no means are the 2012 Yankees a defensive dynamo, but they've improved defensively at a number of positions in recent years by shedding poor glovemen like Bobby Abreu, Jason Giambi, and Johnny Damon. UZR says the Yankees were the eighth best defensive team in baseball last year, saving 23.2 more runs than expected. At the same time, their -15 DRS ranks 21st out of the 30 team. Different systems give different answers, which is why this defense thing is so hard to pin down these days. Let's take a look at the Yankees who provide value when not in the batter's box…
Robinson Cano
Cano is a good example of just how imperfect defensive metrics are these days. UZR doesn't like him one bit, rating him as a below average defender in each of the last four years and in six of his seven seasons. DRS, on the other hands, says he's been above average in each of the last three years and in four of the last five. Total Zone says he's been a bit below average the last two years, but above average the four years before that. FRAA? That says he's been above average defensively in every season of his career except for 2010, when he registered at -0.5.
Which system is right? Probably all of them to a certain extent, but it goes to show that there's still no right answer with this defensive stuff. Overall, I think Robbie's a pretty good second baseman, particularly on plays to his right and around the bag on the double play pivot. Balls hit to his left have been a bit of a problem throughout the years, but I think he's still a net positive, all things considered. No one will ever confuse Cano for Roberto Alomar or Chase Utley on defense, but he's a solid glove guy that does his best work near the bag. That double play pivot is just as sweet as his swing.
Brett Gardner
You can make a legitimate case that Gardner is the best defensive player in baseball. He combines his speed with excellent reads for top notch range, and his throwing has improved dramatically over the last two years or so. His arm isn't terribly strong, but it is accurate. Anytime a ball is hit in the air towards left, I'm pretty confident that it'll be turned into an out these days.
One thing to keep in mind is that Gardner's ridiculous defensive ratings — +50.9 UZR and +35 DRS last two years — are relative to other left fielders, and most other left fielders are slow, plodding, bat-first types. I don't want to take anything away from Brett because he is an elite defender, but if the Yankees were to move him to center, he would not be a +20 defender on an annual basis. He'd be more along the lines of +10 or so. That's still really awesome, and when it comes to saving runs with the glove, no one on the Yankees is better and very few around the league are even comparable.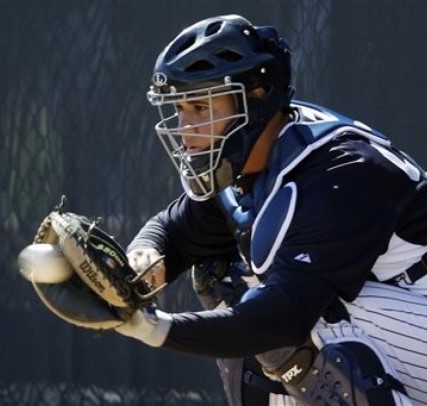 Russell Martin
Catcher defense is a tough thing to quantify, but we've gotten better throughout the years. Although he's been below average at blocking passed pitches in recent years, PitchFX data has shown that Martin is one of the very best at framing pitches and saving runs by turning balls into strikes. With an average arm that consistently throws out 30% of attempted base stealers or so, Russ handles himself well behind the plate and is an asset to the team defensively.
Of course, Martin looks like the greatest catcher ever compared to his predecessor Jorge Posada. Not to dump on Posada, but he was a bad defensive catcher and flat out abysmal later in his career, and it could be clouding our judgment when watching Martin or any other Yankees catcher. The few advanced metrics we have do a good job of showing that while he's a good defensive backstop, Martin isn't great. He does the job throwing out baserunners, frames pitches exceptionally well, and won't allow and excessive amount of pitches to get by him.
Mark Teixeira
Defensive metrics still haven't mastered the first base position, which has more to do with straight glovework than range. Tex isn't fleet of foot but he does guard the line well and keeps his fair share of balls from getting through the hole. That has more to do with positioning than actual quickness. He's also a strong thrower, which is still amazing to see after watching Giambi airmail throws for the better part of a decade.
I think Teixeira's best defensive work comes when he's scooping throws at first or snagging bad hops, stuff like that. There's no way to measure this accurately, so it's completely anecdotal. He saves the other infielders errors by scooping those poor throws, but more importantly saves pitches for the guys on the mound. Tex sees more defensive work than every non-battery position on the field, which is a good thing for the Yankees given his skills.
* * *
I think Alex Rodriguez is worth a mention here, because he looked fantastic on defense late in the season and especially in the ALDS. He didn't hit much after the knee and thumb injuries, but he still moves well around the bag and makes a lot of tough plays look easy because of his strong arm. I also think A-Rod is the smartest, most instinctual player I've ever seen. He always seems to makes the correct decision when it comes to going for the double play, looking back the lead runner, charging the bunt, all that stuff. Alex won't win a Gold Glove, but by no means is he a liability at the hot corner.