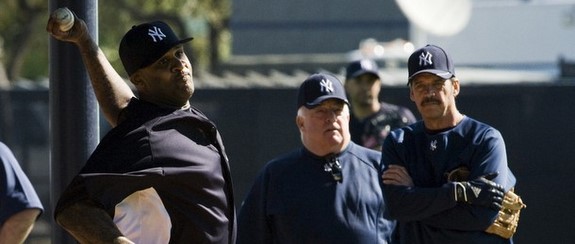 A pitcher can do nothing better than record strike three. Strikeouts take the defense right out of the equation, meaning hits, errors, weird bounces, and everything else is impossible. It's not an accident that pitchers with high strikeout rates traditionally have lower ERAs since keeping the ball out of play means nothing bad can happen.
The Yankees had the American League's best strikeout staff in 2011, leading the circuit with 7.54 K/9 and 19.7 K%. At 8.46 K/9 and 22.2 K%, the bullpen missed more bats than any other unit in the league, which is a great way to protect leads in the late innings. At least part of that high strikeout rate had to do with the arrival of pitching coaching Larry Rothschild, who has a history of improving strikeout rates. The Yankees figure to again have a dominant strikeout staff in 2012, one that could be even better than last year given a new arrival and good health.
CC Sabathia
After posting a mid-7.0 K/9 in each of his first two years in pinstripes, Sabathia had the second best strikeout season of his career in 2011. His 8.72 K/9 and 23.4 K% were the sixth and fifth best marks in the AL, respectively. During one stretch from late-June to late-July, CC struck out 72 batters in 54.2 IP across seven starts, good for an 11.85 K/9 and 35.5 K%. He tied his career-high by striking out 13 Brewers on June 30th, and just about a month later he set a new career-best by fanning 14 Mariners.
The strikeout boost appears to have come from an increased usage of his slider, as Sabathia broke out his top offspeed offering 26.6% of time in 2011 after using it no more than 18.5% from 2008-2010. Batters did not make contact on 40.9% of the swings they took against the pitch (54.6% vs. LHB), which is just ridiculous. His changeup drew a swing and miss 33.2% of the time as well. That's just silly, the guy's offspeed stuff was just unhittable last year. With any luck, that's something Rothschild has instilled in Sabathia and it'll carry over into this year.
Michael Pineda
Few pitchers were better at getting strike three last season than Pineda. The young right-hander struck out 9.11 batters per nine with a 24.9 K%, the seventh and sixth best rates in all of baseball. Right-handed batters had a three-in-ten chance of being struck out by Pineda, which isn't terribly surprising given his lethal fastball-slider combo. Even his 20.7 K% against left-handers is pretty strong, impressive for a guy that doesn't really have a changeup. Batters missed 39.3% of the time they swung at his slidepiece.
Pineda is working on that changeup now, but maintaining a strikeout-per-inning rate is a very tough to do regardless of ballpark or division. His strikeout rate might take a step back in 2012 just because it's hard to ring up that many guys each time out, but Pineda has more than enough stuff to miss bats regularly. An 8.0 K/9 and 22.0 K% going forward is more than doable. If he improves that changeup to the point where it's a usable third pitch, the sky is the limit for team's new hurler.
Boone Logan
This might be a bit surprising, but Logan has missed a ton of bats during his two years as a Yankee. Last year he posted a 9.94 K/9 and 24.9 K%, the former of which was a top ten mark among AL relievers (min. 40 IP). His strikeout rates against left-handed batters — 11.20 K/9 and 28.8 K% — were among the very best by southpaw relievers. Over the last two years, Logan owns a 9.26 K/9 and 23.7 K%. Boone can be maddening at times, but he uses his fastball-slider stuff to regularly prevent hitters from putting the ball in play. There's not much more you can ask from your lefty specialist.
Rafael Soriano
The world's most expensive setup man battled through injuries and bouts of ineffectiveness during his inaugural season in New York, but at least Soriano missed bats regularly. His 8.24 K/9 and 22.0 K% were essentially identical to his strikeout rates with the Rays in 2011 (8.23 K/9 and 24.1 K%) thanks to his fastball-cutter-slider repertoire. Right-handed batters swing and missed with 30.5% and 34.5% of the swings they took against his four-seamer and slider, respectively. That'll work. With career marks of 9.49 K/9 and 26.4 K%, there is absolutely no reason to think a healthy Soriano will do anything but generate whiffs in the late innings this summer.

David Robertson
The king of the strikeout heavy staff, Robertson's dominant 2011 season was built on his career-best strikeout rates: 13.50 K/9 and 36.8 K%. Both rates were top five among all big league relievers and the second best among AL relievers behind only Al Alburquerque (min 40 IP). Batters came up empty on 35.0% of the swings they took against his curveball, which is just ridiculous.
Robertson's strikeout ways are nothing new. He's never whiffed fewer than 10.40 batters per nine or 26.0% of the batters he's faced in a single big league season, and he doesn't discriminate either. Robertson's strikeout rates against right-handers (11.19 K/9 and 28.9 K%) and left-handers (12.98 K/9 and 33.7 K%) are both through the roof. He's already had a minor injury scare this spring, but assuming Robertson comes out of this bone bruise fine, he'll again be counted on to lead the setup staff in 2012. The strikeouts will come pouring in.
Mariano Rivera
The greatest reliever of all-time saw his strikeout rate take a huge dip in 2010 (just 6.75 K/9 and 19.6 K%), but Rivera rebounded in a big way last season: 8.80 K/9 and 25.8 K%. Mo's strikeout rate has actually improved with age, and his K/BB ratio has been quite literally off the charts for years now…
Rivera's famed cutter has generated a swing and miss just 20.8% of the time during the PitchFX era (19.8% in 2011), which is relatively low compared to the primary pitch of most high strikeout relievers. Of course Mo has historically great command and generates an ungodly amount of called strikes; ~20% of the pitches he's thrown during the PitchFX era have been called strikes, well above the ~16% league average. A little less than 11% of all the plate appearances against Rivera have ended with a called strike three during that time, again well above the league average (~4.5%). Strikeouts are great, but they're even better when the hitter doesn't bother to take the bat off his shoulders.