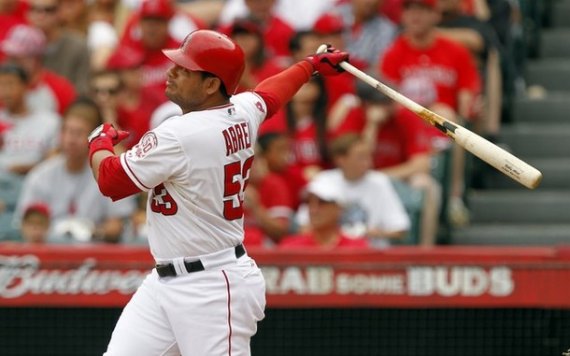 Before the Yankees agreed to terms with Raul Ibanez, they explored the trade market for DH options. The thinking was that they might be able to offload A.J. Burnett in exchange for a left-handed hitter, fulfilling two organizational needs at once. While that never materialized, there were a few whispers about possible targets. Among them was former Yankee right fielder Bobby Abreu, who seemingly has been squeezed out of Anaheim's lineup. But since Burnett could and did refuse a trade to the Angels, the situation never developed.
A month later, the situation has changed. While Angels' manager Mike Scioscia spoke of giving Abreu 400 at-bats, that might no longer be the case. Kendrys Morales has come back strong, and the indication is that he'll be the regular DH. With all three outfield spots spoken for, and with Mike Trout looming, there doesn't appear to be any regular at-bats for Abreu. The Angels will almost certainly look to trade him before the start of the season. Might the Yankees match up?
The Yankees signed Ibanez to fill the DH spot against right-handed pitching, but the 39-year-old has done little to impress this spring. He has gone 3 for 40 with just two walks, though he did homer on Saturday. His bat looks slow, and there appear to be few redeeming qualities in his spring. We've received many emails to RAB lamenting Ibanez's struggles and suggesting alternatives should he continue to flail. Since he earns just $1 million, he is expendable under the right circumstances. Unfortunately, Abreu's situation is quite similar to Ibanez's.
Abreu has 37 at-bats this spring and has just four hits. He has walked just three times, though chances are he's not honing his discipline. Instead, according to Scioscia, he's just working on his timing. Abreu, too, is writing off his poor spring performance, saying that he's focused on getting himself ready for the season and not with his actual production. Still, it's difficult to see how he's in a better position than Ibanez. In fact, he might be in a worse position.
After a terrible season in 2011, Ibanez has worked to get himself back into playing shape. There have been no concerns about his weight, his preparedness, or his work ethic this spring. Abreu, on the other hand, has constantly chirped about his dissatisfaction with his role. He also gained weight, another concern for a player his age. Essentially, his words this spring have brought into question his attitude. Ibanez has never come under fire for such character issues. In fact, he is often lauded for his clubhouse personality.
Abreu can turn to his recent performances, but even those fall short. For the last two years he's seen his average drop to .250, which has in turn dropped his OBP into the .350 range. His power dropped off considerably last year as well, further damning his case. Indeed, he might have a point about his treatment by the Angels; there's little doubt that Abreu is a better offensive player than Vernon Wells, who will continue to start in left field. But his diminishing performance, combined with his spring numbers and his combative attitude, all work against him.
Perhaps a change of scenery would brighten things for Abreu. Maybe that would spur him to a season that resembles his 2009 and 2010 campaigns. Unfortunately, a match just doesn't seem to be there with the Yankees. They already have someone like that in camp, and he didn't show up overweight while throwing jabs at the organization. If Abreu were performing well this spring, maybe the Yankees would consider it. Even then, the Angels would probably have to release Abreu, since the Yankees won't want to trade useful players for him or pay part of his $9 million salary. But with Abreu struggling similarly to Ibanez, there seems to be no point. The Yanks will just stuck with who they have and monitor the market for upgrades if they feel they need one.