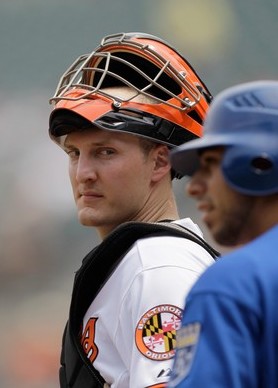 The Yankees made a somewhat surprising move yesterday by claiming Craig Tatum off waivers from the Diamondbacks, surprising only because a third string catcher didn't seem to be high up on the priority list. Sure enough, we later learned that incumbent third stringer Austin Romine had suffered a setback while recovering from a back problem that has kept him out basically all spring. The Yankees suddenly had a need behind the plate, especially since Frankie Cervelli isn't exactly Mr. Durable.
Tatum, 29, is nothing special, and I mean that in the nicest way possible. There's a reason he was on waivers, and in fact this is the third time he's been claimed since October. The Orioles, Astros, and D'Backs have each deemed him expendable this offseason. Tatum does his best work on the defensive side of the ball, with Baseball America saying he's "a solid receiver who frames pitches, blocks balls well and calls a good game" in addition to having "above-average arm strength" in their 2009 Prospect Handbook, the last time he made the annual. A .256 wOBA in 299 big league plate appearances is an accurate representation of his offensive ability.
It's worth noting that Tatum is out of options and can't be sent to the minors without first clearing waivers. I know he's already been claimed three times this winter, but chances are he will clear the fourth time. Since the Yankees were awarded the winning claim from Arizona, that means Tatum went through the entire NL unclaimed as well as the entire AL since the Yankees finished with the best record in the league last year. New York was dead last on the waiver priority list, so he would have cleared if it wasn't for them. Chances are he'll clear whenever they try to send him down.
There's not much to say about Tatum himself, but what is important is what he represents. Tatum is a reminder that catching depth has a way of disappearing quickly, just like pitching. Things looked great a few months ago when the Yankees had Russell Martin, Jesus Montero, Cervelli, and Romine at the upper levels, but now less than two weeks before Opening Day they're down to Martin, Cervelli, Tatum, and a hobbled Romine. The herd has already been thinned out.
This is something that goes beyond the 2012 Yankees as well. Romine figured to be a somewhat important part of the club's future following the Montero trade, especially since Martin is due to become a free agent after the season and the Yadier Molina contract has changed the salary  landscape. Now Romine is a question mark because of recurring back injuries. If he continues to have problems, the team's long-term catching situation is going to be a real concern. It's an important position, arguably the most important on the field, and the depth the Yankees appeared to have a few months ago has been compromised. Let's hope for some positive catching developments this summer.