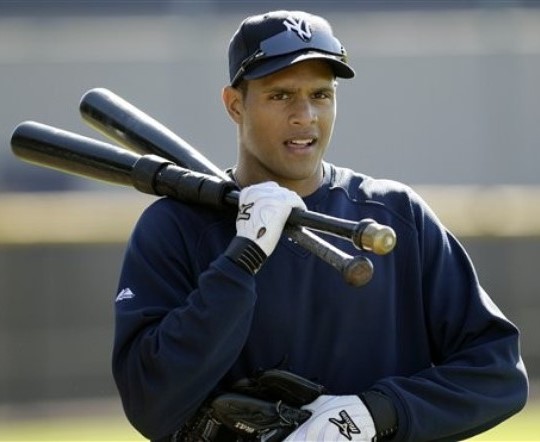 Late-March is a cruel time of year for baseball fans. Spring Training games have become dull and monotonous while regular season games are still two weeks away. It's a horrible limbo of meaningless baseball, and we often wind up spending too much time trying to find meaning in games that don't count. We know we shouldn't do it, but subconsciously it's unavoidable. We want to believe the big breakout is coming or that so-and-so really did develop another pitch. It's just a natural part of Spring Training.
Yankees camp is no different this year. Career journeyman Clay Rapada looks like the answer to our LOOGY prayers, Phil Hughes has been throwing the best changeups of his life, and both Derek Jeter and Eduardo Nunez look like the best hitting shortstop in the American League. Perhaps the most impressive player in camp has been career up-and-down guy Justin Maxwell. He's hit .414/.485/.586 in camp after putting together a .418 wOBA with 16 homers in 204 plate appearances for Triple-A Scranton in 2011. His performance has been so impressive that some are wondering if he should break camp with the team rather than someone like Raul Ibanez.
I think there is some merit to that line of thinking, especially since Maxwell is just 28 years old and has significant tools. He passes the eye test at 6-foot-5 and 235 lbs., and all throughout his lengthy Triple-A career (924 PA) he's shown power (.192 ISO), patience (12.4 BB%), and speed (62-for-79 in stolen base attempts, 78.5%). Maxwell is also capable of playing all three outfield spots, though his throwing arm isn't anything to write home about. His biggest drawback is his complete inability to make consistent contact. Maxwell has struck out in 30.6% of his Triple-A plate appearances, and that big Triple-A performance last year came with a 35.3 K%. That's unfathomable. It's a Mark Reynolds strikeout rate against minor league pitchers.
Back in December I wrote about the possibility of Maxwell serving as the Yankees fourth outfielder/lefty masher should Andruw Jones sign elsewhere, and my opinion of him hasn't really changed. Thirty-three plate appearances in Spring Training shouldn't sway your opinion about any player. Hell, 33 regular season plate appearances shouldn't change your opinion. It's a week's worth of playing time, that's it. Maxwell has done the majority of his work off the bench this spring, which means a lot of that damage has come against the opponent's second string, minor league pitchers we already know he can mash. The only thing we've learned about Maxwell this month is that his shoulder is healthy after he tore his labrum making a catch at the wall last May.
If nothing else, Maxwell has been an interesting story this spring. I have a hard time seeing him as anything more than a backup plan at the moment, and the Yankees are going to be forced to make a decision about his future pretty soon because he's out of minor league options. With so many teams looking for outfield help — Braves, Mets, Nationals, Marlins, and Indians, among others — there's bound to be a trade match somewhere. Out of options players usually don't command much in a trade, but maybe Maxwell's big spring means the Yankees can get a Grade-C prospect in return rather than a Grade-D prospect. It is Spring Training after all, a man can dream.
I think last year's shoulder injury really derailed whatever Yankees career Maxwell may have had. Had he stayed healthy all year, we certainly would have seen him with the big league team last summer, perhaps instead of Dickerson for all that time. We never got a look at him as a September call-up and never got to see what could come from extended work with Kevin Long. There's a non-zero chance the Spring Training performance is a sign of things to come, but I wouldn't put money on it. The Yankees don't have much time left to evaluate him, but a decision about his future is due soon.