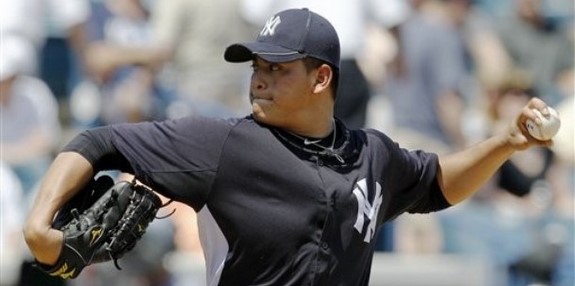 Baseball Prospectus' Kevin Goldstein published his list of the Yankees' top 20 prospects today, the final mainstream list of the spring. You do need a subscription to read the entire piece, but non-subscribers can see the list as well as the first write-up. Here are Baseball America's and Keith Law's top ten lists for comparison, as well as my top 30. Steal of Home compiled a consensus top 33 list that's worth a click.
The Yankees have two five-star prospects according to KG: Manny Banuelos and Gary Sanchez. Dellin Betances and Mason Williams check in at four starts, and everyone else is three starts or fewer. "Banuelos should become at least a number three starter, but there is upside beyond that," wrote Goldstein, who also noted that Manny's command problems come from overthrowing and not some kind of mechanical flaw. The Sanchez write-up is drool-worthy — "special power … works the count well and looks for pitches to drive, and knows how to crush mistakes" — but at the same time he cautions that the kid sells out for power instead of just focusing on hard contact. Plus his defense is terrible.
I thought the most interesting nugget had to do with Jose Campos, who the Yankees acquired from the Mariners along with Michael Pineda. "[His fastball is] plus and more in terms of velocity, sitting in the low 90s with plenty of 95-96 readings every time out," said KG. "Campos also throws the pitch with the kind of command usually found only in big leaguers; he works both sides of the plate with it, paints the corners and comes at hitters with a strong downward angle." Campos still has a lot of work to do with his breaking ball and changeup, but 19-year-old kids with command of a huge fastball are just so rare.
Goldstein also listed the top ten talents in the organization under the age of 25, which was unsurprisingly topped by Pineda. Ivan Nova (#3) and Phil Hughes (#6) were the only other big leaguers to make the cut. "Pineda is a potential front line starter who is still three or four years away from his prime," he wrote. "He needs to improve his command and his changeup, and the American League East isn't like pitching in Seattle; expect some bumps in the road early, although nobody should be worked up about his early March lack of prime velocity … Hughes remains young and talented, but nobody is quite sure how to harness it."
The Yankees did lose a serious chunk of prospect star power by trading Montero, but the general consensus seems to be that they still have enough to qualify as a top ten system. Banuelos and Betances are the only real high-upside guys at the upper levels of the minors, so most of their most interesting and super-talented players are way down in Single-A or even lower. Bichette and Campos are two major breakout candidates;, strong years in a full season league would shoot both up the prospect rankings. Ravel Santana could join them if the ankle is healthy and allows him to put all his tools on display.