Six questions but five answers this week. Remember to use the Submit A Tip box in the sidebar to send us anything, whether it be mailbag questions or something else entirely.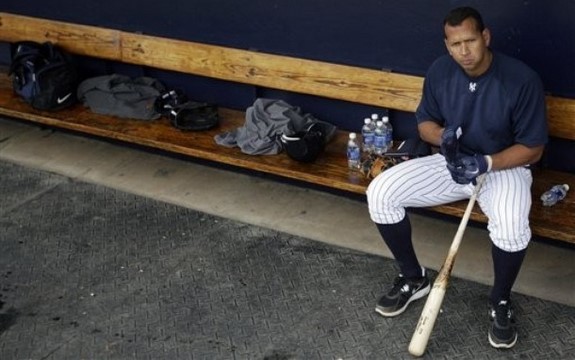 EJ asks: Do A-Rod's financial bonus achievements impact the salary cap? That is, I believe that if A-Rod reaches certain homerun lifetime milestones, he receives X amount of dollars. Does this money belong to part of the equation for calculating the team payroll amount and thus be part of the luxury tax? Would that amount that he would receive be part of that year that he reached the milestone alone or would it be divided equally by the length remaining on the contract? Could this impact the plan to lower the payroll in 2014?
Alex Rodriguez will get a $6M bonus for each of his 660th, 714th, 755th, 762nd, and 763rd career homers, and bonuses do count towards the luxury tax. I'm not 100% sure, but I do believe they're applied to the year they are earned as far as the tax is concerned, not spread out over the life of the contract. A-Rod is at 629 career homers this season, so hopefully he starts approaching a few of those milestones by 2014. The Yankees are going to have to leave some room for those bonuses in their payroll that season to avoid going over the $189M threshold.
Mark asks: With Andruw Jones as the LF/DH against LHP, does it look like Eduardo Nunez and Francisco Cervelli will be seeing regular playing time against southpaws?
I don't think Cervelli will see regular playing time against lefties, chances are Joe Girardi will let him be CC Sabathia's personal catcher again and get him into the lineup once or twice a week that way. As for Nunez, I can absolutely see him getting regular at-bats against southpaws, playing either short or third while Derek Jeter or A-Rod get the day at DH. He's hit lefties (.317 wOBA) better than righties (.298) in his short big league career, and he has shown a similar split in the minors. The Yankees seem pretty intent on getting Eduardo Scissorhands a decent amount of plate appearances in 2012, and this is one way to do it.
Jon asks: With Robinson Cano pretty much entrenched as the #3 hitter, where does that leave Mark Teixeira? Is he the #5? Does Andruw Jones (when he plays) or Nick Swisher have a chance to be the #5?
I think the most likely 3-4-5 lineup to open the season is Cano, A-Rod, and Tex. Teixeira did have a disappointing year in 2011, but he remains one of the game's very best power hitters (39 HR and a .246 ISO last season) and batting him any lower that fifth strikes me as foolish. I think you'll see Swisher bat sixth and Raul Ibanez seventh against right-handers but Jones sixth and Swisher seventh against southpaws. As long as Cano, A-Rod, Tex, and Curtis Granderson are four of the first five hitters in the lineup, I won't have any major issues with the batting order.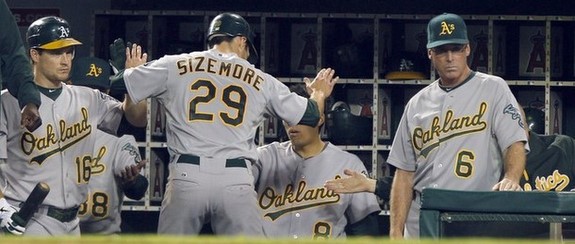 Max asks: Scott Sizemore is out for the season. Any chance the A's want Nunez for, say, an outfield prospect? Is there anyone in the A's farm you'd want to pursue that's reasonably available?
Nick asks: Do you think the Yankees could target one of the A's extra outfielders as a cheaper alternative to Swisher next offseason? Collin Cowgill? He doesn't seem to have a spot in the Oakland outfield and the Yankees could stick him in AAA until next season.
Might as well lump these two together. I wouldn't trade Nunez to the Athletics unless the Yankees would be getting a "significant" piece back just because he's the team's only legitimate backup infielder. If Jeter gets hurt and misses a month again, I'd much rather see Nunez out there for 30 games than Ramiro Pena. "Significant" is up for a debate, obviously. I'm not talking about a top 100 prospect or anything, but it would have to be a young, everyday caliber player right on the cusp of the show, an outfielder preferably. Michael Taylor makes some sense (though I'm not his biggest fan), but I don't really buy Cowgill as an everyday guy on a contender.
I think a trade involving Brandon Laird would be more likely, though I don't believe his trade value is all that high. A Laird-for-Cowgill swap would be an easy win for the Yankees. The A's say they're going to stick with their in-house options to replace Sizemore, specifically converted catcher Josh Donaldson. If that doesn't work out, the two sides could always get together for a trade a couple months into the season. The Yankees are the ones with the luxury of time here, the A's are the ones pressed to make a swap.
Marc asks: Clearly Mo is the greatest and we've had the joy in watching him dominate over the years. But what few current players get the honor of saying they hit Mo pretty well?
Over the course of his career, Mariano Rivera has held hitters to a .210/.262/.290 batting line (.552 OPS) in 4,815 plate appearances. After the jump is a big huge table listing all active players with at least a .552 OPS against Rivera, min. 10 PA.
Jason Giambi (.551 OPS) just missed the cutoff. The hitter with the most success against Rivera is retired: the great Edgar Martinez. He went 11-for-19 with three doubles and two homers off Mo, good for a .579/.652/1.053 batting line. Sandy Alomar Jr. also had success against him, a .462/.462/.846 batting line in 13 plate appearances. That doesn't include his homer in Game Four of the 1997 ALDS.
Alex Rios has faced Rivera 15 times but has never reached base while Ray Durham faced him 26 times (!!!) in his career and never once reached base. That's pretty crazy. Brian Daubach and Tony Clark both failed to reach base in their ten meetings with Mo. Every other player (active or retired) who came to the plate ten or more times against Rivera managed to reached base at least once. Here's the full table for your amusement.