I'm going to have to start every mailbag with this until the emails stop coming in: No, the Yankees can not backload or frontload any contracts to wiggle around the luxury tax threshold in 2014. The luxury tax is based on the annual average value of contracts, so it doesn't matter how the money is actually paid out. Got it? Good. Remember to use the Submit A Tip box in the sidebar to send up whatever your heart desires.

Mike asks: What do you think of the Yankees trading for Gerardo Parra from the D'Backs? He's young, productive, stuck on the bench, and most importantly cost-controlled. Do you think that Brian Cashman and Kevin Towers may be able to make a trade? He could be a good replacement for Nick Swisher that fits in the austerity budget.
I like Parra, but the problem with bringing him in as a potential replacement for Swisher means the Yankees will be rolling the dice with two mostly powerless corner outfielders. Parra has more pop than Brett Gardner (who doesn't?) and Yankee Stadium might help him a bit as a left-handed batter, but at the end of the day he's a speed guy (but not a Gardner-level speed guy) who draws walks and plays an absurdly high level of defense. Carrying a pair of corner outfielders who might top out at 15 homers combined would be a little easier to swallow if Curtis Granderson keeps swatting 40+ dingers a year, but even then they'd be pushing it.
Cashman and Towers are pretty tight, which is why the latter was willing to spend a season in the Bronx as a special assistant. They've only gotten together for three trades over the years though, all three involving bit pieces and spare parts. That doesn't mean they can't work something out obviously, but the Diamondbacks seem pretty intent on either keeping Parra or getting a hefty return. I do like him as a player and he definitely fits into the future payroll plan (arbitration-eligible for the first time next year), he just doesn't really fit the roster as currently constructed. The Yankees are going to have to replace Swisher's power somehow, and Parra just can't do it.
J.R. asks: With Zoilo Almonte on the 40-man and Chris Dickerson not, if Swish went on the 15-day DL, would Almonte get the call up just to preserve depth?
It doesn't have to be Swisher who gets hurt, it could be any of three outfielders really. I think it depends on the severity of the injury more than anything. If it's only going to be a quick little two-week thing, I think they'll just call up a 40-man roster guy and roll with Andruw Jones and Raul Ibanez for the time being. Remember, Brian Cashman said one of the reasons they preferred Ibanez to Johnny Damon was that he's more physically able to play the outfield for two weeks at the time if needed. Ramiro Pena makes sense since Eduardo Nunez can fake the corner outfield in an emergency.
A long-term injury would be a little different. In that case you'd probably see them bring up Dickerson, who is better equipped to sit on the bench for an extended period of time. Actual prospects like Zoilo should play everyday this summer. Dewayne Wise is another non-40-man guy they might consider since they'd have no problems cutting him once he's no longer needed. I would much prefer Dickerson over Wise, however.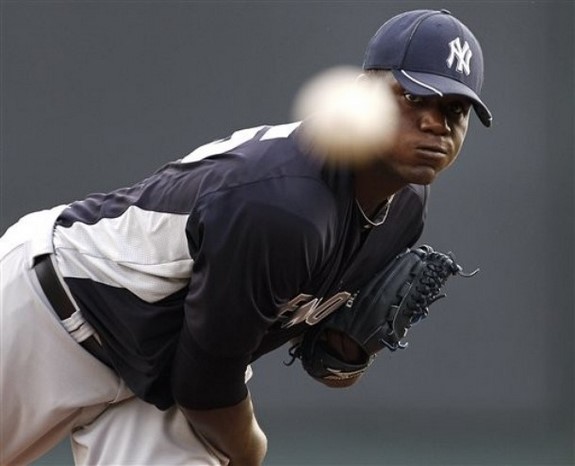 Chris asks: Pineda's K/9 is insane but do you know what his called strike vs. swing and miss is? Are you worried if one is much higher than the other? For example I would be more worried if someone has 75% swing and miss vs 25% caught looking for a variety of reasons. Mainly because eventually the laws of averages suggest a percentage of those swings will become fouls, hits and home runs. Is there any down side to having a ton of swing and misses for projecting a pitcher down the road?
The league average swing and miss rate was 8.6% last year, which Pineda easily cleared at 11.8%. Just under 20% of all plate appearances against him ended with a swinging strike three (19.3% to be exact) while 5.6% ended with called strike three, so roughly 77.5% of his strikeouts were swinging. The league averages last were approximately 11.5% (swinging strike three), 4.5% (called strike three), and 71.9% (percentage of strikeouts that were swinging), so Pineda is well ahead of the curve in each.
The ability to induce swings and misses is a skill and something pitchers can repeat. It's not like pitcher BABIP, which tends to regress to something near the league average over time. Whiff rates are determined by the pitcher (and in part the batter), and just because Pineda excelled at getting swings and misses last year does not mean he's doomed to regress to the league average this year. Given the quality of his fastball-slider combo, he's a guy that figures to maintain a really high whiff rate going forward, and in fact I'd bet on all those rates going up if he figures out a usable changeup.
Patrick asks: How about Jesus Montero's ROY chances? What other rookies around the league have a chance to beat him out for the award?
I thought Montero was going to win the Rookie of the Year before the trade, and I'm not going to change my opinion now. He's my pick.
As for the rest of the field, Montero's primary competition will be Yu Darvish, who really isn't a rookie based on his experience level and stuff. He's got a pretty big head start compared to everyone else. Matt Moore's also a serious candidate, and I suppose Yoenis Cespedes is as well. I don't think Mike Trout will get enough playing time to make a run at the award, but he's too talented to dismiss. My darkhorse pick is Jarrod Parker of the Athletics, though he's not exactly some unknown prospect. Oakland pitchers always put up great numbers because of their ballpark and team defense. My money is still on Montero though.