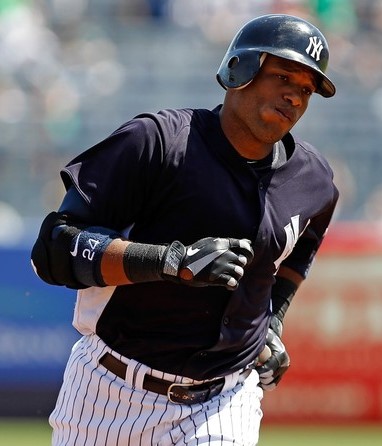 Baseball's new Collective Bargaining Agreement is going to put a serious damper on international spending, capping teams at $2.9M this year before shifting to a sliding scale in the future. To more you win, the less you get to spend. The Yankees have traditionally been one of baseball's powerhouses in Latin America, and last year they dropped close to $3M on international prospects. Baseball America's Ben Badler published his AL East spending review yesterday, looking at the players the Yankees and their division rivals signed in 2011. You do need a subscription to read the article.
The Yankees largest international signing last year was 17-year-old Dominican third baseman Miguel Andujar, who received $750k. "Andujar doesn't have one huge carrying tool or do anything flashy, but he doesn't have a glaring weakness either," wrote Badler. "He's a right-handed hitter with good bat speed, a sound swing and a good approach to hitting for his age. His hands are quick and he could hit for average and power. Andujar is an average runner and a solid defensive third baseman." Expect him to spend this year in the Dominican Summer League before making his stateside debut in 2013.
Andujar headlines the position player crop, which also includes a trio of Dominican prospects — shortstop Abi Avelino ($175k), outfielder Wascar Rodriguez ($150k), infielder Victor Rey $135k) — and one Colombian catcher (Alvaro Noriega at $175k). Rodriguez offers big raw power while the others do their best work on the defensive side of the ball. Noriega does enough things well that he should remain behind the plate long-term and is likely the best all-around prospect of the bunch. Interestingly enough, the Yankees also signed catcher Dan Vavrusa for $10k out of the Czech Republic. He appears to be the team's first real foray into Europe.
Right-handers Moises Cedeno (Panama), Luis Severino (DR) and Giovanny Gallegos (Mexico) highlight the pitching crop. Cedeno didn't turn 16 until late-August, making him the youngest player to sign with any of the 30 clubs last year. He signed for just under $355k and already shows three pitches. The 16-year-old Severino signed for $225k and has touched 95 with a power slider. Gallegos, 20, was part of a package deal similar to one that brought Al Aceves and Manny Banuelos to the Yankees in 2007. He is currently rehabbing from Tommy John surgery, but when healthy he's sat in the low-90s with two breaking balls. Gallegos signed for an even $100k.
Of course, the Yankees just landed what figures to be their most significant international prospect before the new spending restrictions kick in this July. That would be 21-year-old right-hander Rafael DePaula, who was finally able to secure a visa last week. DePaula still has to pass a physical before his long-awaited $500k deal is official, but he'll instantly become one of the team's better pitching prospects despite missing so much development time due to a suspension and his visa delay. He and his mid-90s gas could see time with a full season affiliate this summer.
Four of the Yankees top ten prospects originally signed as international free agents, not including trade import Jose Campos. The new spending limitations will impact the Yankees more than most clubs because they've relied on the international market to land elite talents like Jesus Montero, which usually aren't available to them late in the draft. The worldwide appeal of the Yankee brand works in their favor, but there will be a much greater emphasis on pure scouting now.