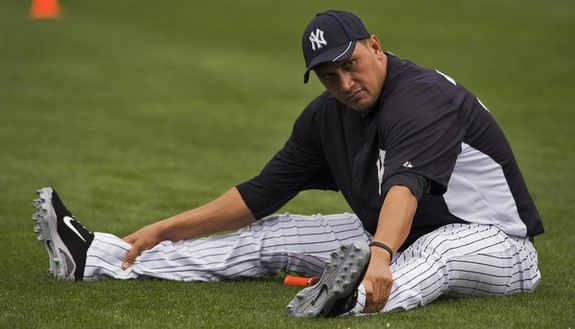 If he had a chance to do it all over again, chances are Freddy Garcia would not have re-signed with the Yankees so early in the offseason. He pitched well last year and certainly earned his raise, but the Michael Pineda and Hiroki Kuroda acquisitions have pushed him out of the rotation and into a (rigged) competition for the fifth starter's spot. Today is Sweaty Freddy's first chance to audition for the job he probably has no chance to win. Here's the lineup, or at least the guys that will play the first few innings…
SS Derek Jeter
2B Robinson Cano
3B Alex Rodriguez
1B Mark Teixeira
LF Andruw Jones
C Frankie Cervelli
RF Chris Dickerson
CF Dewayne Wise
DH Justin Maxwell
RHP Freddy Garcia
Available Pitchers: RHP D.J. Mitchell, LHP Boone Logan, RHP Cory Wade, LHP Clay Rapada, and RHP Kevin Whelan are all scheduled to pitch. RHP Chase Whitley, LHP Juan Cedeno, RHP Adam Miller, RHP Ryan Pope, and RHP Dan Burawa are available if needed.
Available Position Players: C J.R. Murphy, 1B Jose Gil, 2B David Adams, SS Doug Bernier, 3B Corban Joseph, LF Colin Curtis, CF Melky Mesa, and RF Zoilo Almonte will replace the starters. CoJo hasn't played third in the regular season since 2010 and just six times since 2009.
Today's game begins at 1:05pm ET and can be seen on YES locally and MLB Network nationally. Enjoy.