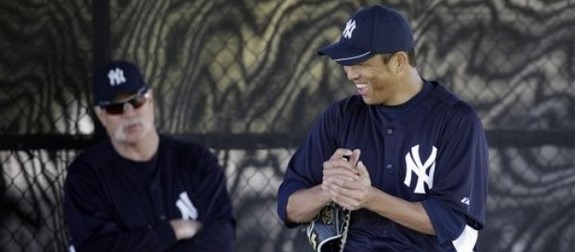 Yankeeland is still reeling from the Andy Pettitte signing, but in a good way obviously. There are completely meaningless games still to be played though, and today Hiroki Kuroda — the guy who took Andy's locker at GMS Field — is getting the start. I'm sure those two will work the locker situation thing out, but it's more important for Kuroda (and Pettitte) to work on getting ready for the season. For a veteran guy like Hiroki, today is all about going through the motions and refining command; he doesn't have to find velocity or work on a new pitch or anything. Here's the lineup…
LF Brett Gardner
CF Curtis Granderson
2B Robinson Cano
3B Alex Rodriguez
DH Raul Ibanez
RF Andruw Jones
1B Eric Chavez
SS Eduardo Nunez – will wear a protective batting glove on his injured right hand
C Frankie Cervelli
Available Pitchers: RHP Mariano Rivera will actually pitch today. He was accidentally listed on yesterday's schedule. RHP Cory Wade, LHP Boone Logan, RHP Dellin Betances, RHP George Kontos, LHP Juan Cedeno, LHP Mike O'Connor, and SwP Pat Venditte are all available. I really hope Venditte gets in the game.
Available Position Players: C Jose Gil, 1B Jorge Vazquez, 2B Doug Bernier, SS Jayson Nix, 3B Bill Hall, LF Cole Garner, CF Dewayne Wise, RF Chris Dickerson, and DH Colin Curtis will replace the starters. C Mitch Abeita, IF Walt Ibarra, and OF Abe Almonte have been brought up from minor league camp for the day.
Today's game starts at 1:05pm ET and can be seen on YES locally or MLB Network nationally. Enjoy.