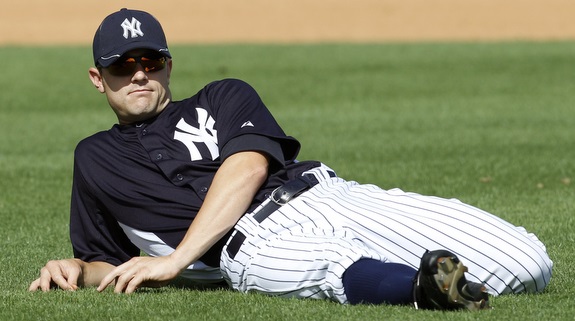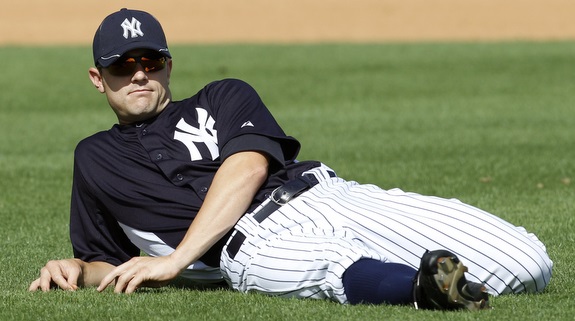 Eighteen days ago, David Robertson slid down some steps while carrying boxes at his house. Yankeeland collectively freaked out as the setup man extraordinaire showed up for work the next day with a limp and walking boot, but thankful the injury was nothing more than a bone bruise. After two weeks of rest and bullpen sessions, Robertson will return to game action today with plenty of time to get himself ready for the regular season. All things considered, it could have been worse. A whole lot worse. Here's the starting lineup…
SS Derek Jeter – scheduled for five innings
CF Curtis Granderson
2B Robinson Cano
3B Alex Rodriguez
1B Mark Teixeira
C Russell Martin
DH Andruw Jones
RF Eduardo Nunez
LF Brett Gardner
RHP Michael Pineda
Available Pitchers: RHP Mariano Rivera, RHP Rafael Soriano, RHP David Robertson, and RHP Manny Delcarmen are scheduled to pitch after Pineda. RHP George Kontos, LHP Clay Rapada, RHP Phil Wetherell, RHP Branden Pinder, and SwP Pat Venditte are all available if needed.
Available Position Players: C Jose Gil, 1B Eric Chavez, 2B Bill Hall, SS Doug Bernier, 3B Brandon Laird, LF Jayson Nix, CF Dewayne Wise, and RF Chris Dickerson will replace the starters.
Today's game starts at 1:05pm ET and can be seen on YES. Enjoy.