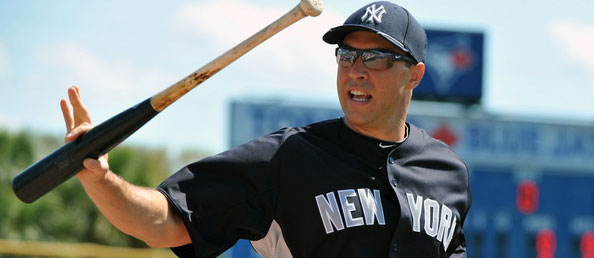 After an offeason's worth of projections, it's finally time to aggregate everything and see just how good our beloved pinstripers look on paper. Loyal readers will recall I did this last year, as well.
Below you'll see each player's final 2011 line, along with their average 2012 projected line. In this instance, the average has been compiled from the eight major projection systems — Bill James, CAIRO, Oliver, Rotochamp, PECOTA, ZiPS, Steamer and Tango's Marcel. Despite the variations in calculation method with each system along with the fact that they're not all park- and league-adjusted, I've found that a straight average of the systems' projections generally winds up being a fairly reasonable benchmark.
Additionally, I'll repeat the immortal words of SG one last time: "Projections are inherently limited, so remember to take these for what they are. They are rough estimates of a player's current talent level, and are not predictions."
Offense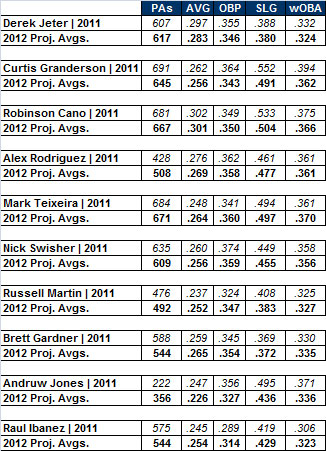 The Yankees will, for the umpteenth year in a row, feature a robust offensive attack in 2012, with no starter projected to have a below-league average (.316 in 2011, for your reference) wOBA. Derek Jeter looks to be the weakest component of the offensive attack, though he'll outhit that .324 average projected wOBA if he comes anywhere close to replicating his second-half surge last summer. Derek's high-water projection is James' .333 wOBA, while ZiPS thinks Derek is essentially cooked, with a .309 projection.
After a bit of a disappointing campaign with the stick in 2011, Brett Gardner should get on base more frequently assuming he gets his IFFB% closer to his career figure of a still-worse-than-league-average 14%, rather than last year's 19.6% (which nearly lead the league). Rotochamp loves itself some Gardner, with a .343 projection, while Oliver is unimpressed and thinks Gardner will continue to hit the skids with a .320 wOBA.
Russell Martin projects for more OBP and less power than he showed in 2011, though I think we'll see a stronger campaign from Russell in 2012, due in part to a presumed increased comfort level along with a desire for a substantial free-agent pact. James likes Martin for a high-water .355 wOBA — a level he's only exceeded once — while Marcel has Martin falling to .311.
Both Curtis Granderson and Robinson Cano are projected for significantly less-potent seasons, though in my opinion those are pretty conservative estimates and I feel comfortable expecting at least a .375 wOBA out of the Yankees' two most potent offensive forces. Rotochamp likes Granderson at .379, while Marcel and Oliver are each at a much more bearish .351; Rotochamp also has the high-water projection got Cano at .369, while Steamer is at .355.
The Yankees' two former heavyweights, Mark Teixeira and Alex Rodriguez, are also expected to help continue to carry the offense. At .370, Tex actually has the most significantly improved average projected wOBA on the team, representing a .009 increase from his actual 2011 production. James likes Tex for a .382 wOBA; while Marcel has him at a non-park-adjusted .357 for the low-water mark. A-Rod's average .361 projected wOBA is exactly what he put up in 2011, although component-wise the systems see slightly more power for Alex and slightly less OBP. While at this point I don't know that it's reasonable to be disappointed with Alex posting another .361 wOBA year in his age 36 season, if he can stay healthy it also doesn't seem unreasonable to expect a wOBA somewhere in the .370s or higher. Strangely enough, PECOTA — which doesn't really like anyone, and generally saves most of its venom for aging veterans — actually boasts the most optimistic A-Rod forecast, pegging him for a .509 SLG and making him one of only 15 players in all of MLB the system even projects to SLG above .500 (Tex is in there, too). On the flip side, the ever-negative Oliver sees Alex regressing to a non-park-adjusted .350 wOBA.
If we plug each player's projected OBP and SLG into Dave Pinto's Lineup Analysis tool, we get a lineup projected to average roughly 5.3 runs per game against lefties (with Andruw Jones at DH), and the same against righties (with Ibanez at DH). The Yankees' runs-per-game averages for the last five seasons starting with 2011 are 5.4, 5.3, 5.7, 4.9 and 6.0, so 5.3 for the starting lineup should be just fine.
Starting Pitching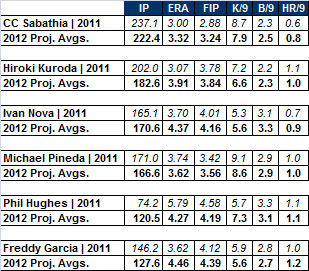 Though Sweaty Freddy is expected to begin the year in the bullpen I've thrown him in for comparison's sake. Unsurprisingly Freddy also projects as the least-effective of the six starting candidates. Despite a horrid season, most projection systems still love Phil Hughes, with Bill James going so far as to project a 3.71 ERA/3.82 FIP (albeit in 102 innings), while the ever-pessimistic PECOTA also appears to still be a Hughes fanboy, projecting a 3.84 ERA over 135 innings.
None of the systems think Ivan Nova can reproduce his 2011, although Marcel's non-park-adjusted 3.88 ERA/3.89 FIP is the most optimistic. On the flip side, PECOTA thinks Nova's a joke, with 156 innings of 5.03 ERA ball.
Both Hiroki Kuroda and Michael Pineda's average projections seem eminently reasonable to me in the AL East; truly, if the Yanks can record a second straight season of three starters giving 100-plus innings of sub-4.00 ERAs (thanks to CC Sabathia, Ivan Nova and Freddy Garcia) — something that hasn't happened for the Yankees in back-to-back seasons since 2001-2002 — needless to say they will be in excellent shape.
For those interested in simulations, the most recent iteration of CAIRO (run over a month ago) had the 2012 Yankees as the best team in baseball, at 97-65 (five games ahead of Tampa Bay); Baseball Prospectus' PECOTA also has the Yankees with the best record in baseball, at 95-67 (five games ahead of Boston); and even THT's get-off-my-lawn Oliver forecasting system has the Yankees with the best record in baseball, at 95-67 (three games ahead of Boston).
While, as per usual, many things will need to go the Yankees' way for the team to reach these projections, it's tough to quibble with a roster universally projected to be the best in baseball heading into the season.