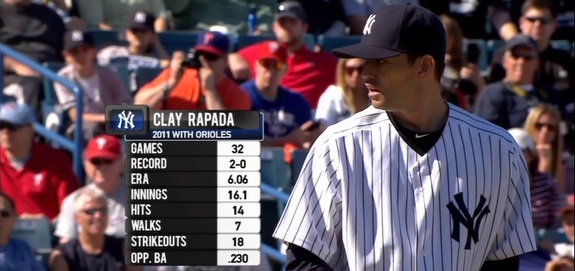 Barring injury, the Yankees really only have one spot up for grabs in Spring Training this year. That's the final bullpen spot, assuming the loser of the Phil Hughes/Freddy Garcia fifth starter "competition" is made the long man and not traded or sent to the minors or released or something. There are no shortage of bullpen candidates in camp, though the team has yet to give any kind of indication of which way they're leaning. Given the early-season schedule, non-roster invitee and left-hander Clay Rapada might make the most sense.
The Yankees open their regular season schedule in Tampa for a three-game set with the Rays, who will have lefties Carlos Pena, Luke Scott, and Matt Joyce in the lineup and ready to be matched up against. Three games against the Orioles (and lefties Nick Markakis, Chris Davis, and possibly even Nick Johnson) comes next, then three games against the right-handed heavy Angels, four games against the Twins (Denard Span, Joe Mauer, Justin Morneau), three games against the Red Sox (Jacoby Ellsbury, Adrian Gonzalez, David Ortiz, Carl Crawford), three games against the Rangers (Josh Hamilton), and three games against the Tigers (Prince Fielder, Brennan Boesch). A second lefty would sure be a nice option to have during that stretch.
Rapada, 31, is a funky little southpaw with a low arm slot (video), a mid-80s fastball and a mid-70s slider. He's held the 136 big league lefties he's faced to a .153/.252/.220 batting line with 36 strikeouts (26.5%), 15 walks (11.0%), and a 42.0% ground ball rate, so solid peripherals but not overwhelmingly awesome. Rapada has appeared in three exhibition games so far, allowing just two of the 12 batters he's faced to reach base (single and walk). He's struck out four of the five left-handers he's faced (the other was thrown out trying to bunt for a hit), and although it's a miniscule sample that means absolutely nothing, Rapada is going to have a win a job based on these small samples. So far he's done nothing to hurt his chances.
Ultimately, that last bullpen spot is just being kept warm for Joba Chamberlain, who is expected back in mid-June or so. The Yankees will have some flexibility until then and can use that spot to carry an extra lefty for the first 22 games of the season, which will be played against a number of left-handed heavy teams. Cesar Cabral could also be an alternative to Rapada, though he's a fastball-changeup guy that isn't a great candidate for matchup work. Plus he hasn't stood out in camp so far, and unfortunately that's the name of the game when it comes to winning the last roster spot. Unless one of the extra righties really emerges over the next three weeks, Rapada could be the best option for that final spot come Opening Day. How long he lasts is another matter entirely.