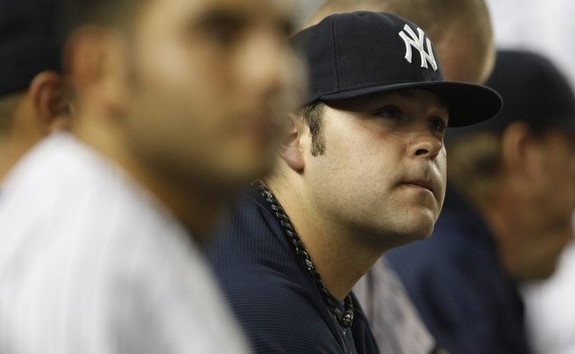 The Yankees got some awful news yesterday (really Thursday night), as Joba Chamberlain suffered an open dislocation of his right ankle playing with his son. It's a really bad fluke injury and I do not recommend Googling it at all. It's expected to keep him out for all of 2012, but the club is still awaiting test results to determine the extent of the ligament damage and any fractures. Here are some random thoughts and links on the injury…
A report yesterday indicated that Joba lost a "life-threatening amount of blood," but both his agent and father denied that was the case. "There was no life-threatening loss of blood," said agent Jim Murray while Harlan Chamberlain was a bit more blunt: "That's [B.S.]."
David Robertson was one of those who visited Joba him the hospital yesterday. "He was feeling good," he said. "[He's] in good spirits."
The moralizing of the injury was inevitable. People are calling Joba stupid and reckless and while he obviously made a mistake, the guy's biggest crime was wanting to play with his kid. If trampolines are so dangerous, how come no one is getting upset that he put his five-year-old son in danger?
It's still way too early to know what the Yankees will do with Joba contractually. His one-year, $1.675M contract is not guaranteed as an arbitration-eligible player, so the Yankees could release him anytime before Opening Day and pay him only 45 days termination pay (roughly $415k). If there's "no trampoline" language in his deal, they could release him and pay him nothing. More than likely I think they'll wait the season out, see how he's doing come December, then decide whether or not to non-tender him (he won't get a raise next year if he doesn't play at all in 2012). I don't think they want to repeat the Al Aceves mistake again. Who knows, maybe insurance will cover his salary this season.
As for the bullpen, Joba wasn't going to be back until mid-June anyway. Nothing will change for the first few months of the season, but now they can't count on adding that power arm at midseason. It creates an opportunity for guys like George Kontos, Adam Warren, David Phelps, and D.J. Mitchell. Chamberlain's injury opened the door for Hector Noesi last year, and now another young arm will get a chance.
Stephen Drew, Jason Kendall, and Kendrys Morales are examples of comparable injuries, as are Yankees farmhands David Adams and Ravel Santana. The recovery time seems to range anywhere from six months to nearly two years. Of course all those guys are position players, and we're talking about Joba's push-off leg. If he can't push off properly, he'll inevitable blow out his arm at some point.
So that's really all I have to say. I hope the latest tests show the best case scenario and Joba crushes his rehab and is able to get back on the mound sooner rather than later, but I'm not going to hold my breath. I was really looking forward to seeing him back out on the mound this summer.
Update: Via Sweeny Murti, apparently Joba could be released from the hospital as soon as today. The MRI results are not back yet, but the doctors told him there's a chance he could be back on a mound by July. Fingers crossed.