One of the bitterest pills to swallow in the aftermath of the Michael Pineda-Jesus Montero trade was the fact that the Yankees were removing what many expected to be a substantial cog in the offensive machine, not only in 2012 but for years to come. Prior to being traded, Montero's average projected wOBA for 2012 was .360 (his revised projections as a Mariner average out to a .347 wOBA, or .272/.334/.461), which was the fifth-best projected wOBA of the projected starting Yankee nine.
Interestingly, for all of Brian Cashman's skill at building an incredibly talented roster on the offensive side of the equation, getting robust production out of the DH slot in the lineup has never really seemed to be a primary interest. To wit (as always, click to embiggen):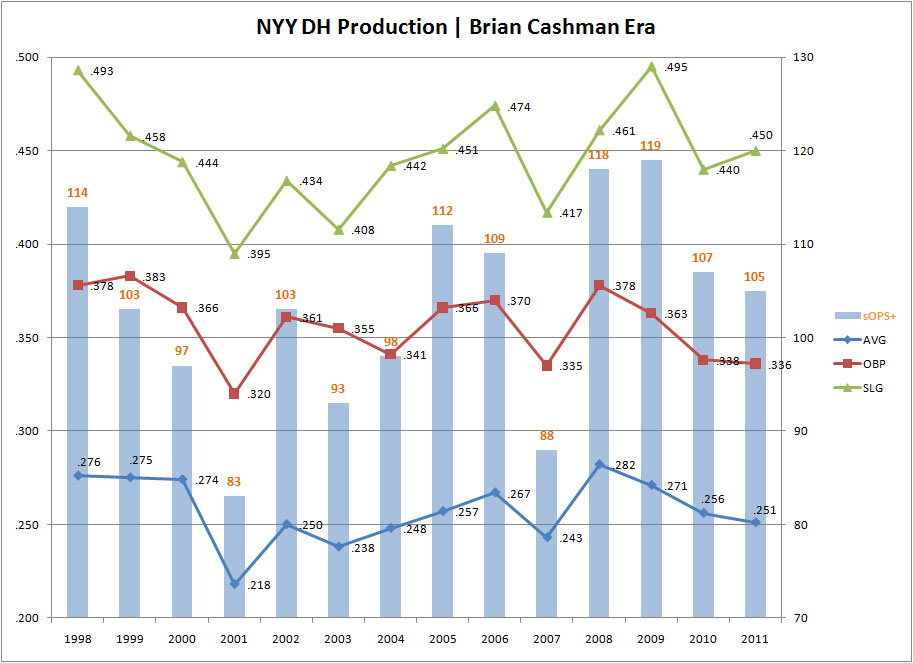 Of the 14 Yankee teams Cash has presided over, they have received below-league average production (sOPS+) out of the DH slot five times. That may not seem like a lot, but it is a tad eyebrow-raising given how robust the Yankee offense has been with Cash at the helm. Only four times has the team received DH production 10% better than league average in the last 14 seasons, which seems like a fairly large waste of resources when considering we're talking about a lineup slot solely extant to produce offense.
Cashman's high-water mark DH season was 2009, the year in which Hideki Matsui had primary designated hitter duties and responded with a DH campaign 19% better than the league. The Yankees also got a surprising amount of production out of the 2008 DH, which was mostly filled by Jason Giambi, along with Matsui and Johnny Damon. The only other really standout year for DH production above was 1998, which saw Darryl Strawberry, Rock Raines and Chili Davis collaborate on a .276/.378/.493 line.
That .360 projected wOBA for a Montero as a Yankee worked out to roughly a .270/.360/.470 triple slash, mighty fine production out of a 21-year-old, not to mention a line that would've been among the better performances the Yankees received from the DH during the last 14 seasons. However, for all the hullabaloo about the Yankees wanting to fill Montero's vacated production, it appears they'll have a pretty good shot at doing just that with the platoon of Andruw Jones and Raul Ibanez.
In 2011, Andruw Jones put up the following slash against LHP  in 146 PAs: .286/.384/.540, .400 wOBA.
In 2011, Raul Ibanez put up the following slash against RHP in 437 PAs: .256/.307/.440, .322 wOBA.
If you average those lines (and obviously this is exceptionally rough math, as the PAs are not even close to comparable), you get a .271/.346/.490, .361 wOBA hitter. Docking for the fact that PAs against RHP are roughly double those against LHP and you're probably close to a .340 wOBA hitter, which is right around the average of SG's 2012 CAIRO-projected platoon splits for Jones (.337 vs. LHP) and Ibanez (.349 vs. RHP).
While Jones probably won't produce a .400 wOBA against LHP again, on the flip side Ibanez seems like a fairly reasonable bet to outdo a .322 wOBA against RHP with 81 games at Yankee Stadium, and taken together I don't think it's terribly unrealistic to expect the duo to combine for somewhere in the neighborhood of a .350 wOBA. While that may not quite be Jesus Montero territory, it should be enough for the Yankee offense to not miss much of a beat, especially when considering the ~.309 wOBA received from Jorge Posada in the majority of DH plate appearances in 2011.