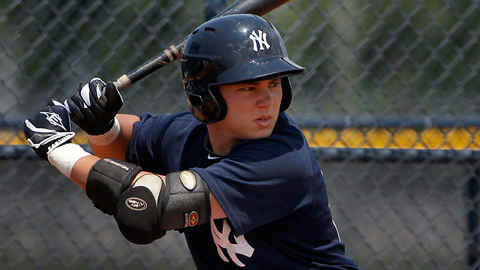 The Yankees have drafted a high school position player with their first pick in each of the last three drafts and in four of their seven drafts under scouting director Damon Oppenheimer. That target demographic has stayed the same but the preferences have changed over the years. The Yankees went for raw tools with guys like C.J. Henry and Austin Jackson years ago but now lean more towards polished types like Dante Bichette Jr. and Mason Williams. With that in mind, here's a quintet of prep hitters who could be options for the Yankees with their first pick in this year's draft, #30 overall.
Lewis Brinson, OF, Coral Springs High School (Florida) (video)
One of the best athletes in the draft at 6-foot-4 and 180 lbs., Brinson is a legitimate power-speed prospect. He's shown big raw power from the right side throughout his high school career and has also fared well against high-end pitching on the showcase circuit. Brinson does need to work on his approach and has been both overly aggressive and overly passive at the plate in the past. A standout defender in center fielder because of his speed, he also runs well on the bases. Committed to Florida, Baseball America ranked Brinson as the 38th best prospect in the draft in their recent midseason update while Keith Law had him 50th. I recommend watching the video, that's some impressive workout.
D.J. Davis, OF, Stone High School (Wiggins, Mississippi)
Arguably the fastest player in the draft, Davis knows his game and focuses on getting on base. He's a left-handed hitter who can bunt for hits and beat out infield singles, plus he works deep counts and has continued to show better selectivity as the spring has progressed. Davis is a top flight defensive center fielder, getting good reads that make his speed play up even more. He's never going to hit for much power and frankly, there's a whole lotta Brett Gardner in his game. Davis is committed to Meridian Junior College in Mississippi and was recently ranked as the 39th best prospects in the draft by Baseball America.

Carson Kelly, 3B/RHP, Westview High School (Portland, Oregon) (video)
Oregon isn't a traditional baseball hotbed, but Kelly has a chance to be the state's first player drafted in the top three rounds in 15 years. He's a legitimate two-way prospect who has performed well both on the mound and in the field, though he's likely to come out as a position player with pitching as a fallback option down the road. A right-handed bat with a smooth line drive swing, Kelly has power and figures to add more once he adds some meat to his 6-foot-1, 180 lb. frame. His athleticism serves him well at the hot corner. On the mound, he'll sit in the low-90s with his fastball and mix in both a curveball and a changeup. Kelly is committed to Oregon and draws raves for his makeup, work ethic, and baseball aptitude. He's a personal fave, and Law and Baseball America ranked him as the 34th and 48th best prospect in the their midseason updates, respectively.
Wyatt Mathisen, C/SS/RHP, Calallen High School (Corpus Christi, Texas)
Mathisen is an interesting prospect, one who's spent time pitching, catching, and at shortstop over the last year or so. Catcher is his natural position and he plays it well because of his footwork, athleticism, and strong arm, though he's played primarily shortstop this spring because that's where his team needs him. Mathisen can really hit from the right side, using all fields and offering lots of power to the pull side. At 6-foot-2 and 215 lbs., he's going to slow down as he gets older and will have to keep an eye on his conditioning. Committed to Texas, Mathisen has big upside behind the plate but also a lot to learn after splitting time between so many positions. Law ranked him as the 31st best prospect in the draft recently.
Rio Ruiz, 3B, Bishop Amat High School (La Puente, California) (video)
A fringe first round talent coming into the year, Ruiz hadn't performed well early in the season before a blood clot in his neck required hospitalization and ended his spring. The bat is his calling card as a left-handed hitter with contact skills, and his power will come once his 6-foot-2, 190 lbs. frame starts to fill out. Ruiz also pitched in high school, but he's a better prospect at third base where his athleticism serves him well. There's a chance he could wind up in a corner outfield spot down the road, and he obviously has a strong arm. Not only is his stock way down because of his sluggish performance and the blood clot, but Ruiz is also a top football recruit with a scholarship to play both sports at USC in his back pocket. Keith Law ranked Ruiz as the 47th best prospect in the draft in his midseason update, but a team is going to have to have a lot of faith in his talent to spend enough to keep him away from college.