After playing .500 ball on the season-opening six-game road trip, the Yankees are finally coming home for the first time in 2012. Jorge Posada will help kick things off by throwing the ceremonial first pitch in this afternoon's game. We're going to get our first taste of FOX (Saturday afternoon) and ESPN (Sunday night) broadcasts this weekend as well, so hooray for that.
What Have They Done Lately?
The Halos are just 2-4 in the early going, losing two of three to the Royals and Twins. They won the first game of each series before dropping the final two. The Angels have scored the second most runs (30) and allowed the third most runs (also 30) in the league this year.
Offense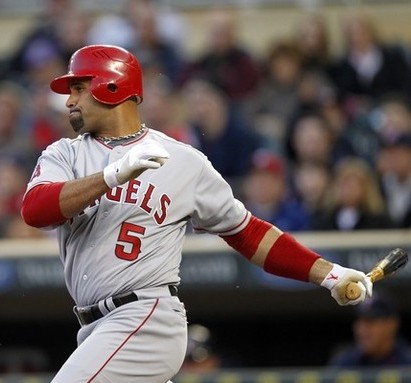 The addition of Albert Pujols turned an okay offense into a good one, but not the powerhouse that seems to be the popular opinion. Their 107 wRC+ is the ninth best in baseball in the early going, five spots behind the Astros for perspective on how little that means. Pujols (71 wRC+) is off to a slow start, as are Erick Aybar (61), Vernon Wells (72), Howie Kendrick (78), and the finally healthy Kendrys Morales (77). The only regulars who have hit so far are Mark Trumbo (276 wRC+), Chris Iannetta (182), Peter Bourjos (128), and Torii Hunter (118).
As a team, the Halos have only hit three homers, and one of those was an inside-the-park job by Bourjos. Wells and Trumbo hit the other two. The stolen base game has been a bit better, with Maicer Izturis and Kendrick each swiping two. Bourjos and Trumbo have one each. The Angels are very right-handed heavy aside from the switch-hitting Morales and the occasional Bobby Abreu sighting, so they aren't a great fit for Yankee Stadium. Of course, Pujols and Trumbo can hit it out of any part of any park.
Pitching Matchups
Friday: RHP Hiroki Kuroda vs. RHP Ervin Santana
Santana has been billed a Yankee Killer ever since Game Five of the 2005 ALDS, but they've tagged him for a .290/.373/.523 batting line and a 5.55 ERA in 326 regular season plate appearances against him (71.1 IP across a dozen starts). Santana allowed six runs in 5.2 IP to Kansas City in his first start, struggling to throw quality strikes and get ahead in the count. He's almost exclusively a two-pitch pitcher — 91-95 mph fastball and a low-80s slider — though his platoon split isn't extreme as you might expect. If Santana's getting ahead in the count, the best plan of attack might be to swing early to avoid seeing that slider.
Saturday: RHP Phil Hughes vs. LHP C.J. Wilson
The $77.5M man, Wilson jumped ship and moved from the Rangers to their chief rival this offseason. You can't blame him, he's from Southern California and that's a boatload of money. Plus that's a good park to pitch in. Anyway, he held the Twins to one run on three hits across seven innings in his first start, though he walked four and struck out five. A true six-pitch guy, Wilson will use three low-90s fastballs — four-seamer, two-seamer, cutter — to set up his low-80s slider, low-80s changeup, and upper-70s curveball. Aside from the changeup, he's used each pitch at least 10% of the time since becoming a starter. The Yankees have seen enough of Wilson over the last few years with Texas and have mixed results against him. Some good games, some bad.

Sunday: RHP Ivan Nova vs. RHP Jerome Williams (tentatively)
At the moment, the Angels' starter for Sunday is officially listed as TBD. Williams is expected to make that start after getting through a rehab start on Tuesday with no issues. He's been battling a hamstring problem and started the season on the DL. Once considered one of the five best right-handed pitching prospects in the game by Baseball America, the 30-year-old flamed out in 2007 before resurfacing with the Angels last year. He pitched to a 3.68 ERA with a 4.62 FIP in 44 IP last season. We don't have much to go on because of the big gap in his big league history, but last summer Williams used low-90s four and two-seamers with an upper-80s slider and a low-80s changeup. The Yankees will be going into this one blind, so all intents and purposes.
Bullpen Status
Dan Haren and Jered Weaver managed just eleven combined innings against the lowly Twins the last two days, so the Angels have had to use their pen quite a bit lately. Left-hander Hisanori Takahashi has appeared in each of the last two games, throwing 27 combined pitches. Right-handers Kevin Jepsen (18 pitches) and Rich Thompson (39) pitched yesterday, as did lefty Scott Downs (five). Veteran righties LaTroy Hawkins (16) and Jason Isringhausen (ten) pitched on Wednesday. Closer Jordan Walden hasn't pitched in four days simply because they haven't had a save situation. The primary setup guys — Downs, Hawkins, Izzy — should be ready to go tonight and are hardly intimidating.
Despite being overworked on Tuesday and Wednesday, the Yankees had yesterday off and their bullpen should be fine for the series opener. Mariano Rivera pitched in three straight before the off day, so he might be somewhat limited in this series. If he pitches tonight, they might lay off him tomorrow. Everyone else should be good to go.