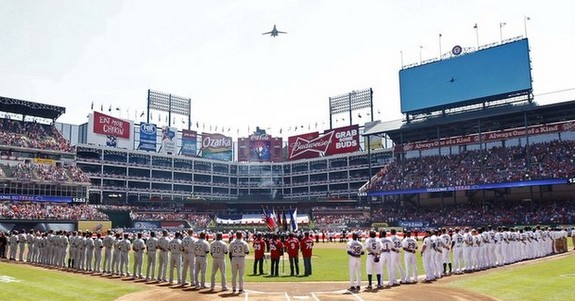 The Yankees and Rangers have quite a bit of history with each other, dating back to the three late-1990s ALDS matchups and more recently the 2010 ALCS. You can even include the race to trade for and then sign Cliff Lee in there. The Yankees won seven of nine games against the two-time defending AL Champs last season, including two of three in Arlington.
What Have They Done Lately?
At 13-3, the Rangers have the best record the best record in baseball. No club is within 15 runs of their +52 run differential, confirming that Texas has been baseball's best team through at least the first three weeks of the season. They just took two of three from the Tigers in Detroit, losing only to Justin Verlander. They'd won eight straight prior to that loss, including a two-game massacre of the Red Sox in Boston last week.
Offense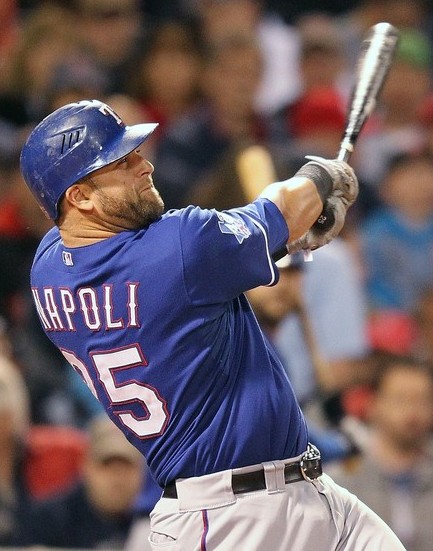 Given the injuries to Jacoby Ellsbury and Carl Crawford, there's really only one team in baseball that can hang with the Yankees offensively at the moment, and that's the Rangers. Texas has scored 94 runs through 16 games while the Yankees have scored 90 in 15 games. No other AL team has scored more than 78 runs. At 134 and 128 wRC+, the Yankees and Rangers have the first and third best offenses in baseball, respectively.
Texas has power up and down the lineup, starting in the leadoff spot with Ian Kinsler (156 wRC+). Elvis Andrus (80 wRC+) gives the pitcher a bit of a breather in the two-hole, though he always seems to annoy with bunts and infield hits. Josh Hamilton (223 wRC+) has been the best hitter in baseball not named Matt Kemp this year, and then you've still got Mike Napoli (170 wRC+), Nelson Cruz (170 wRC+), and Mike Young (165 wRC+). Napoli recently had a five-game homer streak end thanks to Verlander. Platoon bat David Murphy (135 wRC+) has hit well in limited action, but Craig Gentry (57 wRC+) and Mitch Moreland (28 wRC+) have not.
The Yankees are catching a little bit of a break this series because Adrian Beltre suffered a hamstring injury over the weekend. He's currently listed as day-to-day but will have an MRI at some point. Beltre hasn't done much against the Yankees in recent years — just .234/.260/.340 in 28 plate appearances since the start of 2010 — but he's a great player and having him on the sidelines is a plus for New York. Young or utility infielder/former Yankee Alberto Gonzalez will fill in at third for the time being. Texas is second to the Yankees in homers and third behind the Athletics and Yankees in steals. It's a great offense and New York is really, really going to need its rotation to settle down.
Pitching Matchups
Monday: LHP CC Sabathia vs. LHP Derek Holland
When you throw a two-hit shutout in the World Series, people will take notice. In reality, Holland's march to stardom began in the second half of last season as he pitched to a 2.77 ERA with a 3.1 K/BB ratio in his final 15 starts. He's performed similarly in his first three starts of 2012, including seven innings of two-run ball against the Red Sox in Fenway Park last week. Holland is a fastball heavy southpaw, using his low-90s sinker roughly 70% of the time. His changeup, curveball, and slider make appearances when he's ahead in the count, allowing him to miss plenty of bats (8.85 K/9 and 25.3 K%). Holland's allowing some more fly balls (34% grounders) this year but he's also limiting walks better than ever before (2.66 B/9 and 7.6 BB%). The Yankees hit the eclectic left-hander pretty hard three times last season, but that was before things clicked and he went on that huge second half run.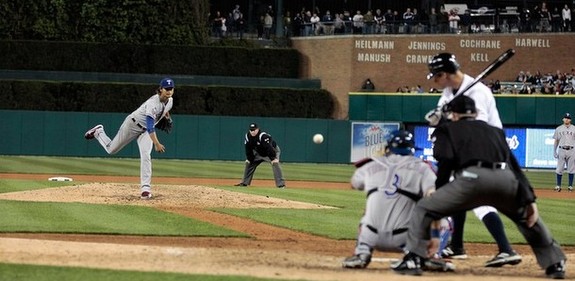 Tuesday: RHP Hiroki Kuroda vs. RHP Yu Darvish
Something tells me this game is going to be a pretty big deal in Japan. Lots of people are going to be late for work on Wednesday morning. Anyway, Darvish has been up and down in his first three MLB starts, allowing five runs to the Mariners in his first start (5.2 IP), two runs to the Twins in his second start (5.2 IP), and one run to the Tigers in his third start (6.1 IP). He's had the same problem that plagues most Japanese pitchers when they first come over, and that's nibbling too much and not challenging hitters. Darvish has walked at least four in all three starts and his 13 free passes currently leads the league. His K/BB ratio is nearly 1.0 thanks to his 14 strikeouts. His stuff is as expected, a 90-96 mph fastball with a knockout mid-80s slider and a slower mid-70s curveball. He'll cut and sink his fastball as well. With all due respect to Detroit, the Yankees will be the best lineup Darvish has ever seen in his life.
Wednesday: RHP Phil Hughes vs. TBA
They haven't officially announced it yet, but the Rangers are likely to start Scott Feldman in this game after Saturday's rain out threw a wrench into their rotation schedule. He figures to be on a relatively short leash after throwing no more than 20 pitches in either of his two appearances this season, though he did work as a starter and get stretched out in Spring Training. I can't imagine he's good for 100+ pitches, though. Anyway, Feldman has used five different pitcher as a starter in the past, including two fastballs (cutter and sinker), two breaking balls (curveball and slider), and a changeup. He's more of a low walks/ground ball type, though his strikeout rate has ticked up with more bullpen work in recent years. The Yankees have hit him very hard in the past, but that doesn't really matter now.
Other candidates to start Wednesday's game are left-hander Robbie Ross and right-hander Alexi Ogando. The Rangers could always call up a minor leaguer as well, but that seems unlikely. Feldman is the clear favorite for the spot start. For what it's worth (next to nothing), two of the three best starts of Hughes' career — based on Game Score — have come in Texas.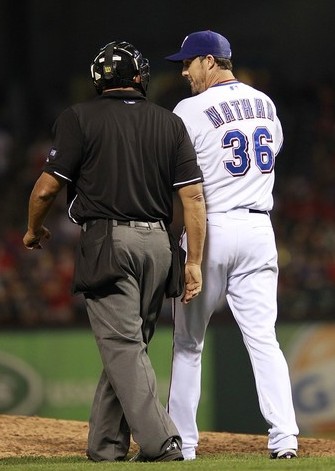 Bullpen Status
Yesterday's rain out gave the Yankees' bullpen an impromptu day off, so they're pretty well rested. David Phelps needs at least one and probably two more days off after throwing 66 pitches on Saturday, but everyone else is good to go. Mariano Rivera, David Robertson, and Cory Wade have each had two straight days off.
The Rangers played a doubleheader on Saturday and extra innings yesterday, but their bullpen is actually in pretty good shape because Neftali Feliz threw an eight inning, complete game loss in the second game of the double dip. Koji Uehara threw 25 pitches in the first game on Saturday, and yesterday the end-game trio of Ogando, Mike Adams, and Joe Nathan each threw no more than 18 pitches. Ross threw 13 pitches as well. Mark Lowe hasn't pitched since Tuesday, and I have to think Feldman is off limits for the first two games of the series so he can start the finale.
Overall, the Texas bullpen owns a 2.33 ERA and a 2.39 FIP, both top five marks in baseball and right there with the Yankees. Nathan has absorbed two of the team's three losses and hasn't been the old, automatic version of himself since coming back from Tommy John surgery last year. For the latest and greatest on the Rangers, I recommend checking out Baseball Time in Arlington and Lone Star Ball. Both are high-quality reads.