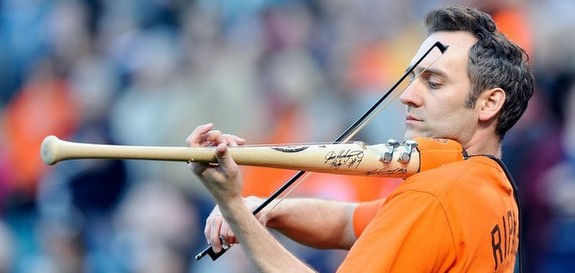 After eight games and one rain delay against the beasts of the AL, the schedule lightens up a bit and the Yankees welcome the Orioles to the Bronx this evening. The Fightin' Showalters played the Yankees tough earlier this month despite being swept, forcing them into a pair of extra-inning games.
What Have They Done Lately?
Believe it or not, the Orioles are on a roll right now. They scored five runs in the bottom of the ninth yesterday for a walk-off win against Bartolo Colon and the Athletics, their second straight win and sixth in their last seven games. Baltimore currently sits atop the AL East with a 14-8 record and a +13 run differential that ranks third in the league behind the Rangers and Yankees.
Offense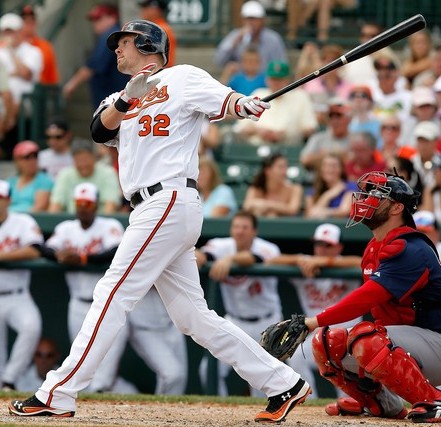 With 95 runs scored and an average of 4.32 runs per game, the Orioles rank 11th and 12th in the big leagues in offensive output, respectively. Their 99 wRC+ ranks 16th in the league and is exactly league average for all intents and purposes. They've been carried offensively by Adam Jones (166 wRC+) and Matt Wieters (152 wRC+), two young players that really stepped their game up in 2012. Wieters in particular has improved over the last season, jumping into the upper echelon of catchers.
Nolan Reimold (180 wRC+) missed a few games with a neck strain but is back just in time for this series. Chris Davis (153 wRC+) has been doing major damage so far, and he's even managed to get his strikeout issues under control (22.7 K%). The always annoying Robert Andino (111 wRC+) is exactly that, always annoying. With him batting ninth, Baltimore has a nice 9-5 batting order with Andino, Reimold, J.J. Hardy (53 wRC+), Nick Markakis (93 wRC+), Jones, and Wieters.
The supporting cast hasn't been all that great, with Mark Reynolds (35 wRC+) off to a slow start and the former Yankee DH platoon of Wilson Betemit (101 wRC+) and Nick Johnson (-49 wRC+) essentially cancelling each other out. None out outside of Jones will steal bases — he has four, the team has six total — but they will hit the ball out of the park. Baltimore ranks third in baseball with 30 dingers, with Reimold (five), Jones (six), and Wieters (six) doing most of the damage.
Pitching Matchups
Monday: RHP Hiroki Kuroda vs. RHP Jason Hammel
Back in the AL after three years with the Rockies, Hammel is off to great start this season. The former (Devil) Ray has allowed no more than two runs in any of his four starts, completing at least six innings three times. His strikeout (8.65 K/9 and 24.8 K%) and ground ball (61.8%) rates are way off his career norms (6.33 K/9, 16.1 K% and 45.5 GB%) while his usually low walk rate (2.77 BB/9 and 7.9 BB%) has remained the same. Hammel has changed his pitch selection a bit, possibly explained the improved performance. He's relying on his low-to-mid-90s two-seamer (40.5%) and mid-80s slider (24.6%) more than ever before while mixing in the occasional four-seamer and curveball. I'm very interested to see the new version of Hammel and whether or not this improvement is real. We do have some tangible evidence that it might be.

Tuesday: RHP Phil Hughes vs. LHP Brian Matusz
What an appropriate matchup. Two young phenoms who have pitched far below expectations and battled mysterious missing velocity disease last season. Like Hughes, Matusz's velocity has returned but the performance is still awful. He's allowed 17 runs in 20.2 IP this year with nearly as many walks (13) as strikeouts (14) and a 32.9% ground ball rate. He's in the low-90s with his four-seamer and cutter, low-80s with the changeup and slider, and upper-70s with the curveball. The top left-handed pitching prospect in baseball as recently as two years ago, Matusz's career has been derailed in a big way. The Yankees tagged him for four runs in four innings in his first start of the season a few weeks ago.
Wednesday: RHP Ivan Nova vs. RHP Jake Arrieta
The de facto ace, Arrieta started the season well but got knocked around a bit in his last two starts. His strikeout (7.12 K/9 and 19.5 K%) and ground ball (37.9%) rates are in line with last season, though he has cut down on the walks in a big way (2.67 BB/9 and 7.3 BB%). That might have something to do with having bone chips removed from his elbow at the end of last season. Arrieta sits in the low-to-mid-90s with his four-seamer and sinker, backing them up with an upper-80s slider, upper-70s curveball, and mid-80s changeup. The changeup is just a show-me pitch, the two breaking balls are his go-to secondary offerings. The Yankees scored four runs in 6.2 IP off Arrieta a few weeks ago.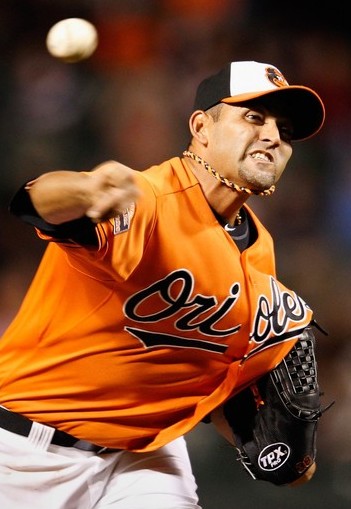 Bullpen Status
Showalter has had to use his bullpen quite a bit this season, though the Orioles' relief corps has gotten a bit of a breather in recent days. Righty specialist Darren O'Day (2.49 FIP) and setup man Pedro Strop (3.18 FIP) threw 17 and 23 pitches each yesterday, respectively. Former Yankee Luis Ayala (2.68 FIP) threw two innings and 28 pitches on Saturday, the only reliever they needed that day.
Closer Jim Johnson (3.73 FIP) is back with the team after a four-day stint in the hospital with food poisoning. He hasn't pitched in a game since last Sunday. Right-handers Matt Lindstrom (1.91 FIP) and Kevin Gregg (7.54 FIP) haven't pitched since Friday, and neither has lefty Troy Patton (4.05 FIP). He's more of a multi-inning guy than a specialist. Overall, the Baltimore bullpen owns a 3.38 FIP, right behind the Yankees (3.23 FIP) and third best in the AL.
Despite Freddy Garcia's five-out start on Saturday, the Yankees' bullpen is in fine shape because CC Sabathia went eight innings yesterday. D.J. Mitchell was called up to take over as the long man after David Phelps was moved into the rotation. Garcia is now working out of the bullpen and is probably the only guy not available tonight. For the latest and greatest from B'more, we recommend Camden Crazies.