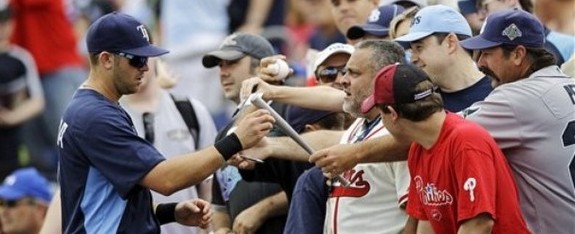 This season starts right where last season ended. The last time these two clubs met, the Rays swept the Yankees and leapfrogged the Red Sox on the final day of the season to secure a playoff berth. I'm sure you remember that. The Yankees had already clinched everything they could have possibly clinched, so we were all able to sit back and enjoy The Collapse without having to worry about its impact on our beloved Bombers.
That's all in the past now, and it's time to look forward to 2012. Both clubs added some new players this offseason — in Tampa's case a familiar face — and figure to again contend for the AL East crown. Winning the division is much more important now with the new playoff system, so right off the bat this is an important series. Every intra-division game will mean that much more this summer.
Offense
With the exception of Raul Ibanez, the Yankees return the same offense that finished second in baseball with a 113 wRC+ in 2011. Any improvement will come in the form of Alex Rodriguez staying healthy, Mark Teixeira pounding the ball the other way as a left-handed hitter, and Nick Swisher avoiding another two-month long slump to open the season. I wouldn't expect Curtis Granderson to hit 40+ homers again, but that's only because back-to-back 40+ homer seasons are very rare. He should still whack 30 dingers or so.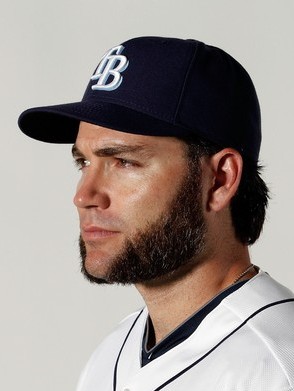 The Rays made some more substantial changes to their lineup. Their DHs have posted an unfathomable 94 wRC+ over the last three seasons, easily the lowest among the AL clubs during that time. They tried to rectify that by bringing in Luke Scott, who is coming off shoulder surgery but posted a 140 wRC+ in 2010, his last healthy season. I wouldn't expect a repeat performance at age 33, but it's hard to imagine he'll be anything but an upgrade at the DH spot if the shoulder is sound. Carlos Pena (119 wRC+ in 2011) replaced Casey Kotchman (125 wRC+) at first, meaning they'll actually get some homers out of the position. A full year of Desmond Jennings (131 wRC+) will help as well.
The rest of the Rays offense is the same as it has been for the last few seasons. Evan Longoria (134 wRC+) and Ben Zobrist (131 wRC+) do the heavy lifting while Matt Joyce (129 wRC+) does most of his damage against righties. B.J. Upton (115 wRC+) is widely considered a disappointment, but he's a productive player who is just entering his peak years and will again threaten 20-30. The shortstop and catcher positions are black holes. Tampa has some power and a lot of speed, and they managed to add some of the former this past winter without really sacrificing much of the latter.
Pitching Matchups
Friday: LHP CC Sabathia vs. RHP Jamie Shields
Sabathia and Shields split a pair of head-to-head matchups last season, and both guys were brilliant. They each allowed two runs total across 17 and 15.2 innings, respectively. Sabathia is making his ninth career Opening Day start, including his fourth straight in pinstripes. This is Shields' fourth Opening Day assignment in the last five years. The crafty right-hander likes to pitch backwards, specifically by using his curveball early in the count to batters on both sides of the plate. His put away pitch is that world-class changeup, which he'll throw in any count. Shields is always a tough assignment, so let's hope he's still a little rusty from the offseason.
Saturday: RHP Hiroki Kuroda vs. LHP David Price
The Yankees haven't been very kind to Mr. Price over the last few years. They roughed him up for six runs in four innings in last year's season finale, and of course Derek Jeter took him keep for his 3,000th career hit back in July. Price is my Cy Young pick, however. His strikeout, walk, and ground ball rates all improved last year even though it didn't show up in his ERA. I expect him to take another step forward this year and become that dominant, unquestioned ace. Price uses multiple mid-90s fastballs (four-seamer and two-seamer) and an array of offspeed stuff (changeup, curve, slider). Kuroda has never pitched against the Rays franchise in the regular season, though they did get a look at him in Spring Training a few weeks ago.

Sunday: RHP Phil Hughes vs. RHP Jeremy Hellickson
Both Hughes and Hellickson have something to prove this year. Hughes has to show that his dreadful 2011 season is a thing of the past and that he's back to his 2010 form. Hellickson, despite winning the Rookie of the Year award, has to show that his ability to keep runs off the board despite underwhelming peripherals is a skill and not just dumb luck. A 1.49 run difference between ERA and FIP begs for a bigger sample. He could be the rare Matt Cain-esque exception, or he could be due for a huge regression. Hellickson is a changeup specialist like Shields, throwing the pitch nearly 33% of the time last season. He'll mix in a curveball and two low-90s fastballs. The Yankees had mixed results against him in 2011, a few good games and a few bad ones.
Bullpen Status
Since this is the first series of the year, both teams have a pretty fresh bullpen. David Robertson is still rounding into form after missing close to three weeks with a bone bruise in his foot, so don't be surprised if Joe Girardi takes it a little easy on him this first week. Boone Logan is dealing with some back spasms and might not be available right out of the chute. Everyone else is a-okay as far as we know.
The Rays could be without closer Kyle Farnsworth, who is battling an elbow strain that is likely to send him to the DL. They have until game time to make a decision. Righty Joel Peralta and lefty J.P. Howell figure to serve as platoon closers in Farnsworth's stead. Former Tigers closer Fernando Rodney could also see some ninth inning work. Ground ball specialist Burke Badenhop and hard-throwing lefty Jake McGee fill the middle innings while displaced starter Wade Davis will handle long-man duties. Of course, we have to mention that Tampa's pitching staff plays up because their defense is so good. Jennings and Upton are fantastic in the outfield while Longoria, Zobrist, and Pena are no worse than rock solid on the infield.
For all the latest info on the Rays, we recommend checking out DRays Bay.