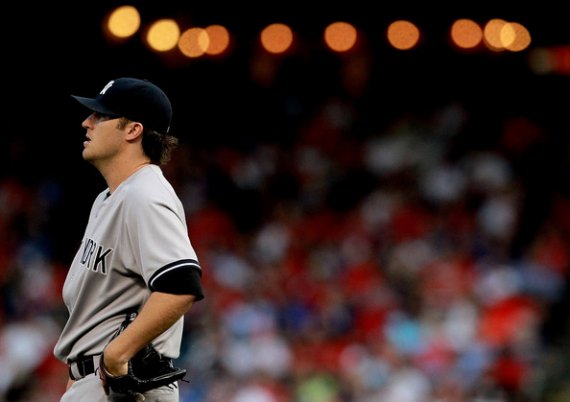 After last night's game Joe Girardi settled into his usual routine of defending his guys. "We believe he can do it, and I know he believes he can do it," he said of Phil Hughes, who allowed four runs in 2.2 innings last night. After going into some details of what went wrong, Girardi gave Hughes a vote of confidence. "Our plans are to send him out there again." That will come Tuesday against Baltimore. But could his leash be shorter than Girardi is letting on?
While Girardi verbally backs his players when the media comes knocking, his actions in this instance say something different. Hughes actually looked decent in the early goings, using just 11 pitches to work through the first, and then getting through the second on 14. His one mistake came on the first pitch of the second, when Adrian Beltre got out in front of a first-pitch fastball and crushed it. But after that Hughes recorded three straight weak grounders. Everything appeared in order.
The third started off well enough, with a strikeout of power threat Mike Napoli. But then things turned for the worse. Mitch Moreland singled, and then Ian Kinsler stayed back on a first-pitch curveball and hit a ball high enough, and far enough away from Nick Swisher, that he trotted into second base. A weak groundout followed, and while it allowed a run to score it did show another positive sign for Hughes. Two outs and a runner on third is no huge jam. But then he hit Josh Hamilton. Then came a single. Then a double. And then another hit by pitch. That left the bases loaded, still with two outs.
Girardi needed just one more out, and he needed it before the game, already 4-0 Texas, got out of hand. But Girardi did not trust Hughes to get the job done, even against the bottom of the Rangers order. Instead he put his trust in Clay Rapada, to get the lefty David Murphy, and then David Phelps, to stanch the bleeding and keep the game close for the Yankees' offense. Things didn't turn out well for them, as Phelps gave back a run immediately after the Yankees plated two in the top of the fourth. But it's not the results so much as the decision to remove Hughes that stands out.
It could be that Girardi noticed that Hughes was overthrowing and failing to locate his fastball. Russell Martin certainly noticed it, saying, "We were missing, and in counts where guys were ready to hit the ball." Hughes himself admitted to overthrowing, saying, "A little too much frustration probably came out physically. I try not to do that, but sometimes it gets to be too much." If Girardi made the change based on these specific observations, in this specific game, then this might be nothing.
Given Hughes's performances to date, however, Girardi's early hook probably speaks his mind more accurately than his post-game press briefing. If he is losing faith in Hughes, and shows faith in Phelps, we could see a change on the horizon. That might not come within the next few starts, especially if Hughes handles Baltimore's lineup on Tuesday. But changes will be coming in a few weeks, when Andy Pettitte returns. Freddy Garcia might be the victim in that case, but if Hughes considers to falter could the Yankees make an additional change and swap him with Phelps? After starts like last night, it certainly seems like a possibility.