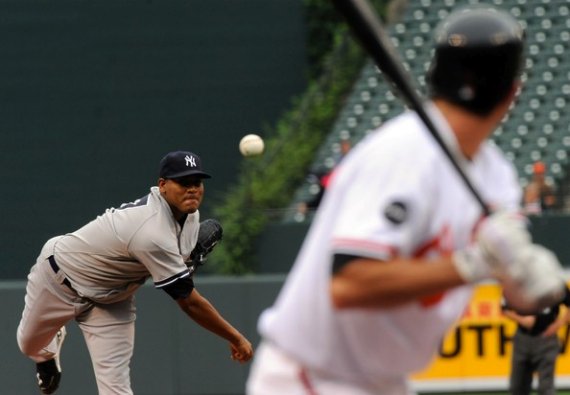 Are you worried about Ivan Nova's rough spring? In one way, it's easy to write off his poor performance. We can turn to some pretty gruesome spring trainings that meant absolutely nothing. After all, in the spring of 2009 Zack Greinke had an ERA of nearly 10; he won the AL Cy Young Award that season. Cliff Lee had a 5.68 ERA in the spring of 2008, and he had been demoted for poor performance in 2007, yet he produced a magnificent Cy Young season. In that way, it's not too concerning to see Nova's 8.06 ERA this spring.
Yet there's something peculiar about the way Nova has performed this spring. Read accounts of his games, and you'll see one term repeated frequently: not sharp. It wasn't exactly a control thing; he walked only three batters in 22.1 innings. But he just wasn't locating his pitches as he did last season. He wasn't getting ground balls, which are key to his game. And he was leaving plenty of mistakes over the plate, as his team-leading five home runs suggests. Does that do anything to raise the level of concern?
It's easy to forget how Nova ended last season. After surrendering a pair of solo homers in the first inning of ALDS Game 5, Nova mysteriously did not come out for the second. It was later revealed that he suffered an injury to the flexor tendon in his forearm, which is never something you want to hear. But he had the whole winter to rest and rehab, and it wasn't long before the Yankees declared him healthy and ready to go. All seemed well. That is, until he got knocked around this spring.
This isn't to throw up alarms and declare Nova injured. For all we know he could do the same thing that Greinke did in 2009, that Lee did in 2008, and completely shed a rough spring. But there has to be some worry that the injury continues to affect him. Maybe it's not at risk for further damage, but maybe it throws him off enough that he's not effective. That could hamper the Yankees to start the season. It's also exactly why they assembled so much depth.
When Michael Pineda went down it was a big deal, but only because he represents such a big part of their future. Thankfully, the Yankees were prepared for such an occurrence. While having six starters for five spots was deemed a competition, it was as much insurance as anything. Pitchers get hurt, so having six for five spots is almost a necessity for a contending team. The Yankees suffered an injury, and were able to cover it up with their depth. If something is wrong with Nova and he's not able to pitch effectively, they'll again have to dip into their depth.
Thankfully, the Yankees do have some options that they can use in Nova's place should worse come to worst. David Phelps has already made the big league club in the bullpen, and if Nova falters from the start they could slide him into the rotation. They also have Adam Warren and D.J. Mitchell in AAA, if they'd rather use someone who is already stretched out. Chances are none of those guys will step in and immediately replicate Nova's production. But they certainly represent better options than we've seen in the past. That is to say, there's no Sidney Ponson on the horizon if the pitching staff suffers another injury or bout of ineffectiveness.
Nova's poor spring performance might be nothing. It might have been him pressing himself a bit too much. It might been him making certain necessary adjustments. It might have been one of those spring flukes we see nearly every year. But there is a possibility that something is not right with Nova, and that it will hurt his effectiveness from the get-go. If that is the case — and, again, it's just a what-if scenario — the Yankees do have the depth to cover him. It might not be ideal, but it's there. That's why there's never a problem in having seven guys for five spots. Something always comes up to mess up the best-case scenario.