New Yorkers needed one Rangers team to win and another Rangers team to lose on Monday night. They got exactly what they wanted. The New York Rangers won Game Six of their first round playoff series to force a Game Seven while the Texas Rangers lost to the Yankees.
Carsten Charles In Charge
CC Sabathia won't get a quality start for his performance against the Rangers, which has more to do with the flaws in the stat than his actual performance. Sabathia allowed a first inning run on two singles and a ground ball double play, but he then retired 14* of the next 17 batters he faced before Josh Hamilton hit a solo homer with two outs in the sixth. Texas scored a pair of runs when ground balls hugged the lines for doubles in the seventh, but CC rebounded by retiring the heart of the Rangers' order on five pitches in the eighth.
* One of the three guys he didn't retire during that stretch reached bases on a throwing error, so Sabathia did his part. The defense let him down on that one play.
During his first three starts of the season, it was obvious that fastball command was CC's biggest issue. He was going to his changeup and slider whenever he needed a strike because those pitches were a-okay, but the fastball was all over the place. The fastball command came around in this start, as Sabathia threw his heater to both sides of the plate and up high to change eye lines. Thirty-one of his 51 fastballs were strikes (60.8%), and he threw the pitch anywhere from 91.98 mph to 94.00 mph according to PitchFX. Sabathia threw a first pitch slider to 16 of 32 batters, including 13 for strikes. Twenty-five of 32 sliders were strikes — seven swings and misses — overall, an absurd rate.
The starting rotation has clearly been the Yankees' weak point this season, but Sabathia stepped up and gave his team eight high-quality innings against the best hitting team in the AL not based in New York. Four runs in eight innings really doesn't tell the whole story. Sabathia was in control of the game all night.

The Captain
We're running out of things to say about Derek Jeter. The Cap'n has been the Yankees' best player since Day One and one of the very best in the league. He added to his way-too-early MVP case by going 4-for-5 against the Rangers, starting a rally in the first and extending rallies in the fifth and sixth innings. His first three hits were singles, the fourth an opposite double over Nelson Cruz's head to plate a run. David Freese-ian, if I do say so myself.
Derek raised his overall season batting line to .411/.436/.644 and his season batting line against left-handers to .630/.607/.926. I'm not kidding, that's a real triple-slash line. If the Cap'n goes hitless in his next 27 at-bats, he'll still be a .300 hitter overall. That's pretty awesome. "It's like 1999 again," said Alex Rodriguez after the game. "Three hits every day."
Damage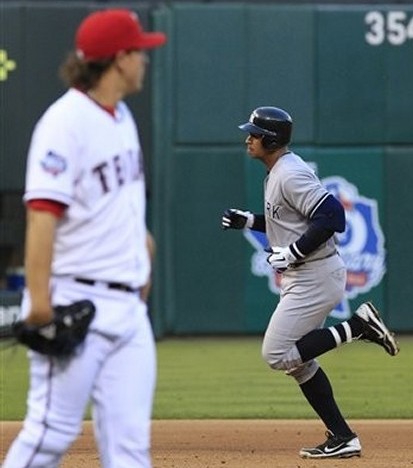 The Yankees scored two runs in the first on Curtis Granderson's two-strike bloop single and another run on Nick Swisher's sacrifice fly in the fifth, but the biggest blow came two batters later when A-Rod connected for a three-run homer off the poorly mustachioed Derek Holland. He drew a pair of walks in his first two trips to the plate but also swung through a pair of inside fastballs, and that's the pitch Holland tried to execute on the homer. He left it a little too far out over the plate and Alex launched a no-doubt shot into the left-center field stands.
Weirdly enough, the homer was A-Rod's first hit against a left-hander this season, breaking an 0-for-17 streak. The three-run shot turned a 3-1 game into a 6-1 game, giving the Yankees some breathing room. It's been a sluggish start to the season for the third baseman, but Alex now has five hits in his last 15 at-bats with two homers and and three walks. That dates back to the start of the Red Sox series. It's worth noting that he also drove another ball right to the wall in this game, so he's making hard contact.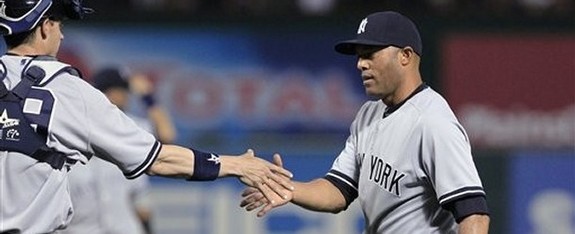 Leftovers
How about Chris Stewart? The rarely seen backup catcher drew a walk and hit a booming double to dead center in four trips to the plate, even taking second base on a poor pickoff throw by Holland. To be fair, he was dead to rights until Elvis Andrus dropped the relay throw at second. It's not going to last, but give Stewart some credit for putting together tough at-bats — 17 pitches seen in his four plate appearances — and actually contributing offensively in the early going.
The Rangers allowed more than four runs for just the second time all season. Jeter and A-Rod did most of the heavy lifting, but Granderson had the two-run single and Swisher the sacrifice fly. Robinson Cano also had two hits and believe it or not, that's it. Swisher, Mark Teixeira, Andruw Jones, and Eduardo Nunez went a combined 0-for-16 with three strikeouts. It's all about timely hitting I suppose, the Yankees went 5-for-9 with runners in scoring position as a team.
After Sabathia's eight strong innings, Mariano Rivera came in and took care of business in the ninth inning on 13 pitches. The final eight Rangers were retired in order on just 24 pitches. That's a great way to wrap up a win, with zero late-inning stress.
This probably isn't worth mentioning, but I thought Andruw make a couple of real nice catches on non-routine balls in play throughout the game. Some were line drives hit to left, others fly balls lifted high and into the Texas sun. I don't want to think about how many would have fallen in for hits had Raul Ibanez been out there.
Box Score, WPA Graph & Standings
MLB.com has the box score and video highlights, FanGraphs the nerd score, and ESPN the updated standings.

Source: FanGraphs
Up Next
Game two of this three-game series will be played on Tuesday night, when Hiroki Kuroda and Yu Darvish meet in just the seventh matchup between Japanese-born starting pitchers in MLB history. That game starts at 8pm due to the time zone difference, an hour later than usual.