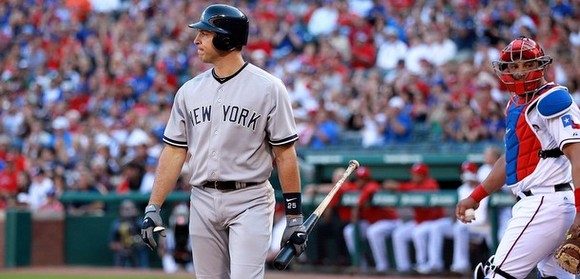 Answer: Jerome Williams.
Question: Who was the last pitcher to walk Mark Teixeira?
It's been 52 plate appearances since Teixeira last drew a walk, dating all the way back to the final game of the home-opener series against the Angels. He'd drawn five walks in his previous 38 plate appearances, a 13.2% walk rate that isn't completely out of line with the 11.5% career walk rate he brought into the season. But since then, nothing. Tex hasn't drawn a walk or even been hit by a pitch — something he's quite good at, actually — since his plate appearance against Williams more than two full weeks ago.
Sample sizes are one of the biggest analytical dangers this early in the season, but swing and contact rates are the very first thing to stabilize. They only take 50-75 plate appearances to even out. Teixeira is at 90 plate appearances at the moment, so we can start to draw some conclusions from his swing tendencies and performance even though it's still only April. Here's a look at his swing and contact rates, courtesy of FanGraphs…

Right off the bat you can see that Teixeira is not only swinging at more pitches out of the strike zone than ever before (30.5%), he's also making more contact with those pitches as well (75.5%). That's a great recipe for not drawing walks. His swing rate on pitches in the zone (60.5%) is pretty normal compared to recent years, though his contact rate on those offerings is a touch high (94.9%). That's why Teixeira has struck out in just 11.1% of his plate appearances, a career-low by several percentage points.
We have an idea of why Teixeira hasn't been drawing walks lately, but why has he been swinging at more pitches out of the zone? That's not something we can answer here, it could be a countless number of different reasons. Maybe he's pressing, maybe he's swinging at more pitches on the outside corner in an effort to go the other way, or maybe it's one of a million other things. Teixeira's latest slump — 2-for-24 with no extra-base hits — has dragged his season line down to .229/.278/.386, so the lack of walks is just one piece of the problem. Plate discipline is the root of offensive performance, and right now Tex's isn't where it should be.