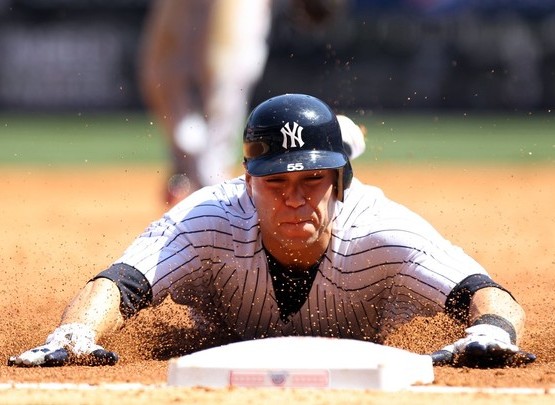 The season is a mere ten games old, and aside from generally underwhelming starting pitching performances (sans Hiroki Kuroda, of course), all ten games have one thing in common: Russell Martin has been behind the plate. Well, that's cheating a bit. He did not start the third game of the Rays series, but he did catch the final two innings after Chris Stewart was lifted for a pinch-hitter. Martin has started six straight games behind the plate, including four games in the last four days.
Coming into the season, it appeared as though one the team's goals was to reduce the workload on their starting backstop. Martin started last season like a mad man, hitting .255/.356/.510 in the team's first 36 games before slumping to .192/.298/.285 in the next 52 games. The All-Star break seemed to rejuvenate Russ — .288/.348/.517 in the next 40 games — before he had to drag himself across the finish line — .209/.284/.299 in the final 32 games, not counting playoffs. Yes, though endpoints are arbitrary, but anecdotally it did appeared that Martin's best offensive performances came when he was rested.
Perhaps part of the reason why the Yankees haven't given Martin much rest so far is because they lack a quality backup. That's somewhat self-inflicted, since Frankie Cervelli is one of the better backup catchers in the game — at least offensively — and he's toiling in Triple-A. Frankie was pushed out in a numbers game after Stewart was acquired in the wake of Austin Romine's latest back problem. He had minor league options, Stewart did not. It's as simple as that. Stewart is a defense-first guy who absolutely can't hit, and maybe Joe Girardi doesn't want to stick a total zero into the lineup when the rest of the offense has been inconsistent so far. I dunno, just a cracked theory.
Martin's batting line early on this year is quite hilarious: .160/.417/.160 though the ten games. His nine walks not only lead the Yankees, they lead the entire American League. Martin has also been beating the ball into the ground this month, going into yesterday's game with a 75% ground ball rate and only adding to it with an 0-for-3, two strikeout, one ground ball performance. If Girardi doesn't want to play Stewart because of his offense, then he shouldn't be on the roster. Giving Martin some more time off this season — especially in the first half — should be a major item on the Yankees' agenda.