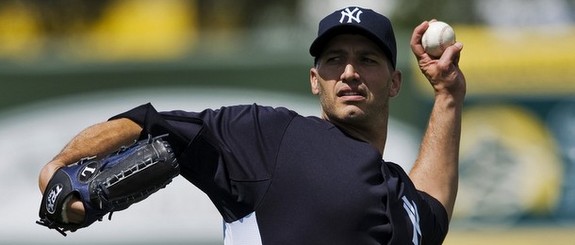 At long last, the end of the exhibition season is upon us. The Yankees will close out their Spring Training schedule at home against the Mets today, then enjoy tomorrow's off-day before officially kicking off the 2012 regular season against the Rays on Friday afternoon. Oh, and by the way, Andy Pettitte is going to return to the mound and throw an inning this afternoon. Hooray for that. Enjoy the last meaningless game, the roller coaster starts in two days. Here's the lineup…
SS Derek Jeter
CF Curtis Granderson
2B Robinson Cano
3B Alex Rodriguez
1B Mark Teixeira
RF Nick Swisher
DH Raul Ibanez
C Russell Martin
LF Brett Gardner
RHP Freddy Garcia
Available Pitchers: LHP Andy Pettitte will follow Garcia, though I doubt he enters the game mid-inning. RHP Cory Wade, LHP Clay Rapada, RHP Dave Robertson, LHP Rigoberto Arrebato, LHP Vidal Nuno, RHP Brandon Braboy, and RHP John Brebbia are also available if needed.
Available Position Players: C Frankie Cervelli, 1B Eric Chavez, 2B Bill Hall, SS Jayson Nix, 3B Eduardo Nunez, LF Andruw Jones, and CF Justin Maxwell will replace the starters.
Today's game starts at 12:05pm ET and can be seen on YES locally (but not SNY) and MLB Network nationally. Enjoy.