Heading into Sunday's game against the Tigers the Yankees' starters held a collective 6.37 ERA, second worst in the majors only to the Twins. CC Sabathia lowered that to 6.08 with his eight-inning, two-run performance on Sunday. On Monday Hiroki Kuroda knocked that ERA below the dreaded 6.00 mark, pitching seven innings of one-run ball in a game where one run was all the Yankees could afford. The Yankees' starters now enter May with a 5.80 ERA.
Better to be lucky than good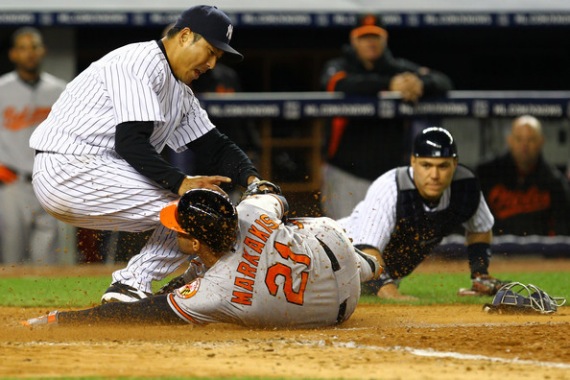 Kuroda hunkered down when necessary and even made a few defensive plays himself, but it seemed as though the Orioles hitters were onto him. Nineteen of the 24 hitters he faced put the ball in play, and of those six were classified as line drives. Indeed, the Orioles did make a lot of noise with their bats. Fortunately for the Yankees, most of their hardest hit balls were right at fielders. Eduardo Nunez, Derek Jeter, and Mark Teixeira all made excellent plays on what, on another night, might have been base hits.
Through seven innings Kuroda struck out only three, but he also walked only one and allowed just four hits. Again, he might have been lucky to give up only those four hits. He's also lucky that Nick Markakis broke from third on a ball that didn't get quite far away enough from Russell Martin. But all that luck came in handy on a night when the offense didn't get much at all going.
Chavez to the rescue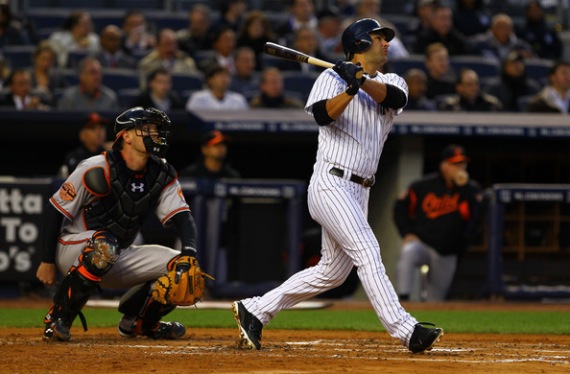 On Sunday the Yankees scored six runs, but had an opportunity for more. They went just 3 for 13 with runners in scoring position and left 15 men on base. Last night they had no such failure, but that's because they put so few men in scoring position. To wit, they did just one time, following Mark Teixeira's bloop single in the sixth. Raul Ibanez erased him with a ground ball double play.
Eric Chavez took care of business, though, crushing a Jason Hammel offering into the Yankees bullpen in the second, which gave the Yankees the early 2-1 lead they'd hold the whole game. They might as well have set it up on a tee for him, because it was right there. That has to be the greatest feeling as a hitter, to know without a shadow of a doubt that you got all of it.
Leftovers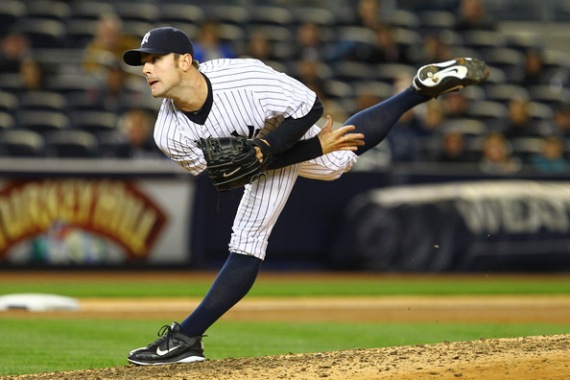 While Kuroda was lucky, he was also efficient, throwing just 89 pitches in seven innings. Hammel was a bit less efficient, using 101 pitches through just six innings, though there's an argument that he pitched the better game.
David Robertson struck out the side for the first time since Opening Day. He has made 11 appearances so far and has multiple strikeouts in six of them. He has struck out 43 percent of all batters he's faced this season.
Eduardo Nunez looked pretty solid in left, especially for a guy who had 18.1 innings in the outfield as a professional coming into the game. All 18.1 of those innings came in the majors last year.
Since his 3 for 9 performance in the Boston series Russ Martin has gone 2 for 15 with just one walk. Though that kind of breakdown really isn't necessary; Martin's season at the plate has been horrible. Even the whole "at least he's taking his walks" thing is starting to taper off — he's walked just twice in the last two weeks.
If Andruw Jones is going to enter as a defensive replacement for Raul Ibanez, shouldn't he just get some starts? It's not as though he can't hit righties. While Ibanez's hits have been well-timed, he hasn't been an irreplaceable contributor.
Box Score, WPA Graph & Standings
MLB.com box scores are good, because they have video and photo right there. FanGraphs box scores are good, because they have just about every bit of data you could ever want. Mike always links to ESPN's standings, but it's just as easy to get them from the MLB site while you're checking the box score.

Source: FanGraphs
Up Next
It's a battle of hyped-up, underperforming pitchers as Phil Hughes goes for the Yankees and Brian Matusz goes for the Orioles.