The last time the Yankees lost their first three games of the season, they went on to win 114 of their next 159 games. Clearly, they're planning a repeat … right?

No Answer
The Yankees must be really sick of Tampa. They've been there since at least mid-February, and it sure looked like they wanted to get on the plane out of there as soon as possible Saturday afternoon. They had no answer for Jeremy Hellickson, who was throwing changeups when they were sitting fastball and fastballs when they were sitting changeup. Mark Teixeira, Alex Rodriguez, and Nick Swisher all doubled off the young right-hander, but that was the only hits they got. None of his four walks came back to hurt, and Hellickson retired 16 of the last 19 men he faced.
Their two best chances came in the fourth and sixth, when they had two men on base. Swisher struck out and Raul Ibanez flew out to end the first threat, then Swisher popped up the end the second. The Yankees never had a runner passed second base in any other inning. Just no answer, they were completely helpless. Gotta give Hellickson some credit, he did a great job. Pretty nice 25th birthday present to himself.
Predictable
Ibanez is a terrible defensive outfielder. I know it you, you know it, the Yankees know it, and Ibanez knows it. And yet, there he was in right field on Saturday afternoon. He wasn't just in right field, he was in right field with a fly ball pitcher on the mound and with a bunch of pull left-handed hitters in Tampa's lineup. Naturally, the ball found him right away and it cost the Yankees a run.
I have no problem whatsoever giving Swisher a half-day off at DH — he did miss some time late in camp with a groin problem and played the last two games on turf — but you have arguably the greatest defensive outfielder in the history of baseball on the bench. I know Andruw Jones isn't the gloveman he once was, but still. Use him instead of Ibanez in that spot, even if there is a right-hander on the mound. Like I said, fly ball pitcher with a lot of pull lefties in the lineup, it was only a matter of time before Ibanez's defense came back to bite them.
[.gif via Mock Session]
St. Philip of Hughes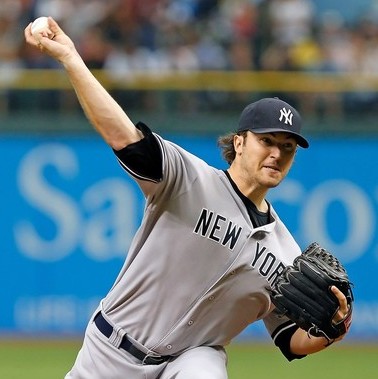 No Yankee threw the ball better than Phil Hughes this spring, but that doesn't mean anything now. He's got to show he can do the same thing multiple time through a big league batting order every five days, and he got his first chance to do it this afternoon. Phil's biggest mistake was leaving a 2-2 fastball up to Carlos Pena, who smacked a solo homer to right in the third. One of these years the Yankees will come up with a decent scouting report against the guy. Otherwise he showed four pitches and was never really in a world of trouble.
I thought Girardi pulled Hughes at exactly the right time, with Matt Joyce coming to bat with men on first and second and two outs in the fifth. Joyce has smacked Hughes around pretty hard in his career — .400/.500/1.100 with two homers coming into this game (also took him deep this spring), and yes I know it's a small sample — and he struggles badly against southpaws. Good time to get Boone Logan in there to keep it close, which is exactly what he did.
Hughes did look demonstrably better than he did at any point last year, generating a total of nine swings and misses — five on the four-seamer, two each on the cutter and changeup (via Brooks). Only three times in 14 starts last year did he get nine or more whiffs. Hughes also threw 15 changeups, including one set of back-to-back changeups to Pena in the first. He never did that in the past, regardless of year. Hughes was not efficient at all — 99 pitches to 21 total batters — but I didn't think he pitched poorly or anything. Just needs to keep that pitch count down, which is much easier said than done.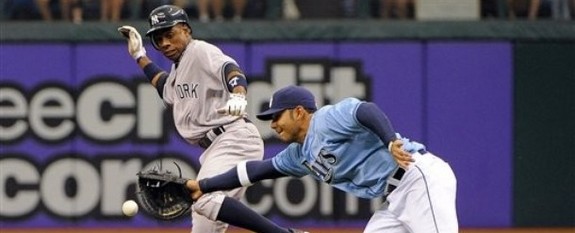 Leftovers
Logan threw a 2-1 changeup to Ben Zobrist in the sixth inning, getting a swing and miss. Brooks says he threw exactly one changeup last season, but Boone said in camp he wanted to throw it a little more this year. Of course he gave up a homer to Jeff Keppinger — .077 ISO last year — two batters later. That's the problem with carrying two lefty specialists, they get stuck having to face righties in games like this.
I think of Chris Stewart like a pitcher whenever he's at the plate. The goal is just to see as many pitches as possible. The full count in his first at-bat was nice, but then he tried to bunt for a hit on the first pitch of his second at-bat before being lifted for a pinch-hitter. He also dropped like, five pitches behind the plate. None were costly in terms of runners advancing or anything, but still, I thought the guy was supposed to be a defensive stud. I guess that's nitpicking.
I hope David Phelps goes into the Hall of Fame as a Yankee. Nice little debut for the right-hander, who threw a first-pitch curveball to Elliot Johnson with men on first and second and one out in the eighth. Can't imagine many pitchers have thrown a curveball for a strike with their first ever big league pitch. Phelps whiffed Johnson then coaxed a ground ball out of Reid Brignac to escape the jam. It wasn't exactly Mantle and Maris, but it was solid work out of the kid in his debut.
Box Score, WPA Graph & Standings
MLB.com has the box score and video highlights, FanGraphs the more advanced stuff, and ESPN the updated standings.

Source: FanGraphs
Up Next
After nearly two months, it's time for the Yankees to finally get out of Tampa. They're headed up to Baltimore for a three-game set against the undefeated Orioles. It'll be Ivan Nova against personal fave Brian Matusz at 7pm ET on Monday.