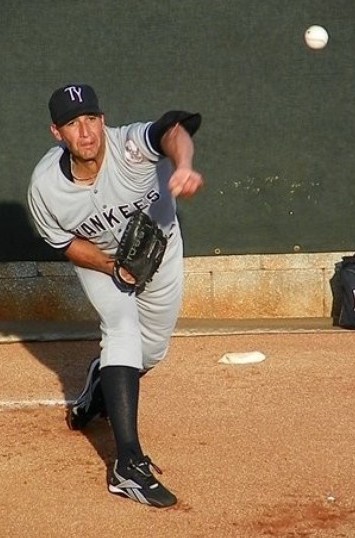 Things were not supposed to be like this, not after three turns through the rotation. The Yankees brought no fewer than six legitimate starting pitchers to Spring Training two months ago with three big league ready pitching prospects at the Triple-A level. Mid-way through camp they signed Andy Pettitte simply because they could. He had the itch to play and they weren't going to tell him no. A month later, Pettitte has gone from feel good story to a pretty important piece of the puzzle.
Those first three turns through the rotation have been pretty ugly. Ivan Nova and his 3.79 ERA/4.04 FIP has been the lone bright spot on a starting staff that currently ranks 29th in ERA (5.84), 26th in FIP (4.52), and 29th in HR/9 (1.76) among the 30 clubs. If you're a believer in xFIP, then I suppose you'll be comforted by the fact that they rank ninth with a 3.58 mark. Keep your fingers crossed that their homer rate regressing to the mean, I guess. We know quality starts aren't the best way to evaluate a pitching staff, though I do think it's telling that the Yankees have the second fewest in baseball (four) through 15 games. Not easy to win like that.
As if the current rotation situation isn't bad enough, the Yankees are going to be without Michael Pineda for the foreseeable future. He suffered a setback in his rehab over the weekend and will have his his right shoulder re-examined today. Even if they get good news, the Yankees can't expect him to contribute anytime soon. David Phelps has impressed in long relief and both Adam Warren and D.J. Mitchell continue to bide their time in the minors, but all three remain unproven. Pettitte is the only guy on the horizon with a track record, and even that is compromised by his year-long hiatus.
After throwing five innings in an Extended Spring Training late last week, the plan calls for Pettitte to throw 80-85 pitches for Double-A Trenton on Wednesday. Early reports say he looks like the same old Andy, but this will continue to be a wait-and-see thing. The Yankees have said he will make at least two starts of 100 pitches before considering him for a big league spot just because they have to see how his soon-to-be 40-year-old body reacts. With the Roger Clemens trial set to start in two weeks and Pettitte expected to testify in some capacity, his return could be pushed back to mid-May.
CC Sabathia will right his ship at some point and although I think Hiroki Kuroda will as well, there are reasons to be skeptical about him. Phil Hughes and Freddy Garcia have been trash through their three starts and Pettitte is coming for one of their spots. The Yankees shouldn't expect to receive the Andy of old, but it won't take a miracle for him to be an upgrade over Hughes or Garcia. Having a second left-handed starter will be nice as well. Pitching depth has a way of disappearing in a hurry, and now Pettitte might have to play a big role in the team's success this season if some current members of the rotation don't straighten themselves out.