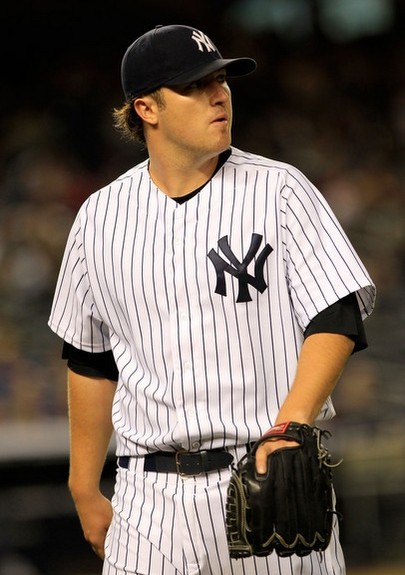 The early returns have not been all that good for Phil Hughes this season. He labored through 4.2 IP of two-run ball against the Rays in his first start, got pounded by the Angels in his second start, then had a disaster first inning against the Twins before settling down for the next four innings in his third start. About the only positive you can take from his overall performance is his strikeout rate, though his 22.7 K% does a better job of reflecting his performance than his 10.13 K/9.
Tonight's start against the Rangers will be both Hughes' toughest assignment and most important start of the season to date. A scoreless first inning would be a great start, something he's been unable to provide in two of his three starts. In the one exception, he had men on the corners with one out before escaping the jam. He escaped that mess with two strikeouts on his bread-and-butter pitch, the fastball.
"My velocity is good and hopefully I can keep it going,'' said Hughes yesterday. "The second and third time through the lineup you need something else, but at the same time I like to work the fastball a lot and try to [use] that as long as I can.''
The velocity has been a non-issue; he's sat in the 91-94 range and averaged 92.41 mph with his four-seamer according to the manually classified data at Brooks Baseball. Hitters have come up empty on 27.62% of the swings they've taken against Phil's fastball, which is pretty awesome. As Joe explained last week, the curveball has been a problem. Batters aren't missing the pitch — 11.76% whiff/swing — and although the changeup has been encouraging this year, it hasn't developed to point of being a true third pitch, nevermind a potential second pitch. Man can not live on fastball alone.
Hughes and Freddy Garcia are both on the rotation bubble with Andy Pettitte — who will throw 80-85 pitches for Double-A Trenton today — on the way. The Yankees aren't going to use tomorrow's off-day to skip Garcia, so apparently they want to see as much of him as possible before having to make any kind of decision about who to replace. Hughes has thrown two gems in Texas, but those games were a long time ago. Hanging in against a Rangers team that has scored a dozen runs in their last 44 offensive innings would go a long way towards helping him keep his starting job. If he doesn't at least hold his own, then the ball will be in Freddy's court on Saturday.