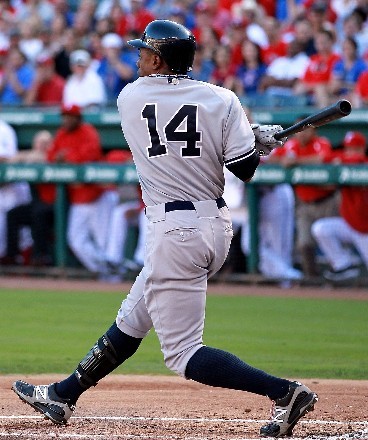 Everyone knows the story by now. Curtis Granderson was struggling during his first season as a Yankee before a two-day, mid-August crash course with hitting coach Kevin Long transformed him into one of the most dangerous hitters in the game. Coincidentally enough, those mechanical changes came in Texas during a series against the Rangers, exactly where the Yankees are right now. Since Granderson made the adjustments, he's hit .264/.364/.559 with more homers (61) than anyone not named Jose Bautista.
The Grandyman is off to a similar start in 2012, hitting .281/.387/.609 through his first 75 plate appearances of the season. Obviously his three-homer game against the Twins last week really put a charge into his numbers, but it's not like he hasn't contributed to the offense outside of that one game. In fact, Granderson has reached base in each of the last 15 games after taking an 0-for-5 on Opening Day. He's reached base at least twice in 11 of those 15 games and has been on base 29 times in the team's 16 games. Only 13 players have reached base more times this season.
I thought Granderson's two-run single in the first inning last night (video) was a perfect example of something he wouldn't have been able to do prior to his work with Long. A tough left-hander in Derek Holland had him in a 1-2 count and busted him inside with a 94 mph fastball, a pitch designed to do two things: chew up the lefty hitter on the inner half and set up the breaking ball away. Curtis would have had no chance at an offering like that two years ago, but now he's quick enough to get around on that inside fastball to fight it off for a  single. The homers get all of the attention, but it's at-bats like this that really show how much Granderson has changed as a hitter.
Derek Jeter's hot start has rightfully garnered just about all of the attention this month, though Alex Rodriguez's struggles against lefties, Mark Teixeira's attempt to assuage his pull-happy approach, and Robinson Cano's slow start have also been noticeable. Then there's Granderson, who has quietly and productively plugged along regardless of where he's placed in the order. I can't bring myself to say that he flies under the radar in this lineup because he is such a huge part of the team, but I do think his steadiness has been taken for granted to a certain degree.