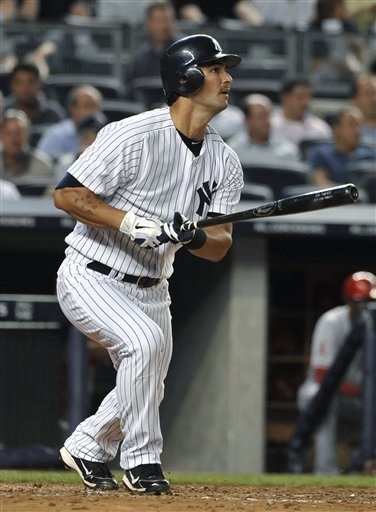 The season is still relatively young, but we already have a pretty good idea of how the different pieces of the roster fit together. Eduardo Nunez and Andruw Jones are part of an unorthodox DH platoon, Clay Rapada is the low-leverage lefty reliever, and Chris Stewart is the rarely seen backup catcher. David Phelps has settled in as the long man and could eventually earn more responsibility. Everyone on the roster seems to have their set role except for one man: Eric Chavez.
Through eleven games, we've seen Chavez a total of five times. He pinch-hit for Nunez when the Yankees were down six runs with one out in the ninth inning of the second game of the season, singling off Josh Lueke for his lone hit of the campaign. He's pinch-made outs on three other occasions with the Yankees down multiple runs in the late innings, and in one other appearance he replaced Nunez for defensive purposes after the Yankees took the lead in extra innings in Baltimore. Other than that, he's been nothing more than a spectator.
Before his foot injury last season, Chavez was used primarily to rest Alex Rodriguez at third base and occasionally sub-in for Mark Teixeira at first. He was getting roughly two starts a week, but now it's Nunez getting the playing time whenever A-Rod needs a day. When Teixeira came down with flu-like symptoms prior to last night's game, it was Nick Swisher at first, not Chavez. That probably had something to do with the left-handed Francisco Liriano being on the mound, but Joe Girardi said before the game that he wanted to rest Swisher because he anticipates using his heavily in the coming weeks. Once Tex got sick, Girardi scrapped the Swisher plan rather than start Chavez against the southpaw.
Given the Yankees' insistence on getting Nunez playing time, Chavez is a square peg and the roster is a round hole. There's no obvious role for him other than the occasional pinch-hitting appearance or defensive replacement late in blowouts, whenever Girardi has a chance to rest both A-Rod and Derek Jeter for a few innings. Then again, that's usually what the 25th man on the roster does anyway. Chavez is overqualified for the job despite his injury-proneness, but I suppose that's the perk of having veteran players want to be on your team. Once the schedule opens up a bit and off days become a little more spread out, chances are we'll start to see a little more of Chavez. Right now he's just a seldom used spare part.