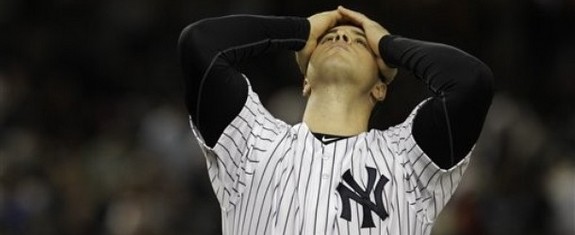 We started our little mini-series looking at Mark Teixeira's declining offense yesterday by first acknowledging that as a right-handed batter, the guy is still an elite hitter. He hasn't shown any signs of decline from that side of the plate, and in fact he's been able to increase his homer output with sacrificing his batting average, walk rate, or strikeout rate in recent years. The decline has been limited to his left-handed swing exclusively.
First things first, let's take a look at Teixeira's offensive performance as a left-handed batter over the last five seasons…
| | AVG | ISO | wOBA | BB% | K% | HR/CON | BABIP |
| --- | --- | --- | --- | --- | --- | --- | --- |
| 2007 | 0.284 | 0.284 | 0.397 | 12.8% | 19.6% | 9.3% | 0.302 |
| 2008 | 0.311 | 0.277 | 0.417 | 12.9% | 14.7% | 8.2% | 0.314 |
| 2009 | 0.282 | 0.296 | 0.402 | 11.2% | 17.6% | 8.6% | 0.290 |
| 2010 | 0.244 | 0.213 | 0.350 | 11.3% | 18.3% | 6.9% | 0.255 |
| 2011 | 0.224 | 0.229 | 0.339 | 11.6% | 18.3% | 7.6% | 0.222 |
Just as a reminder, HR/CON is homers per plate appearances with contact. That's the best way to measure over-the-fence power. Anyway, there's quite a bit going on here, so let's take it piece by piece…
Walk & Strikeout Rates
Let's do the easiest stuff first. There's no issue here; Teixeira's walk and strikeout rates as a left-handed batter have barely changed over the years. His walk rate is much better than the league average while his strikeout rate is right there at the average. Given his power production, Teixeira really doesn't get enough credit for striking out as infrequently as he does. Most 30+ homer guys whiff in 20+% of their plate appearances. So like I said, no problem here. Tex's ability to control the strike zone has not changed over the last few years.
Power Production
This one's kinda weird. The HR/CON rates indicates a very slight decline in over-the-fence power but nothing outrageous. A 6.9% HR/CON rate, which represents Teixeira's worst year in our admittedly arbitrary five-year sample, was still well above the 3.4% league average that year. We're talking about a guy that hits the ball out of the park at approximately double the league average rate when he makes contact. That's impressive.
On the other hand, Teixeira's year-by-year ISO indicates a significant decline in his over power numbers. That decline is relatively speaking of course, because a .213 ISO — his 2010 rate — is still really good. Tex has just gone from an elite power hitter (.270+ ISO) in 2007-2009 to just a really really good one (<.230 ISO) in 2010-2011. The HR/CON and ISO rates seem to be telling us two different things, that Teixeira is both hitting for less and the same amount of power simultaneously, but they're not. It's explained in the next section.
Batting Average & BABIP
As you probably knew coming into this post/series, this is where the problem lies. Teixeira has acknowledged that he's altered his left-handed swing in an effort to take advantage of the short right field porch in Yankee Stadium, and that pull happy approach has led to a decline in his total number of base hits. That explains the contradicting HR/CON and ISO; Teixeira is still hitting homers at (approximately) the same rate as past years but he's hitting fewer doubles as a result of his pull happiness, hence the declining ISO but relatively static HR/CON.
A lot of times a BABIP — and subsequently, batting average — drop is lazily written off as a fluke, but in Teixeira's case we have tangible evidence supporting the decline. Being a pull-hitter is not automatically a bad thing, but in this case it has sapped his ability to get a simple base knock.
* * *
It's easy to forget that Teixeira was still above-average as a left-handed batter last season, roughly 10% better than league average. That's good but not great, and not what we're used to seeing or expecting out of him. Given the lack of change in his walk, strikeout, and homerun power rates over the last few years, it's safe the say the guy hasn't just forgotten how to hit or hit the point where age is taking its toll. He's gotten into some bad habits that are robbing him of base hits, dragging down his batting average and overall performance as a lefty. Tomorrow we're going to look at Teixeira's batted balls from the left side of the plate, so get ready to talk about the shift. That is not the only problem, however.