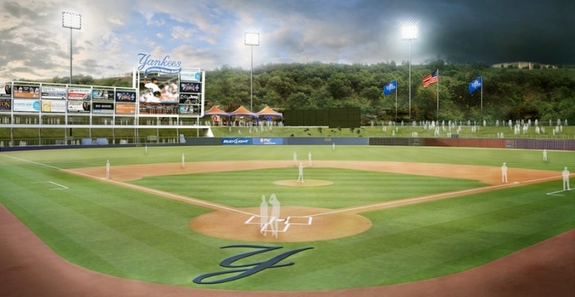 The sale of the Triple-A Scranton/Wilkes-Barre Yankees franchise is finally complete, reports David Singleton of The Scranton Times-Tribune. Lackawanna County approved the sale on Thursday following more than two years of political wrangling. The team was sold for $14.6M to SWB Yankees LLC, a joint venture between the Yankees and Mandalay Bay. They had passed on an option to buy to the team for $13M in 2007, when the Yankees moved their Triple-A operations out of Columbus and into Northeast Pennsylvania.
Extensive renovations at PNC Field can finally begin now that the sale is complete, with major demolition starting yesterday. The $43.3M project is forcing the team to play all of its home games on the road this season. Last month we heard that construction had to begin no later than April 1st to ensure the facility is ready for the start of next season, but the park is expected to be ready in time following the sale approval. The Times-Tribune has some new renderings like the one you see above.
The sale locks SWB Yankees LLC into a 30-year stadium lease that could run as long as 50 years, so don't expect the team's Triple-A affiliate to move anytime soon. Scranton/Wilkes-Barre is about as close to the Bronx as the Yankees could get their top minor league club, a two-hour drive if you run into some traffic. The season-long road trip is terrible for the players and prospects currently in Triple-A, but hopefully the sale and new facility sets things up well for the organization moving forward.