It hasn't been a good 48 hours for the Yankees, who officially lost Michael Pineda for the season and lost twice to the Rangers during that time. Wednesday night's series finale was a 7-3 loss for New York.
Awe-Phil
I spent the last three or four years defending Phil Hughes the starting pitcher in this space, but I'm done with it. End the charade and put him in the bullpen already. If the Yankees had given Joba Chamberlain half the leash they've given Hughes, they might actually have a young, quality starting pitcher on their hands. But no, his stuff played up in the bullpen. Apparently that logic doesn't apply to Phil.
Hughes retired seven of the first eight Rangers he faced — Adrian Beltre led off the second with a monster solo homer to dead center — but six of the next seven men reached base to end his night. I know Texas is good, really really good, but we've seen this movie before and the ending hasn't changed yet. Phil's fastball is still plenty good enough that he can be useful as a short reliever, so do it already. Hopefully Joe Girardi's relatively quick hook is a sign they're losing patience with Hughes.
One Foot In The Batters Box …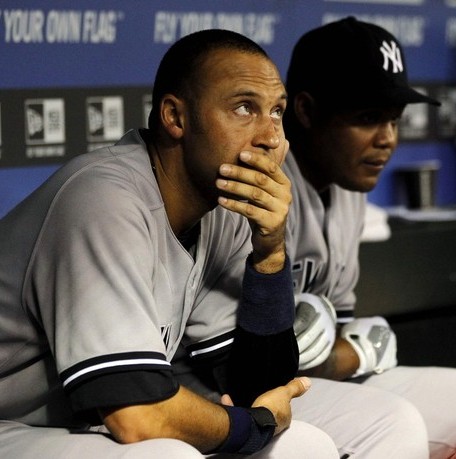 … and the other on the plane. The Yankees checked out of this game offensively in about the fifth inning, after they stranded a runner at second base in a two-run fourth inning. Eighteen of the final 20 batters the Yankees sent to the plate made outs, with the two exceptions being a long solo homer by Raul Ibanez in the seventh and an opposite field double by Nick Swisher in the ninth. Just no fight, they were ready to get back in their beds back home.
The Bullpen
The blush is officially starting to come off the David Phelps rose, as he allowed three runs in 2.1 innings of work. He's allowed six runs and 16 baserunners in his last two appearances, spanning 6.1 innings. Sure, the Red Sox and Rangers are two great hitting teams, but Phelps isn't going to steal Hughes' rotation spot like that. Clay Rapada (0.1 IP), Cody Eppley (1.1 IP), Boone Logan (0.1 IP), and Rafael Soriano (1 IP) all made scoreless appearances, though none of them recorded a strikeout oddly enough.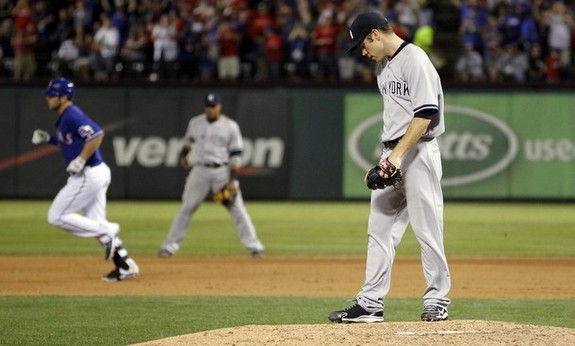 Leftovers
Derek Jeter led the game off with a single to extend his hitting streak to 15 games. He had another knock later on and is now hitting .420/.442/.642 on the season. Mark Teixeira managed to beat a) the shift with a line drive single the other way, and b) out an infield single. He also didn't both to run out a weak little grounder that rolled foul then back fair, instead trying to play it off like it hit his foot. Robinson Cano singled and Eric Chavez drove in a run with a sacrifice fly.
Not for nothing, but Ibanez can really hit the ball a long way when he connects. His run-scoring ground rule double in the fourth looked like a bloop single off the bat, but that sucker carried out to the left-center field warning track. The homer was a moonshot as well, landing in the second deck down the right field line. Ibanez's three homers this season have traveled like, a combined 1,800 feet. As Buck Showalter would say, his damage-to-contact ratio is off the charts.
Box Score, WPA Graph & Standings
MLB.com has the box score and video highlights, FanGraphs some more stats, and ESPN the updated standings.

Source: FanGraphs
Up Next
The Yankees are on their way back to New York and have Thursday off. They open a three-game series with the Tigers on Friday night, when Ivan Nova gets the ball against Justin Verlander. If you want to head to the Stadium for that one, check out RAB Tickets.