The Twins came into this four-game set with just two wins on the season, and they've managed to double that total with one game to spare in the series. Yeah, this one isn't going according to plan. To make matters worse, Brett Gardner was placed on the DL after the game with a bone bruise and a strain in his right elbow.

A Bad Start
I wrote this two days ago, but there's nothing yuckier than giving up first inning runs at home. You're playing catch-up before you even come to the plate and it's just frustrating. The Yankees were down a run two batters into the game, two runs three batters into the game, and four runs five batters in the game. Justin Morneau capped the first inning rally off with a two-run homer to deep right, continuing his dominance of the Yankees. Like Carlos Pena, they'll get around to developing a decent scouting report on him one of these days.
Hiroki Kuroda was simply catching too much of the plate, especially with his offspeed pitches. Morneau's homer was a first pitch fastball, but most of the other hits came off breaking pitches that spun but didn't break. He was fortunate to get out of that first inning down four, but Minnesota tacked on another run in the third when Sean freakin' Burroughs grounded a 30-hopper through the left side. That one was frustrating, it wasn't well hit at all. Hiroki retired the next six men he faced before Morneau took him deep again — on a hanging breaking ball — in the fifth, ending his night.
A Nice Recovery … But Not Enough
On the bright side, the Yankees fought right back and managed to plate three runs in the bottom of the first. Jason Marquis was making his first start of the season after spending time away from the team to be with his daughter after her bicycle accident, and the rust showed. Six of the first seven men the Yankees sent to the plate reached base, and the inning went single, walk, fly out, double (run scores), single (two runs score), single, then walk before Eric Chavez grounded into a double play to end the rally. He hit the ball harder than Nick Swisher and Raul Ibanez, who slapped ground ball singles through the infield. Chavez just hit it right at the second baseman. It happens.
The Yankees kept it close thanks to Robinson Cano's third inning solo homer, but they squandered rallies in the fourth and seventh innings. They've done that a few times this year — score runs early then fail to tack on any more — and it's incredibly frustrating. The Yankees have scored the second most runs in the league, but it sure doesn't feel that way. At some point the pitching has to hold up its end of the bargain.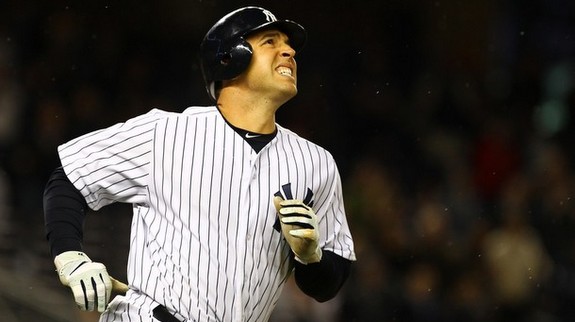 Leftovers
I don't get the whole pinch-hitting thing. Eduardo Nunez pinch-hit for Chavez down two runs with a man on base in the sixth … and then Alex Rodriguez pinch-hit for Russell Martin to lead off the ninth down two. Does not compute. I assume Joe Girardi didn't want A-Rod to play the field on his day off, but good grief, it makes no sense. At least pinch-hit Alex for Chavez then use Nunez in the field or something.
Derek Jeter continues to be the Yankees' best player, going 3-for-5 with a solo homer to raise his season batting line to .389/.404/.685. He's hit four homers in a dozen games this year. It took him 79 games to hit four homers last season. Mark Teixeira (two singles), Ibanez (two singles), and Cano (double and homer) each had two hits as well. You're never going to believe this, but the Yankees went 2-for-8 with runners in scoring position as a team. That's better than 1-for-12 or 2-for-16 or some of the other ungodly rates they were putting up a few weeks ago, I guess.
Andruw Jones is arguably the greatest defensive outfielder in baseball history, but he totally lollygagged it on Alexi Casilla's double in the top of the eighth. He was probably going to be safe at second anyway, but good grief man, show some effort. Physical errors are part of the game and are forgivable, but mental errors and laziness like that is inexcusable.
Not sure if you saw it or if I'm imagining things, but someone threw something — looked like a blue cup — at Clete Thomas as he caught Teixeira's fly ball to end the game. Not cool people, not cool.
Box Score, WPA Graph & Standings
MLB.com has the box score and video highlights, FanGraphs the nerd score and no highlights, and ESPN has the updated standings.

Source: FanGraphs
Up Next
The finale of this four game set will be played Thursday night, when Phil Hughes gets the start against Nick Blackburn Anthony Swarzak. It would be nice if Hughes pitched not terribly. RAB Tickets can help get you in the door.