I don't think any of us were hoping to see this after nearly six baseball-less months, but it is what it is. The Yankees dropped their first game of the season to the Rays on Friday afternoon in the yuckiest of ways, a walk-off loss.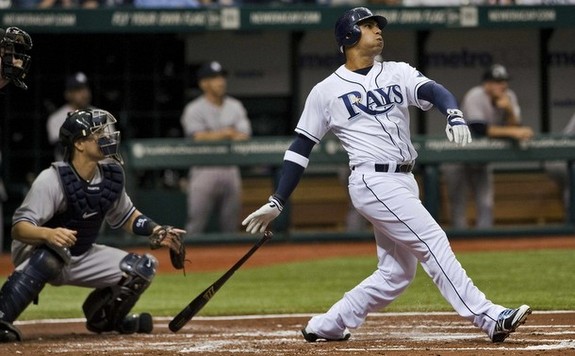 The Grand Slam
I shouldn't get that annoyed one inning into the season. Second and third with two outs in the first inning, and Joe Girardi orders CC Sabathia to intentionally walk Sean Rodriguez? I get that Rodriguez hits lefties well — career .346 wOBA vs. LHP — but my goodness. It's the first inning of the first game of the season. You have your ace on the mound. Pitch to the man, who cares if he hits a three-run homer? The odds are very much against it since Rodriguez isn't a power hitter, even against lefties.
Anyway, Carlos Pena comes up with the bases loaded. CC Sabathia was struggling to throw strikes, and sure enough he fell behind in the count and eventually ran if full with nowhere to put him. He had to throw a fastball to a fastball hitter in a fastball count, and Pena hit it out of the park. Predictable grand slam was predictable. If you can't let your ace pitch to a Sean Rodriguez in the first inning of the season, you're really over-thinking things.
The Comeback
The Yankees would not be thwarted by Girardi's overmanaging, however. Jamie Shields was clearly off his game, and the Yankees touched him up for two runs a half-inning after Pena gave them a four-run lead. Alex Rodriguez (double) and Mark Teixeira (hit-by-pitch) scored on Raul Ibanez's ground ball and a Shields wild pitch in the top of the second. One inning later they tacked on four runs thanks to a Nick Swisher ground out and an Ibanez three-run homer. He was mashing the ball at the end of camp, and it carried right over into the season. It was no wall-scraper either, that thing was halfway up the stands in right.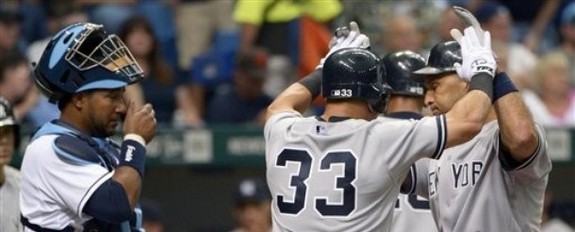 I Can Has Tack-On Runs?
With six runs on the board against Shields in the first three innings, it seemed like the Yankees were good in pretty good shape. However, after Ibanez's homer with one out in the third, they sent 29 batters to plate and only received three singles. One wasn't even a single — Brett Gardner's line drive to Evan Longoria at third should have been caught and ruled an error, not a single — and another was an infield hit. The Yankees didn't have a single hit after the fourth inning.
That sounds pretty awful, but the Yankees still had plenty of chances to score because they're ridiculously patient. They drew seven walks as a team and five after Ibanez's homer. The bases were left loaded in the second (Curtis Granderson struck out), the fourth (Ibanez ground out), and the seventh (Derek Jeter ground out). I thought Andruw Jones should have pinch-hit for Gardner when the left-handed Jake McGee came in with two on and two outs in seventh, but he didn't and Gardner instead drew a walk. I wish Girardi was a little more liberal with his pinch-hitting tactics late in the game, Andruw could have done some serious damage right there.
Sabathia Settles Down
There's no doubt he was off early in the game — four of the first six hitters he faced reached — but Sabathia settled down and allowed just one run from the second through sixth innings. The one came on a Longoria solo homer, and I can't get upset over that. That guy is ridiculously good. Sabathia gave up a few hits — some bloops, some hard hit — after that but pitched out of every jam. He went to his slider in every big spot and it was effective.
Sabathia struck out seven in his six innings, walked two (one on purpose), and didn't give up any extra-base hits besides the Pena and Longoria homers. Believe it or not, it was his second best Opening Day performance as a Yankees in terms of Game Score. He had an 18 in 2009, a 38 in 2010, a 55 in 2011, and a 40 on Friday afternoon. To no one's surprise, he stood at his locker after the game and said putting Rodriguez on base intentionally in the first was the right move even though he was probably fuming inside.
Death By Bullpen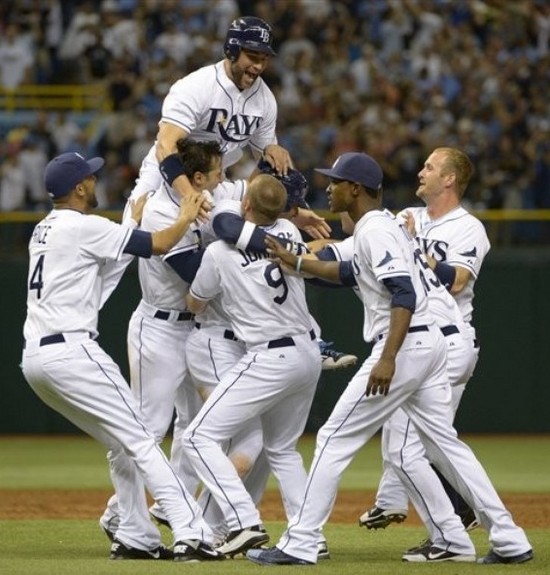 Unsurprisingly, Girardi went to his rigid bullpen formula after Sabathia was out of the game. Rafael Soriano threw a scoreless seventh despite unintentionally intentionally walking Longoria, and David Robertson had to bust out his Houdini act to pitch a scoreless eighth. He walked Rodriguez to start the inning, then gave up a ground ball single to Pena to put men on the corners with no outs. Robertson then struck out Stephen Vogt, Jose Molina, and Matt Joyce in order. Sure, only one of those guys qualifies as a big league caliber hitter, but it was fun nonetheless.
A one-run lead with Mariano Rivera on the mound is a situation I would take any day of the week, but it just wasn't meant to be on Friday. Ben Zobrist tripled in Desmond Jennings to tie the game before an out was recorded, so Girardi intentionally loaded the bases with the winning run on third to create the force at every base. I don't like the strategy — it creates zero margin for error, a walk or hit-by-pitch ends it — but it is certainly defensible. On went Longoria and on went Luke Scott before Rodriguez struck out, creating some glimmer of hope. Unfortunately, Pena was able to run the count full and end things on a fly ball to the wall.
Mariano goes through two rough patches every year, one in April and one in August. Hopefully he's just getting the April rough patch out of the way a little early this year. Everything does get magnified on Opening Day though, so you'll hear a bit about this one for the next 18 hours or so. Mo will be fine though, he always is.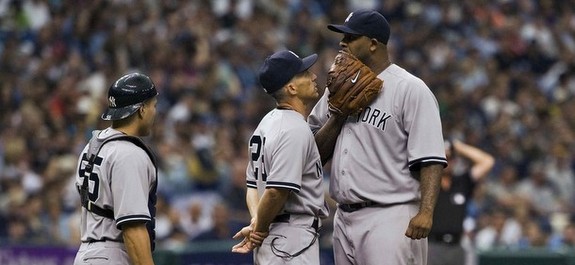 Leftovers
I already said that I don't like intentionally loading the bases in the ninth, but I do like that Girardi went with the five-man infield after that. Rivera generates a ton of weak contact, especially on the ground, and that was their best chance to cut the runner down at the plate. A fly ball wins the game for Tampa anyway, so two outfielders is no big deal.
It's one game, but A-Rod does look pretty damn good. He doubled into the gap, laced a single, and drew two walks for a cool .800 OBP one game into the season. He also made a new nice plays at third, though his defense wasn't really the question. It's his health.
Robinson Cano had two singles in his first Opening Day start as a three-hole hitter, and he saw a whopping nine pitches in five plate appearances. Every other starter saw at least 17, and seven of the other eight saw at least 20. That's Robbie though, he's a hacker and it works for him.
Granderson was the only Yankee not to reach base. Jeter (single and walk), Cano (two singles), A-Rod(single, double, and two walks), Tex (two walks and the hit-by-pitch), and Gardner (two singles and a walk even though the one single should have been an error) all reached base multiple times. Six runs out of 17 baserunners is what happens when you go 2-11 with runners in scoring position. RISPFAIL right on Opening Day.
Box Score, WPA Graph & Standings
MLB.com has the box score and video highlights, FanGraphs the nerdy stuff, and ESPN the updated standings. It's a little too early to be scoreboard watching, but to each his own.

Source: FanGraphs
Up Next
Game two of the series and season will be played tomorrow night, a dreaded Saturday night game. First pitch is scheduled for 7:10pm ET, and it'll be Hiroki Kuroda against David Price.